INTERVIEW: British actress Summer-Rose Churchhouse's star continues to rise.
Summer-Rose Churchhouse is a British Actress, born 29th June 2012, who lives a cross-Atlantic lifestyle with homes in London and Florida. In her most recent role, she plays Mollie in the Independent film Behind Closed Doors directed by British filmmaker Kaitlyn Boxall, due for release in 2021.
Summer-Rose recently modelled for Pineapple Dance studios and featured in all their Christmas Videos back flipping and performing tricks through the streets of Covent Garden, London. She has a sister Scarlet and a brother Harrison and 2 dogs Bella and Blu.
Scroll down for our exclusive Q&A with this rising star!
Hello Summer Rose, great to catch up with you again! How have you been spending your time during the Covid-19 lockdowns in England?
Hi! So nice to chat with you again too!
Well I have been keeping extremely busy with online zoom classes!
I'm so thankful that we have technology to be able to connect via zoom to all these amazing classes. I've been keeping my training going with My dance School Ridgeway Studios and my Acro training with Rhythmix Academy and also Acrotrix who I am an Ambassador for. I have also been able to take lots of additional classes at home that I wouldn't of been able to take had we not of been in lockdown. Such as Abby Lee's amazing Dance timetable and lots of dance and West End Workshops. So I'm really thankful for that.
Have there been any blessings in disguise from the whole thing for you or your family?
Well we are getting to spend much more time together than we normally would of done which is nice, as we are usually out and about and not all home together at the same time. We all have our dinner together now whereas before because of my brother and sister's schools and activities we would all eat at different times. So that's nice. Now we argue over who's watching their program haha. So I suppose we are having more quality time together.
Great! Tell us about your new movie and your role in it?
Yes!!! Well I was very fortunate to be cast in an Independent film called 'Behind Closed Doors' directed by British Filmmaker Kaitlyn Boxall. I play Lisa Crawford's younger daughter Mollie.
The film follows the life of Lisa Crawford living through an abusive marriage in lockdown until her best friend convinces her to seek the help she needs and the story covers a wide range of important topics. It's a really gritty storyline! The trailer is fantastic.
What was the best thing about working on it?
It is the first film that I have been cast in so I literally loved all of it! Haha
Meeting the cast at the 02 in London for our read through and photoshoot was so much fun.
They were all so friendly and kind and I loved Learning my lines and rehearsing before each take. Also learning what goes on behind a camera with the crew was such a great experience for me.
And the biggest challenge while making it?
Probably understanding the storyline from a young person's mind as it's a storyline that's not suitable for my age. Apart from that I understood everything I needed to do to play Mollie and followed the direction of Kaitlyn and Holly my on screen mum and also Naya who plays my sister Kayla is so lovely and she helped me with my lines and we played games in between takes.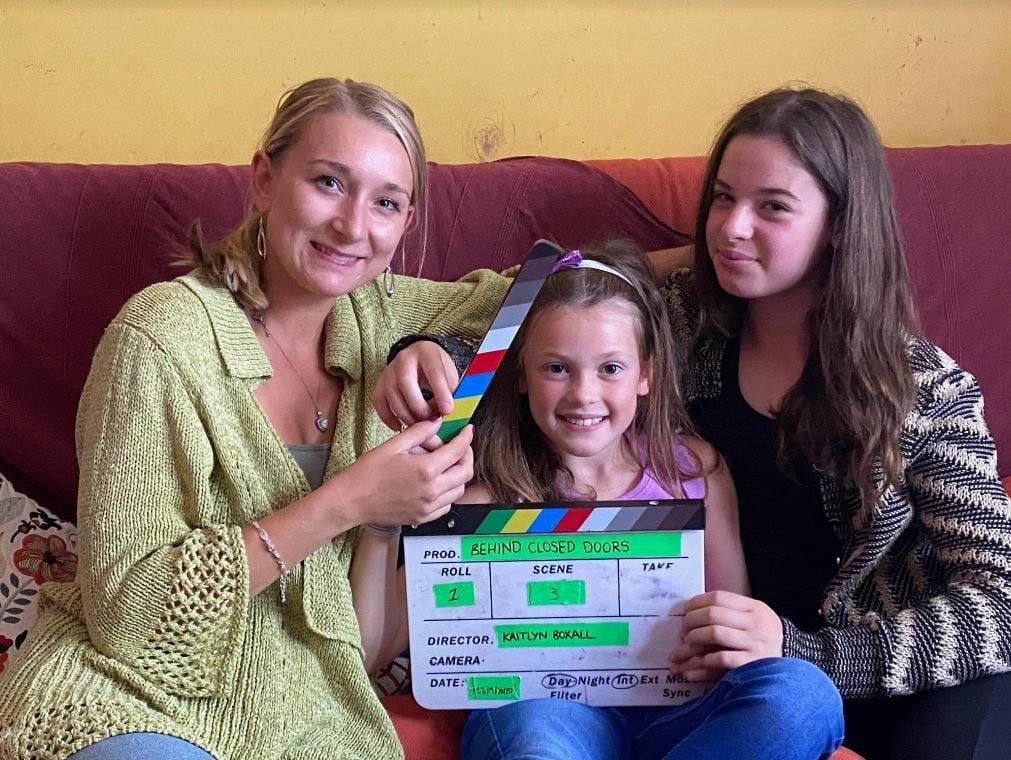 Why do you think people are going to want to watch it?
I think people will want to watch it because it's has a really gritty storyline that has you on the edge of your seat. It also focuses on really important matters such as Domestic Violence and Mental Health during lockdown which is sadly so real to so many people in the world.
Which actress (besides your sister) inspires you most?
Haha apart from Scarlet…. a friend of Scarlet's actually called Emily Carey. I am really inspired by Emily as she started out in theatre at a young age and then television and film. Over the years I've watched her films! She was amazing in Wonder Woman and played young Diana and I think she's an amazing actress and hope one day I might be as successful as her.
Who is your favorite TikToker or Youtube influencer and why?
My favourite TikToker is Charli D'Amelio!
I love her because she started out as a dancer and posts some really fun dances and she's so pretty.
What is your dream role to play?
My dream role would to be cast in a television show or a another film. I love CBBCs Mallory Towers! I would love to be cast in that as one of the school girls and all the mischief they get up to. I recently got close to a role in The Last Kingdom which would have been a dream! Hopefully soon!
If you could pass one law that everyone had to follow, what would it be?
To only have to go to school 3 times a week! 🙂
Favorite school subject?
Maths and Art
Least favorite subject?
Science
Favorite thing in your room (blanket, stuffed animal, etc.)?
My favourite thing in my room are my Polar bear teddies! I literally LIVE for Polar Bears! My friend adopted me a real one for my birthday present recently!
oh and my airtrack! I couldn't live without practising my tricks.
If you weren't an actress, what else would you aspire to be when you are an adult?
Erm, well I love Acro, Gymnastics and Dance. So I would love to continue with that and keep training to work towards a career in those.
What else are you working on or have coming up next?
I'm still recording 'The Call Of Mektoub' which was pushed back a little during lockdown. We should have that completed in the next few weeks. I'm auditioning/taping for jobs and also on a final recall for a West End Musical. So hoping for some good news soon!
Could we get a selfie of whatever you are doing at the moment?
Playing with my new puppy BLU
Instagram @the_summer_rose
Twitter @SummerRoseC
Trailer (for mature audiences only):