Last Minute Holiday Gift Guide 2019
Panicked about what to get your BFF, family, or even yourself this Christmas, which is right around the corner?
Have no fear, we've rounded up a few goodies for you to check out. And if they arrive late in the mail or from Amazon–there's always Reyes Magos Day on Jan 6th! (that's is basically "second Christmas" for Hispanics lol)
So without further ado, let's check out the products!
KiwiCo Maker Crate as low as $24.95/mo
KiwiCo has released Maker Crate, a new line of hands-on art projects for those ages 14+. Maker Crates were designed to help teens discover new art and design techniques and build their creative confidence by turning their artistic visions into design realities. Each crate includes a chance to experiment with a new technique, draw inspiration from real designs, and take pride in a finished project that's both fun and functional- for all skill levels.
The sample we received was for macramé planters. The kit included everything from paper clay to sculpting tools to suction cups for hanging, along with easy to follow instructions. Start by designing a macrame keychain to learn knotting. Then craft two macrame hangers. Finish off by sculpting, decorating, and customizing clay pots for your hangers.
The Big Bang Theory: The Complete Series $149.99
For years, fans have been delighted watching their favorite physicists Leonard (Johnny Galecki) and Sheldon (Jim Parsons) navigate the universe and everyday life along with Penny (Kaley Cuoco), and fellow scientists Howard (Simon Helberg), Raj (Kunal Nayyar), Amy (Mayim Bialik) and Bernadette (Melissa Rauch), as well as other beloved characters. The Big Bang Theory: The Complete Series, includes all 279 original episodes from 12 seasons of the top-rated sitcom, and is available for fans to own on DVD and a premium Limited Edition Blu-ray.
The complete set features nearly 12 hours of extras along with an additional disc including three exclusive and never-before-seen featurettes! The special Limited Edition Blu-ray Boxset comes in a beautiful lay-flat book with a fun pop-up and includes a digital copy of every episode!
Gotham: The Complete Series $73.99
This gift includes all five seasons of the hit Gotham series available for fans to own on Blu-ray and DVD. From character origins to the final episodes of the hit DC/WBTV series that lay the foundation for the city's iconic future, the release is the perfect gift for veteran fans and newcomers alike. The series features an all-star cast lead by Ben McKenzie (The O.C., Southland), Donal Logue (Grounded for Life, Vikings), David Mazouz (Touch), Sean Pertwee (Elementary), Robin Lord Taylor (The Walking Dead), Erin Richards (The Quiet Ones), Camren Bicondova (Gotham Stories), Cory Michael Smith (Carol) and Chris Chalk (12 Years a Slave). Shane West (A Walk to Remember) is also introduced in the as the iconic DC Super-Villain, Bane for the final season.
The set includes 18 discs.
Charcoal White Toothpaste $19.99 for six pack
GuruNanda has released a toothpaste called Charcoal White, which contains activated charcoal. Charcoal White not only lifts stains without harsh chemicals or fluoride, but it also freshens breath with a blend of six natural essential oils headlined by peppermint for a great taste.
We tried it and were expecting a mouth full of black, but it actually foams up to a light grey color very quickly. The jet black color is aided by added black coloring, not just pure charcoal, which makes us wonder how much charcoal is actually in the product. Nevertheless, it has kept our teeth white and has a nice taste.
Essential oils are becoming more popular each day for our health, and there are even essential oils that relieve heartburn.
Zollipops, Zolli Drops and Zaffi Taffy starting around $3.50
Founded in 2014, Zollipops are natural, gluten-free, sugar-free and non-GMO lollipops that help raise the pH (a scale used to measure acidic or base qualities) in the mouth, neutralize acid and may reduce the risk of tooth decay, dental caries and future development of cavities. Created by 10 year old Alina Morse, Zollipops also contributes 10% of all Zollipops profits to support oral health education in schools.
The line has expanded beyond just lollipops to include Zolli Drops and Zaffi Taffy – tasty and good for your oral health!
An Encyclopedia of Tolkien: The History of Mythology That Inspired Tolkien's World (Leather-bound Classics) by David Day Leather Bound Hardcover $15.69
This 544 page leather-bound work is a must for Lord of the Rings and The Hobbit who want to delve deeper into the world of Tolkien with a comprehensive, illustrated guide to the history, lands, and inhabitants of Middle-earth. A lot of work must have gone into preparing this beautiful book, which features a luxurious engraved leather cover, gilded edge pages, and fantastic artwork — so much so that we cannot believe it is so affordable!

"The fantasy world of J. R. R. Tolkien's Middle-earth contains a rich assortment of people, cities, and creatures—as well as a deep, intertwined history that spans thousands of years. In this beautifully illustrated, leather-bound volume, best-selling author and Tolkien scholar David Day presents four decades of research and writing on the lands and inhabitants Middle-earth. Sections of this A-to-Z dictionary are devoted to discussion of the battles, history, beasts, and heroes of Tolkien's stories, and are accompanied by black-and-white illustrations. This comprehensive volume on Tolkien's world also includes an appendix of three primary legends that served as sources for Tolkien's creations—the Volsunga saga, the Nibelungenlied, and Richard Wagner's Ring Cycle—and more than 200 black-and-white illustrations."
HaloSmile Kit , starting at $59.99 #TWKGIVEAWAY
Picture this: you've got a hot date and you are just about ready to go, but you one quick check in the mirror and notice your teeth are, let's just say, less than sparkly white. What do you do?
Well, if you've got HaloSmile around, you can have noticeable whiter teeth in about 3 minutes. As long as you don't mind the drool. We'll explain that part later; let's cover the product and what it does first.
HaloSmile is a temporary whitening system for your teeth, meaning you literally paint your teeth with it and the coating stays on for hours. Its vegan, peroxide-free, and relatively quick and simple to apply.
Just add two drops of activator to the powder contained in one of the lovely jewel-like pods, stir well using the back of the applicator brush for 30 seconds and put aside. Insert the plastic mouth-holder-open thingy into your mouth, dry your teeth very well, and start applying. Once done, hit your teeth with the final touch "polish" and that's it.
So, what are the results like? Well, our first attempt came out pretty splotchy. See below. Its just super hard to do because of the prolific amounts of drooling involved, even with paper towel rolled up under the tongue. With practice, however, we'll probably get it more even. That's what all the rest of the reviewers claim, and it makes sense.
The other thing is that it feels a bit "grainy" when you run your tongue over your teeth. But, after several hours, the teeth still look whiter, so the product does work as claimed! One issue for our test subject was that the coating started to wear off unevenly, leaving it splotchy after day 2, because it is really HARD to remove despite lots of brushing and flossing. Actually, there was still visible residue after 4 days. So, they probably need to come up with a way to remove it and throw that into future kits, like one of those rubber-tipped tooth stain erasers.
This tooth makeup system could come in very handy for picture day, prom, etc. AS LONG AS YOU PRACTICE A FEW TIMES BEFORE! Watch this following video to learn how to use, and try not to laugh imagining how silly you will look with that mouthpiece in your grill. The results, once the product is mastered, are worth it though!
https://www.youtube.com/watch?v=pgwZv8Svnh4
Luster Pro Light Dental Whitening System, $26.26
If you prefer a more permanent solution to your teeth whitening, this kit will do the trick. Yes we tested it, and it works — pretty well too. Teeth were noticeably whiter after just one application.
All you have to do in brush and floss, rinse using their included wash, apply the peroxide mix (it stings if you get it on your lips or gums–meaning its the real deal!), and let it dry for twenty seconds. Finish off with a two minute round with the dual-energy whitening light (the coolest part of this process by far), and check your results. Need it brighter? You can repeat the process immediately over and over again until you get the shade of white you like! The kit has about 20 applications.
Pro tip: put some cotton or paper towel under your tongue to avoid drooling during the light part.
CLEARstem VITAMINscrub – Antioxidant Infused Cleanser $39.00
When we saw the price for we were like "nah" but after just ONE use of this product we were like "heck yes, totally worth it." It works very, very well to removed dead skin cells, tighten pores, and restore a nice glow. Your face will feel baby smooth and look great. We wish we had a bottle to give away–but we only got sent one and we are keeping it mwahaha!
VITAMINscrub is an antioxidant infused facial cleanser with a mild exfoliating action. You only need a small amount each time you use it (rubbing it in for about 30 seconds before rinsing), and it smells GREAT, almost good enough to eat. In fact, you can eat a lot of the raw ingredients in this, because it contains things like mango, aloe vera, green tea, grapefruit, turmeric, and even hemp seed oil.
According to the company:
VITAMINscrub is good for all skin types including dry, mature, sensitive, blemish-prone, combination and normal. It's designed for daily use. Environmentally-friendly bamboo particles act as a polish to resurface the skin and keep pores clear.
Crystal Mineral Enriched Deodorant, $6.15
For those who prefer a few less harsh chemicals on their body when applying deodorant, you might want to give Crystal Mineral Enriched Deodorant a go.
The two samples we were sent (Freshly Minted and Mountain Fresh) have a pleasant smell and don't leave a thick white residue on your shirts or sheets like a few other essential-oil based deodorants we have tried in the past. As far as controlling odor for 24 hours as claimed, results here were mixed. Let's just say we recommend a touch up application every once in a while if you are exerting yourself and sweating above average.
The product incorporates essential oils, and while it does contain common things like propanediol and sodium stearate, it is aluminum and paraben-free and hypoallergenic. You can check the safety of the ingredients of any other cosmetic or household product ingredient at the Environmental Working Group's Skin-Deep Database.
Sun Shield Stick SPF 50, $12.50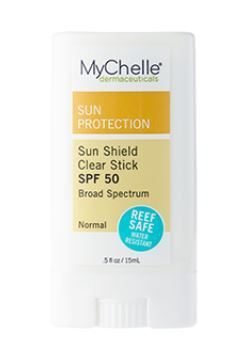 While summer is basically over (sob), don't think you don't need sunscreen still. Outdoor activities like skiing, skating, and sports still expose your skin to UV rays, and you need protection. For a convenient way to apply it, try the Sun Shield Stick SPF 50 by MyChelle. Its like a chapstick for your skin, and is lightly tinted for a neutral finish.
From the website:
Sun Shield Clear Stick SPF 50 is a mineral-based, water-resistant sunscreen that glides on smoothly and dries clear to deliver powerful UVA and UVB full-spectrum protection. Zinc Oxide provides a safe alternative to harsh chemical sunscreens. The addition of Avocado, Jojoba, and Vitamin E Oils help moisturize and protect, and Cocoa Seed Butter soothes skin and supports elasticity. Perfect for on the go. .52 oz. Made without GMO, Gluten, Parabens, Petroleum, Phthalates, Silicones, Sulfates, Ureas, Artificial Fragrances, and Artificial Colors. Vegetarian. Cruelty-free. Reef Safe and Biodegradable. Active Ingredient: Zinc Oxide 17%
So the main ingredient is good old zinc oxide, and that makes this product reef safe for use when diving or enjoying places like Xel-ha in Cancun (which we highly recommend, having just come from a vacation there whoop whoop!).
7th Heaven Dead Sea Mud and Peel-Off Mask, prices unavailable #TWKGIVEAWAY
Alright, we did not have time to test these out by press time, but wanted to include them for those looking for quick detoxes and refreshers for their faces. They are made by a company with a good pedigree as far as eco-friendliness and commitment to being cruelty-free, Montangne Jeunesse, which has been in business since 1985.
The products we were sent are single-use Dead Sea Mud mask and a peel-off mask. The instructions are super easy: simply clean and dry your face, apply the contents, and wait until COMPLETELY dry. Then remove and voila! — fresh face!
One thing we have to mention is the striking artwork on the labels, which feature some smiling, yet somewhat terrifying, half-human, half plant creatures lol.
Look at them:
OMG. They are certainly attention-grabbing!
At any rate, here is the description for the peel-off mask:
Clean and purify your skin with our Dead Sea Salt peel off! Chamomile soothes your skin and Fucus Vesiculosus (Seaweed) fights free radicals. Leave your skin feeling healthy and revitalised!
And the mud mask:
We've harvested nutrient rich minerals from the Dead Sea to draw out impurities and open blocked pores for clean, soft skin. Key ingredients Dead Sea salt, seaweed, lavender.