Who is Gavin Magnus "Crushin" on?
***MEET GAVIN THIS SATURDAY AUGUST 3rd, 2019 IN BURBANK, CA!!!***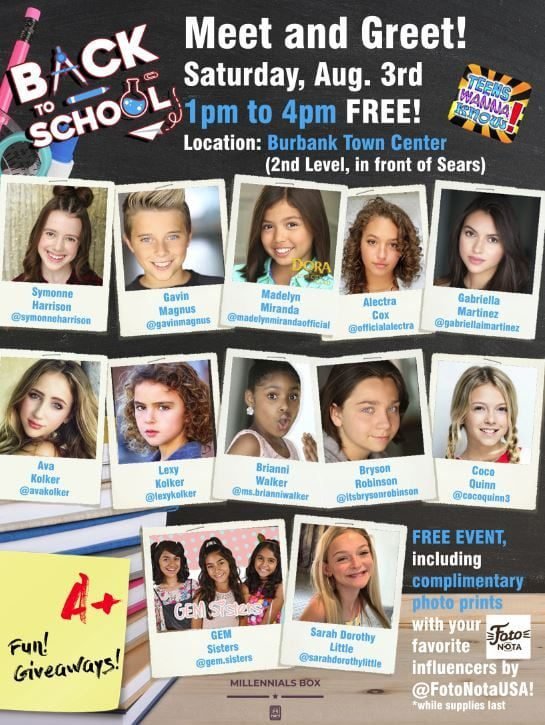 Gavin Magnus is an American actor, singer and YouTuber who has been called "the next Justin Bieber." He is well known on social media and for his fun videos co-starring his girlfriend Piper Rockelle, with whom he filmed a video for his first single "Crushin." (see embed below).
Following his stint on last year's "Boys of Summer" tour, Gavin has signed his first record deal. You can also see him on several series including Dreamworks TV, and Nickelodeon's Ninja Turtles: The Comeback.
We got the chance to catch up with Gavin about crazy fan experiences, pet peeves, and the best and worst part about working with Piper in our exclusive Q&A below!
Hi Gavin, nice to e-meet you! Tell us a little bit about yourself before we start chatting about your music video and other projects.
Hi thanks for having me! I started acting at age eight; got a lead as a series regular on DreamWorks TV and then did many TV shows such as Minor Renovations and Hollywood Darlings. From there I started making music.
Thanks! Your music video "Crushin" with Piper Rockelle just came out a little while ago. Were you nervous to release it to the world, and are you happy with the feedback?
Oh gosh I was so nervous. You just don't know the feedback until you see the comments, you know? I'm really happy with the feedback. We are almost at 3 million views in a month.
You were on the Boys of Summer Tour. What was the best part about doing that?
I miss the tour a lot. Yes, I miss touring; it was amazing. The friends I made were super cool too. It was my first time performing on stage in front of over 1,000 people and I was the youngest out there; so very intimidating at first. I fell in love with the energy of performing in front of fans. We toured 17 cities and it was so much fun seeing new places.
Any weird or crazy fan experiences yet? If so what were they?
Yes, there are so many, but I would say my favorite just happened the other day. A little girl about five years old chased me down the street with her mom yelling at her to slow down. She followed me into Hollywood Burgers. Then she came up to me and said "Are you Gavin Magnus from YouTube? I can't believe you are real!"…and she asked for a pic. It was so cute and cool.
Do you really vacuum your hair every day? : )
HA HA sometimes it helps to get the perfect look.
Every young performer that puts themselves out in the world gets some shade thrown at them—how do you deal with that yourself?
Honestly, it doesn't bother me. Even my mom is shocked, but I don't let it bring me down.
What are your goals with music and acting—like where do you see yourself in 5 years?
Well to be honest all my dreams are coming true. I see myself touring and acting. I see myself developing hair products too; that's one of my goals.
Your girlfriend Piper is pretty popular online as well – what is the best part about working together on videos – and what is the worst?
The best part is we laugh constantly. We really don't stop and she's my best friend. The bad part is I never want to leave her house. (:
Tell me something people would be surprised to know about you?
I'm really sensitive. I cry listening to sad songs. (:
Biggest pet peeve?
Fake people.
The song I most have on repeat on my playlist right now is _________ by ___________?
"All Girls Are The Same" by Juice Wrld
Favorite food?
Pasta. Italian.
Secret obsession?
My hair for sure. Gucci backpacks.
What's the last movie or show you watched, and give me a review…but you can only use TWO WORDS for the review : )
Stranger Things. Scary, intense.
If you could pass a law everyone in the world had to follow, what would it be?
That they had to be kind to one another. That bullying was not allowed.
Most embarrassing moment IRL you wish you could do over?
I was trying to be cool and someone called me out, one of the older boys on tour, before I had a real Gucci backpack and they were like "Gavin's Gucci backpack is fake, look at the stitching" and I just turned red. I was trying to be cool.
What else are you working on or have coming up next?
Stay tuned; new announcements are coming soon.
Selfie Time!
https://www.instagram.com/gavinmagnus/
https://www.youtube.com/channel/UCsDUx3IrrXQI0CbfKMxTCww
https://www.facebook.com/gavinmagnus/
https://twitter.com/gavinmagnus1/
http://www.gavinmagnus.com