5 Fast Facts about singer & actress Ainsley Ross
Ainsley Ross is a 19-year-old actress, author, singer-songwriter, influencer, director, and extreme martial artist originally from a small town of 800 people in Beckville, Tx. She is best recognized for having starred as Mia Hill in the television series Should I Do It? She is also known for having appeared as Jasmine in the feature film Small Things, Isabella Santiago in College Bound: Window of Hope, and her role and stunts in The Rein Maker.
As a musician, she recently released the single and music video, "We Are 1." This song is about everyone truly joining together, despite the differences in culture, race, and life views.
Currently, she is going to college for medical school in Phi Theta Kappa Honor Society, the president of the Green Jackets. She holds a first degree black belt in Tae Kwon Do and is proficient in other martial arts.
Here's 5 fast facts about Ainsley!
Her most memorable showbiz moment is a doozy!
It was the night I worked over 13 hours straight doing an under-water shoot as the lead "Ophelia in Seven Lions "Oceans. It was a very special shoot. The whole film crew and I worked through the night from 6pm to 6am! It was literally SO cold outside because we were filming up in the mountains. It legit felt like my equivalent of the "Titanic." It was one of my favorite moments on set I have ever experienced!
I love that this shoot was challenging and tested my abilities to the max. I had to have a weighted belt on under my trench coat, and ankle weights under my boots so I would sink to get the correct shots under the water. Then I would have to control my air bubbles while acting underwater, so it didn't block my face in the shot. After the scene I would have to swim up to this pull up bar running across the water, and pull myself up! If you know me, you know my love for "bad Dad jokes," and "puns." It not only kept our tired eyes awake but kept our spirits high, and created memories that will last a lifetime! I have worked with the same crew for over three years now! It was memorable, to say the least.
She takes mistakes in stride.
Honestly, I don't think I would change anything, because it made me who I am today. All of those mini imperfections that kind of just happened in life, are supposed to happen! I like to say, "we are all people who are beautifully broken in life." I feel like our oopsie daisies, uh oh's, mess-ups, and goofs make us priceless and teach us valuable lessons.
To me it is like the Japanese art Kintsugi. This is the art of repairing broken pottery with gold. Then that plate etc. that was broken is worth more in value than it was before. This demonstrates that the fractured pieces make you more beautiful and valued.
However, I will have to say one embarrassing instance I would have changed, was a moment I had red lipstick on my teeth during a red carpet interview!! Yeah, because that wasn't embarrassing at all, ha-ha!
She can probably knock your lights out.
I got involved and invested in martial arts when I was nine years old. From that point on, I trained in the art of Tae Kwon Do until I earned my first-degree black belt. A few of my many skill sets eventually included class leader, instructor, national champion, and tactical weapons training. Due to moving to Los Angeles for industry purposes, I wanted to further my knowledge and love for martial arts. That's when I found XMA World Headquarters (Extreme Martial Arts World Headquarters), trained by the one and only blue power ranger Mike Chat himself! In XMA, I learned a variety of stunts for film! This was truly a whole new world for me, because stunts are so different than traditional fighting. I learned aspects of close range military combative, Krav Maga, Jiu-Jitsu, and elements of many other defense mechanisms.
When I started learning stunts for film, it opened my heart to a whole new world, and its had my heart and soul ever since. Martial arts have taught me many different things such as: self-love, respect for myself, respect for others, teamwork, and the art of giving back in your community. Martial arts prepared me for life, and it's such a huge piece of who I am. I like to say, "Sometimes people only see one side to fighting, and that is the actual fight. However, what they do not see are the opponents shaking hands and hugging after a fight, fighters volunteering for charities, and teaching kids and people to know their worth and build their confidence." This is why the Martial arts and stunts and always will remain huge impacts on my life. My soul feels whole because of it! This is one of my may outlets of self-expression for me!
One surprising thing about her:
I would have to say my love for classic cars! I asked for a carburetor for my 13th Birthday so that I could fix up and old Suzuki Samurai with my Dad and learn how to drive a standard! Currently, I am fixing up a classic Bronco, and assisting in modifications such as the engine, etc.
One amazing food she must eat at least once per week is _______
Random, I know, but it would for sure have to be an avocado! You can put it with so many things, and you can constantly change it up!
Can we please get an unpublished selfie of whatever you are doing right now to keep it real for the fans? : )
These selfies are me at my rawest! 1. In my college parking lot 2. Self-Love, face mask time!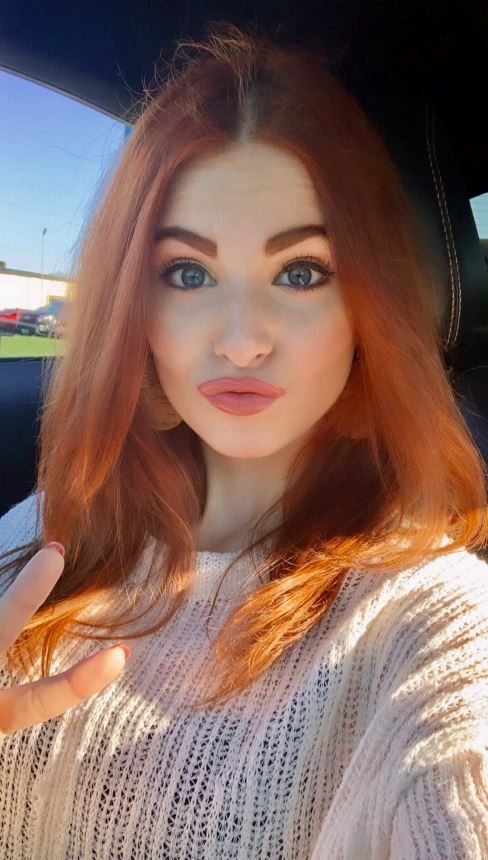 Instagram https://instagram.com/ainsley_ross
Website https://www.ainsleyross.com
IMDb http://www.IMDb.me/AinsleyRoss
Famous Birthdays https://www.famousbirthdays.com/people/ainsley-ross.html
YouTube https://www.youtube.com/channel/UC-MLYHXg1ivGJv1jGR1d6Ug
Twitter https://twitter.com/iamainsleyross?lang=en
Facebook https://www.facebook.com/ainsleyrosstheartist/
TikTok@ainsley_rossofficial
Snapchat https://www.snapchat.com/add/ainsleyross
Spotify https://open.spotify.com/artist/08kOqMsrYQfzwLRpkuPjzH?si=hZdBZzz2SBC63iE4bY62KA