Alexander James Rodriguez covers Wham!'s 'FREEDOM' with fun new video
Alexander James Rodriguez has released his first pop cover song, 'Freedom.' The teen chose this chart-topping bop, originally written and recorded in England by WHAM! in 1983, as a fun summer interlude to his next original song.
Released on all platforms a couple of weeks ago, Alexander crafted the cover song to suit his own taste with various live instruments including keyboards, guitars, brass, and percussion.
"My cover song of Freedom by WHAM! was so much fun to record. I have been so excited for its release; Everything about this song has been thought out. From its timing out in the world, as we all need to feel included and free, to the opening brass sequence and the cover art wearing the famed 'Choose Life' T-shirt and color spectrum. Recording the vocals took one hour, but the mix took hours of careful attention. I hope I did Wham! proud."
Having been referenced in the press as the next George Michael, Alexander's 'Freedom' pays respect to the late George Michael whilst representing his British roots and true love for 80's Brit Pop. The music video for 'Freedom' was filmed partly at the Los Angeles County Museum of Art and Selfie Wrld Los Angeles with footage included from Alexander's recent performances.
14-year-old Alexander James Rodriguez rose to fame at the top of 2021 when he received the 'Rising Star Award' at the Hollywood Music in Media Awards, for his debut single, 'My Crew'. Predominantly known as an actor, the teen transitioned to music at age 12 during the height of the pandemic last year.
Scroll own for an exclusive Q&A with Alex about the song!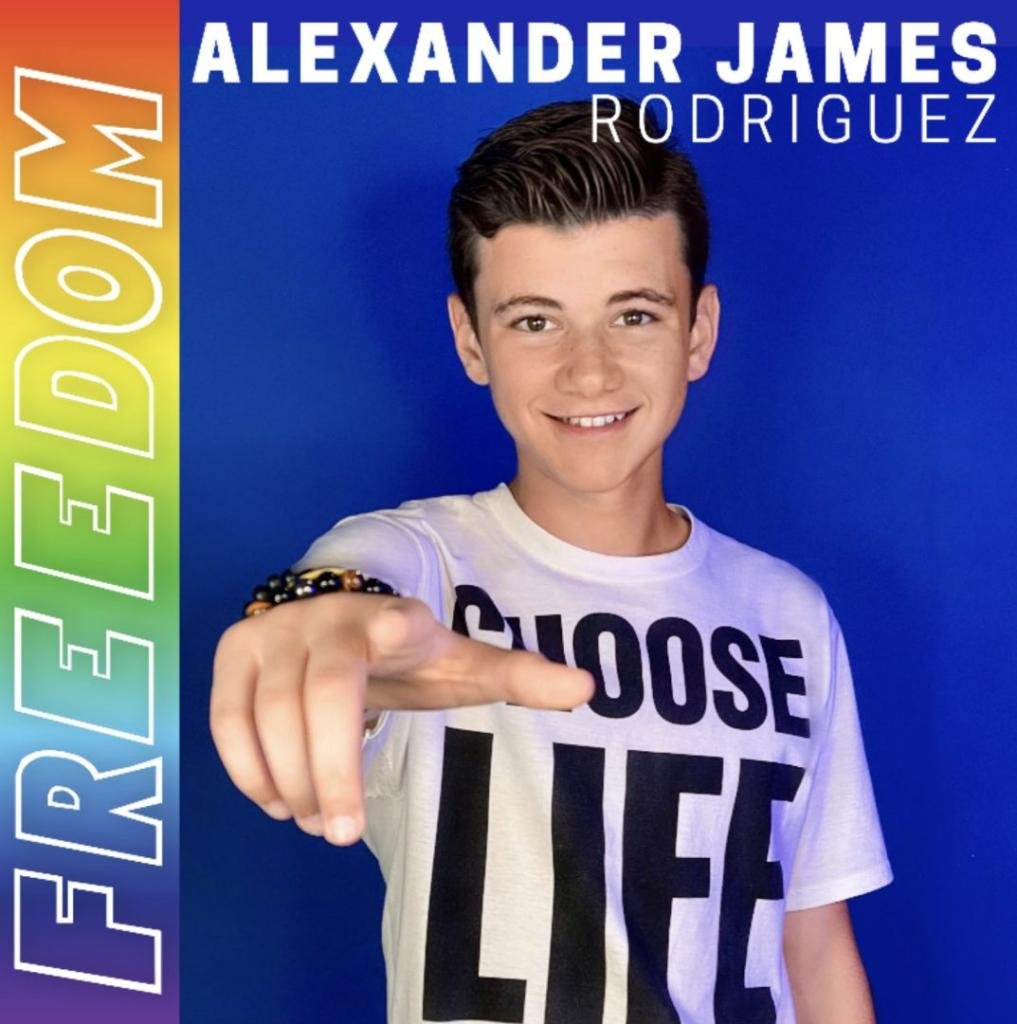 Tell us about your new track and why people are going to want to listen to it?
Hi guys! It's a fun story. Around February of this year, I was being referenced in the media as the next George Michael, maybe because I am British, and I create pop music, and something about my sound resonated with people. That thought stayed with us as the reference continued.
Flash forward to July and I was gearing up to release my Spanish-English hybrid song, Bella Loquita – we had Cherry Bomb ready to go but it's such a different pop song, we wanted something to release before it – to serve as a palate cleanser, and so the hunt for a suitable cover was born.
We began listening to every George Michael and Wham! song. Some of the lyrics were a little too mature for me, so we focused on Wham!'s 'Make it Big' album from 1984. The song choice was between 'I'm Your Man' or 'Freedom.' We settled on 'Freedom' because the lyrics and tone made more sense to today's world.
We created the song from scratch. The base line for the song, rhythm guitar, and piano were all re-created live in the studio. Even the opening brass you hear on the song was recorded in London and sent over as a WAV file to be mixed in. We had all our live instruments including a tambourine and rogue hand shaker!
I wanted to re-create the song but with my own spin. For one thing, it is shorter than the original — we took out a whole middle section. Many 1980's Wham! fans have found the song and have given their seal of approval – so I guess we did Wham! proud.
Were you familiar with Wham! before, or did your mom tell you about the song?
I listen to 80's music ALL the time and have grown up with it. We still play CDs in the car (vinyl at home) and my mom has literally everything. On road trips the whole collection is brought with us, and it consists of some great 80's music like T'Pau, Tiffany, Talking Heads, Depeche Mode, Bananarama, Thompson Twins, Eurythmics, Supertramp, Kylie Minogue, George Michael, Wham!, Madonna, Michael Jackson, and of course one of my favorites, 'Purple Rain' by Prince – the list is endless!
Although you weren't alive back then, what's your favorite thing about the 1980s?
The music. And I have watched loads of movies from that time — pretty much everything but the R-rated ones. I love 'The Goonies,' 'Gremlins,' 'Fame,' 'Turner and Hooch,' etc. but the original Kevin Bacon 'Footloose' is one of my favorites – the soundtrack is insane!
You wear a Choose Life shirt in the music video for the song…what does that mean to you and why did you choose it for your wardrobe?
Yes, it was chosen for many reasons. Choose Life was worn by Wham! for 'Wake Me Up Before You Go-Go' – it was not worn for 'Freedom', but people connect it to Wham! so that was one reason, the connection.
The second was it is literally means choose life. Back in the 80's it stood for anti-war and anti-drugs. And as an extension of that, for me, it means anti-war, anti-drugs, anti-animal cruelty, anti-bullying, and basically choose to be free and be who you want to be. Choose your life.
With that fully in mind, my mom and I made the decision to have the song title FREEDOM over the top of the color spectrum on the cover art. We created that specifically to represent diversity and inclusion – be free and full of dazzling colors. My song 'We Are' also has a lyric which says "let your colors shine…" We are very much about being colorful and shining bright. It's our thing!
Alexander James Rodriguez | FREEDOM [Official Music Video] – YouTube
What are you working on next?
I am super excited to be releasing my next original song, Cherry Bomb. I recorded it in February, so it's been ready to go for a while. We filmed the music video last Saturday with some of my fabulous dancer friends in Los Angeles. People flew from Houston, New York and Chicago to be in it. I have a surprise in store for everyone too – but I'll tell you about that next time!
The song releases on October 1st and people can pre-save it via – https://ffm.to/cherry_bomb
Results
Congrats, you passed!
#1.

What language(s) does Alexander speak besides english?
#2.

Most people are familiar with Wham! lead singer George Michael. What was his partner's name?
#3.

What's do Wham! and Alexander have in common?
#4.

Name one award Alex has won?
#5.

How many Grammys has Wham! won as a band?
'Freedom' from Alexander James Rodriguez is out and available for download on iTunes and all digital streaming platforms including Apple Music, Spotify, Amazon Music, YouTube Music, TikTok, Pandora, DEEZER and more!
Listen your way on https://ffm.to/freedom1984 | Follow Alexander James Rodriguez on Instagram