"Color Me Girl Crush:" Teen Coloring Book for Fashionistas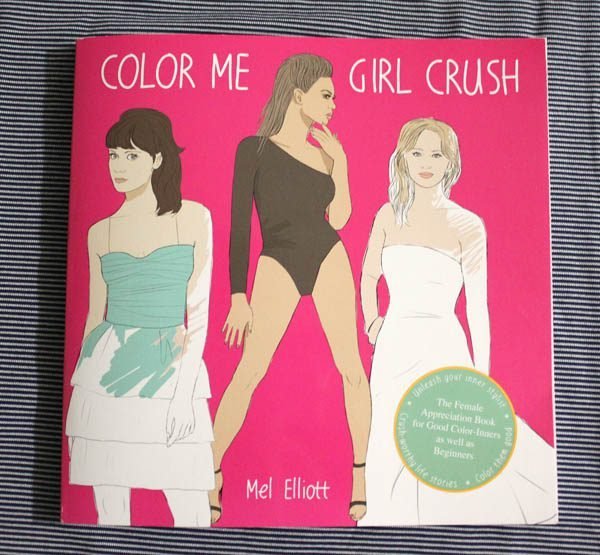 We recently received a review copy of "Color Me Girl Crush" by Mel Elliott, who has written "Color Me Swoon" and "Color Me Good:Ryan Gosling." In her latest book, published by Penguin and releasing on June 3rd, the author has put together a set of illustrations depicting the most influential women in popular culture, including:
• Rihanna
• Lena Dunham
• 80s Madonna
• Michelle Obama
• Katy Perry
• Zooey Deschanel
• Christina Hendricks
• Lady Gaga
• Lana Del Rey
• Stevie Nicks
• Alexa Chung
• Sarah Jessica Parker
• and Beyoncé
The point: to allow anyone to color in their favorite female celebrities, using their creativity and imagination to design some completely new fashion designs on these famous women. While the drawings themselves are crude, this actually motivates the colorist to go all out to make the ladies look fabulous. At least that is what the nine-year-old who promptly claimed the book for herself seems to be doing.
We could see aspiring teen fashion designers getting into this, figuring out patterns, fabrics, and even adding to the raw material they see on the page. The fact that they work on celebrities they know and love just makes the activity even cooler.
Each image is accompanied by true-life stories about the girls, along with fill-in-the-blank activities like:
• Create your own Lady Gaga-style dress
• Create your own Mulberry bag a la Alexa Chung
• Match the Girls characters to their items of clothing
• A poetic ode to Beyoncé
So, the book is neat if you like to color and are into celebs and fashion. Its only 15 bucks retail, to boot.
Here are some pics of the inside pages we took, cropped, and put into a nifty pink border thing, just because: