Easy Recipes for Teens To Make from The Twin Chefs Lilly and Audrey Andrews – Plus Interview!

Lilly and Audrey Andrews started watching the Food Network at three because most of the cartoons on TV were frankly too frightening. They saw eggplants being featured and their curiosity grew. They went with their mom to the market, brought some eggplant home and learned to sauté that very night. One day their mom overheard the girls arguing about whether a parfait was flavored with lemon extract or orange zest. It was becoming clear this was going to be more than an after school activity but a true passion. They may be twins but each has their own personality and food palette. Audrey likes her eggs scrambled, Lilly likes them fried. Ask them about making peanut butter and jelly and you're in for a surprise. No PB&J for them! They like fig preserves and goat cheese on soft bread with a little lemon zest. There weren't any cooking classes for kids their age but growing up in Sonoma, CA, they've had no shortage of fine chefs to observe and to observe them, making sure they properly handle knives and utensils."
The Twin Chefs have made many national TV appearances including Good Morning America, Entertainment Tonight, Access Hollywood Live and Ellen. The twins also recently finished a national campaign as the "spokes-twins" for Cuties, those delicious tiny tangerines that are easy to peel. AND, they have cooked with some of the top chefs including Wolfgang Puck.
Today the girls want to eat the same food their parents eat. Their motto is, "kid friendly food with grown up style." Their recipes are ones that kids, teens AND adults all love.
Lilly and Audrey came up with FIVE EXCLUSIVE recipes just for Teens Wanna Know's readers. These snacks are all wholesome and super easy to prepare by any teen. Of course, check with a parent or guardian first if you don't have a lot of experience in the kitchen. After the recipes, keep reading for an interview with the girls!
Cherry Chocolate Crunch Mix
Serves 4
1/8 tsp allspice
1/8 tsp ground clove
1/8 tsp nutmeg
¼ tsp cinnamon
¼ tsp salt
¼ tsp sugar
2 cups multigrain cereal squares
1 cup pecans, rough chopped
Vegetable oil spray
½ cup semi-sweet chocolate chips
½ cup dried cherries
Preheat oven to 350 degrees. Cover a baking sheet with parchment paper for easier cleanup. Spread the cereal and pecans onto the parchment paper, set aside. In a small bowl mix together, allspice, ground clove, nutmeg, cinnamon, salt, and sugar. Lightly spray the cereal and pecans with vegetable oil spray, sprinkle the spice mixture over the cereal and pecans and stir to distribute evenly, place in the oven for 6 minutes. Remove from the oven and when completely cooled mix with the chocolate chips and dried cherries in a bowl and serve. Store in an airtight container in the refrigerator for up to 1 week.
Plum and Goat Cheese Pita Pizza
Serves 2
Fresh and easy, this pita pizza will tide you over until dinner.
2 Whole Wheat Pitas
1 small plum
¼ cup goat cheese
2 tsp olive oil
1 cup fresh baby arugula
Salt and pepper to taste
Preheat oven to 350 degrees. Place Pitas on a small baking sheet, and brush one side of both with one teaspoon olive oil. Place thin slices of plum in a circular pattern around pitas. Divide the goat cheese in half and crumble on top of each pita. Pinch of fresh ground black pepper over each pita. Bake for 10 minutes. While the pizzas are baking, toss the arugula with remaining 1 teaspoon olive oil and salt and pepper to taste. When pizzas are done, place on a cutting board and divide the fresh arugula onto the middle of each pizza slice and serve.
Pumpkin Maple Frappe
Serves 1
The Pumpkin Maple Frappe is delicious and perfect for fall. Not to mention super easy to blend up after school! It tastes creamy and sweet, but is surprisingly healthy.
½ cup 100% Pure Canned Pumpkin
1 Cup Unsweetened Almond Milk
3 Tablespoons Pure Maple Syrup
1 teaspoon Pumpkin Pie Spice
1 Cup Ice
Place all ingredients into a blender and blend on high until smooth, about 1 minute. Pour into a glass, sprinkle with a pinch of pumpkin pie spice and serve.
Sesame Peanut Dip with Fresh Veggies
Serving Size 2 tablespoons each, Serves 4
¼ cup creamy peanut butter
¼ cup unsweetened almond milk
2 teaspoons toasted sesame oil
1 teaspoon soy sauce
2 teaspoons lime juice
¼ teaspoon red pepper flakes (optional)
½ teaspoon toasted sesame seeds (optional)
1 large red, yellow or orange sweet pepper, stemmed, seeded and cut into ¼ inch strips
2 carrots, peeled and cut into ¼ inch pieces
Rinse and cut vegetables, set aside. In a small bowl stir together the peanut butter and almond milk until combined. Next add the sesame oil, soy sauce and lime juice, stir until combined. Stir in red pepper flakes, sprinkle the top with the toasted sesame seeds and serve with fresh cut vegetables.
Twin Chefs Udon Noodle Bowl
Serves 2
As fall quickly approaches, enjoy this quick and easy noodle bowl after school! We chose to use Udon noodles because they have a great texture, not to mention they are already cooked so they are quick to prepare. You can find them in the produce department in the refrigerated section of the market. Enjoy! –Audrey and Lilly
7.27 oz. Package cooked Udon Noodles
1 ¼ cup chicken broth
¼ cup shredded carrot
¼ cup shredded zucchini
1 green onion
Pinch of red pepper flakes
¼ tsp salt, or to taste
¼ tsp pepper
Using the large side of a cheese grater, grate the carrot and zucchini and chop the onions, set aside. In a medium sized microwave safe bowl add the Udon noodles, chicken broth, onions, carrot, zucchini, salt, pepper, and red pepper flakes. (Noodles will separate as they cook.) Microwave on high for three and a half minutes. Carefully remove the bowl from the microwave, stir and let cool for 5 minutes. Divide into two bowls and serve. This is great to take in a wide mouth thermos to school.
And now, here's the interview!
Nice to e-meet you! First of all, thank you for providing the five recipes. Which of the five is each of your personal favorite and why?
Lilly: My favorite is probably the peanut sauce. It's very simple, and tastes amazing with most vegetables. It's an easy dip to spruce up a snack.
Audrey: I personally love the noodle bowl! Especially as the weather is cooling, it can also double as dinner. I like to add a few extra red pepper flakes to mine!
You were inspired to cook when you watched the Food Network at age 3 because cartoons were too scary. Which is your all- time favorite Food Network show or chef and why?
Lilly: Audrey and I liked to watch any Food Network shows that were on, but one favorite of mine was Ina Garten.
Audrey: Alton Brown was always one of my favorites. I loved the science aspects of his shows.
And which cartoon do you remember was particularly terrible/scary?
Lilly: For some reason, the Flintstones made me really uncomfortable. The characters were so loud!
Audrey: I agree. Although none are coming to mind at the moment, all of the flashing and loud bangs freaked us out!
Which dish have you tried to make and failed at? What happened?
Lilly: I remember trying to make caramel, and it got so burnt that the wooden spoon couldn't be taken out of the mixture! I didn't know how to clean it and I was scared that my parents would get mad because I ruined the pan.
Audrey: One fall when we were pretty young we wanted to create a pumpkin bar recipe, we gave up after about the tenth time it didn't turn out. We should really try again!
What is each of yours personal favorite thing to cook?
Lilly: Our favorite thing to make changes with the season, but right now mine is definitely any kind of soup or stew.
Audrey: I love to cook and experiment making different kinds of Thai food.
When you go out, what food do you like to eat made by others (like a restaurant)?
Lilly: At restaurants I generally like to try a new item or ask for what the chef recommends. It's always fun to change things up!
Audrey: A food that never gets old for me is sushi. It's prepared a little differently at every place you go to, so it's always a new experience.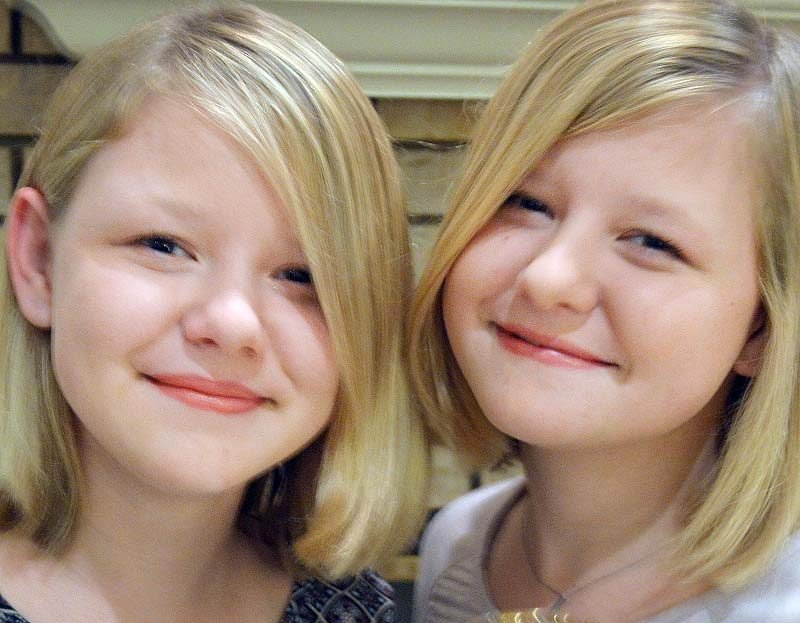 How do you come up with new dishes?
Lilly & Audrey: Inspiration for new recipes can come from anywhere, a change in season, a new cookbook, or a food from a restaurant can spark our interest. There are many different ways we come up with new dishes but mostly we just brainstorm an idea and try it!
How do you feel about GMOs?
Lilly & Audrey: Genetically modified foods are generally safe for consumption, but can interrupt the flavor and quality of produce. For example, many tomatoes have been modified to have thinner skin and be juicier. But with this the flavor is very watered down compared to an heirloom tomato. We think natural fruits and vegetables are naturally delicious.
What is your guilty food pleasure?
Lilly: My guilty food pleasure has to be pasta with cream sauce. It's not very healthy, but is a warm and comforting dinner.
Audrey: Mine has to be when my dad makes a batch of our family blond brownies. Definitely a treat during the holidays but I love them all year long.
Tell me something people would be surprised to know about you?
Lilly & Audrey: People would be surprised to know that music is another one of our passions. We love many artists and bands and love sharing this passion with our friends.
What is coming up next for you?
Lilly: Fall/Winter is very busy but we still find time to work on all of our Twin Chefs adventures and never stop learning new cooking techniques! Outside of the chef-realm, we are focusing on school and hanging out with friends.
Audrey: I can't wait to start working with fall squash again! It's one of my favorite types of seasonal vegetables, but this year, I plan on making something really outside of the box.
Where can fans follow you on social media?
Website: http://www.twinchefs.net/
Facebook: https://www.facebook.com/Lilly-Audrey-the-Twin-Chefs-272652284020/
Twitter: https://twitter.com/LillyAudrey
Instagram: https://instagram.com/twinchefs/
Pinterest: https://www.pinterest.com/twinchefs/
Youtube: https://www.youtube.com/channel/UCozM-BeGFVH6cP9oK496Xkg
Anything else we should know?
Lilly: Cooking is really fun and a great skill to have, you don't have to depend on someone else to serve you up delicious food! It's also very social, friends will love coming over to cook, eat, and hang out.
Audrey: Our cookbook "We Heart Cooking" has great recipes to get teens cooking healthy delicious food that everyone will love.