From Missoula to Carnegie Hall: Meet Maris, 17-Year Old Singer to Watch
Maris is from Missoula, Montana. Yes, that's a lot of Ms, as in "mmmmmmm" the sound you make when something is good. Good like Maris' voice! You'll get to hear for yourself when you scroll all the way to the bottom of this page to a video Maris recorded just for TWK readers and subscribers. First, let's find out a little bit about this teen who is on the fast track to success judging by the response she is getting online, with one video racking up over 600k views and a tweet of her singing getting 56,000 retweets and 175,000 likes as of this writing.
This may be the first time you have heard of Maris, but it won't be the last: She will be playing at Carnegie Hall on December 16, 2017 with a preview evening the night before at the well-known NYC music venue, Rockwood. She's already got two albums under her belt, and has garnered a lot of attention with her version of Dolly Parton's "Jolene," part of Scott Bradlee's Post Modern Jukebox (you can also see that vid at the end of the interview below).
More recently Maris was awarded first place in the category Guitar/Vocals in American Protege's International Music Talent Competition, which earned her the illustrious Carnegie Hall opportunity.
Now, let's meet Maris with an Teens Wanna Know's exclusive interview!
Hi Maris, nice to e-meet you! First of all, tell us a little about yourself.
Hello! The pleasure is all mine. I appreciate you taking some time to talk to me! Well, I am 17 years old currently, gonna be 18 in September, on the 16th. That's why 16 is my lucky number. I sing as much as possible, and my worst moments are usually tied somehow to not having time to sing or be creative. I love sleep, but I never have enough of it, and I have a deep appreciation for old Disney animated movies; my favorites being The Lion King, Mulan, Beauty and the Beast and Hercules. All which have outstanding musical scores and plot.
So…you were "discovered" through a Postmodern Jukebox talent competition. Tell us about that, and about the experience recording the video which now has 600k views.
I always find that the videos I haven't seen anything spectacular in are the ones that seem to do the best. My audition video, that I filmed at my then voice teacher's house, got a significant amount more attention than anything I had done before. It's weird for a small town kiddo to comprehend that many people watching them. I didn't win, but I was honorably mentioned and a "runner-up" but really it was just an honor for me to participate among such talented artists. Scott Bradlee, the founder, followed me on twitter after seeing my audition for the search, and after the winner was picked he said he'd still be happy to collaborate after they were done touring. Imagine my excitement, someone who gets to make music for a living AND TOUR wants to work with me. Incredibly flattering. So, after their tour I messaged him and then I was out there a couple months later and it was so incredible. Everyone was so courteous and kind to me, and even though I was completely nervous and out of my depths, it was one of the biggest learning experiences I had. I brought my grandma and my mom with me, and making them proud was one of the best parts.
At what age did you start singing?
My mom tells me that I was humming melodies before I could speak, but once I could speak I would sing for my siblings' friends or for construction workers when my childhood house was being remodeled.
Tell us about your training, as far as vocals and instruments.
I took a couple years of vocal lessons from Eden Atwood which did me a lot of good, I took guitar for a few months from a family friend Geoff Peddicord after a not super outstanding experience with a formal teacher. Probably my biggest teacher was observation, through watching other performers on youtube and covering songs on my own, trying to find what I needed to improve each time.
Who are your inspirations musically?
I have soooo many. Frank Sinatra is probably my biggest idol whom I look up to for charisma and presence, as well as control and an ability to perform live. Sometimes better live than in a studio version. THAT is a performer. I also really like Joan Jett, and her no-shits given attitude. Vocally I often try to reference jazz female singers, like Ella Fitzgerald, for the tone and almost nurturing quality of their texture. I do enjoy a good bit of growl, though, a recent artist that has this is Allan Rayman. I love his bite in his voice.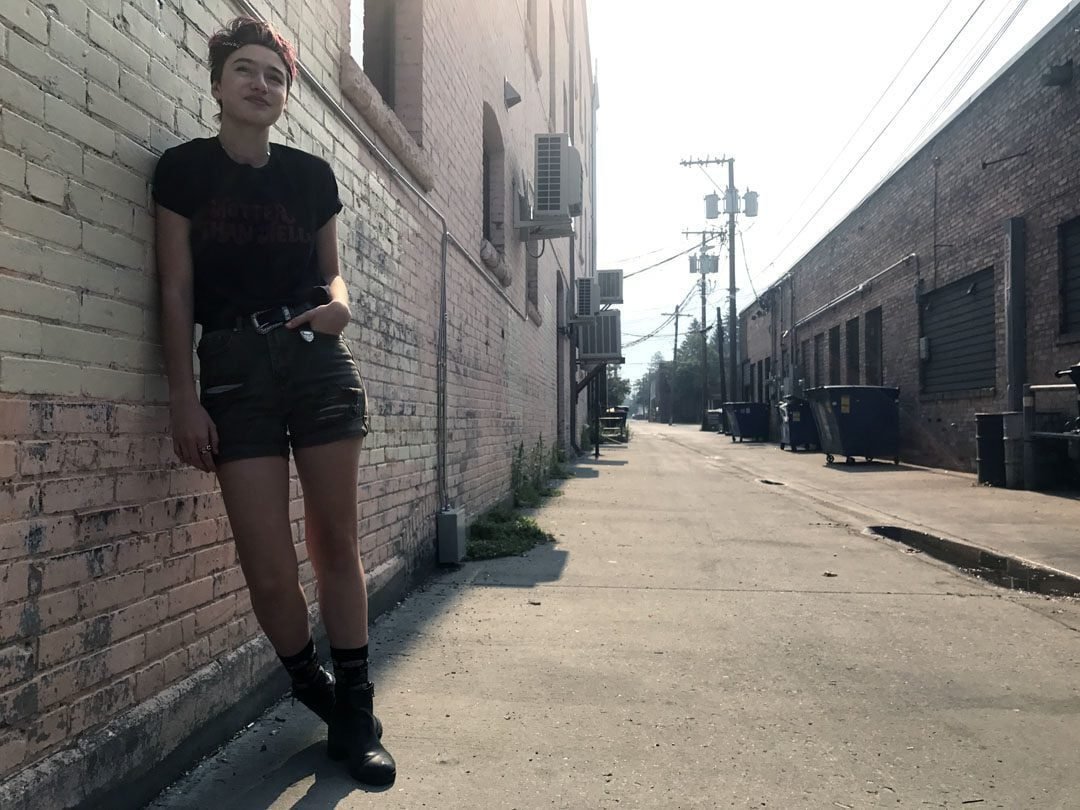 Who are your role models in general…who do you really look up to and why?
My mom is probably my biggest role model, because she didn't have the easiest time growing up, and she is a workaholic because of it. She never wanted her kids to experience the stress that she did when she was young, and so she works her ass off almost every minute. Even when she's home, she's on her phone working out deals and being just an incredible inspiration. If there is anything I hope I inherited from my mother, it is her sense of humor and ability to connect with people as well as her work ethic.
You will be performing at Carnegie Hall on December 16th. That's quite an honor! How did this come about?
I submitted a video, on a whim, to American Protege, not thinking it would go anywhere. I completely forgot about it and then a couple months later I got an email back saying I won a first place slot. The prize is performing at Carnegie Hall, and I couldn't be more excited and honored. I'm taking my grandpa, because it has been a dream of his to go inside and watch a performance in Carnegie, but he's never done it. I hope he isn't too bummed that it's mine, haha.
Your kinda hammy performance of "Fly Me To The Moon" has kinda blown up on Twitter. What was it like to see all those reactions to something you did just for fun?
It has been crazy, twitter has been surprisingly merciful in terms of trolls or harsh comments. Facebook appears to be where that festers these days. Anyway, I've been completely humbled and bewildered by the kindness I'm being shown. Part of me feels like I'm spending all my good luck on this good fortune, so I'm nervous. I know that's bullshit, but it's certainly in the back of my mind.
my mom wanted me to do my jazz singer at a cocktail party impression and um… pic.twitter.com/yr39VCXdtz

— maris (@meofthesea) July 31, 2017
Have you even been bullied? If so, what did you do to handle it?
I was bullied in elementary school through middle school for having hairy arms, which is the most ridiculous thing. Looking back, I knew it would crush me every time. I'm very delicate in every sense of the word. A boy would call me "manris" or something similar, and I would go home and shave my arms. Now that I've grown into a young woman, I am completely comfortable with people trying to insult me by saying they don't know if I'm a boy or a girl, or that I look like a man. It really makes me giggle, because I often feel completely detached from any gender, just kind of floating and wearing what I like and posing how I like and carrying myself how I feel comfortable. I'm also much happier now that I've learned to make fun of myself, and kind of put in perspective how that person's opinion of me isn't gonna penetrate my universe like they want it to. It's more a reflection of them, how they treat other people, I think. Not my problem if they lash out through insults, I have bigger things to worry about. Like making terrible jokes.
Where would you like your singing to take you in the future…that is to say what are your goals?
I really and completely would be 100% fulfilled with having a livable career. Traveling would be amazing, but even that is something I don't think I need to be satisfied with my career. I have big dreams and I would never limit myself, but at the end of the day, I just want to know I'll wake up excited to start my day. A tour and putting out work that only gets better as I continue to learn wouldn't be bad, though. Not at all.
Best experience in the music industry thus far?
I had a show with some friends at a local venue and I started singing a song that I've had out for a while and I looked down and made eye contact with a group of my peers watching, and they were singing my lyrics back to me. The connection was so powerful and it meant the entire world to me. I live for those moments.
And the worst?
After I had won a talent competition as a freshman in high school, the upper class kids I was competing against started to treat me differently. I'd walk to an area to chat with everyone and they'd all walk away, none of them wanted to talk to me after. It broke my heart, because to me music is so communal and is meant to bring people together.
Tell us something people would be surprised to know about you.
I used to play a lot of soccer, and my parents think I was pretty good. My coach nicknamed me 007 like James Bond, because I'd be all over the field. Kind of a ball hog, looking back. Hopefully I've worked on that character flaw of mine.
Biggest pet peeve?
Speaking of pet peeves as something minor that isn't like a deep-rooted world issue, I really hate when people are flaky or consistently late, which sucks because I'm often attracted to other artists, of which many use that as an excuse. I don't think being an artist means you are late or flaky, I usually just feel disrespected.
Any causes you are passionate about?
My family is always teasing me about being a "social justice warrior" because it's rare to find something societal or cultural that I don't have a passionate opinion on. I care specifically a lot about intersectional feminism, empowering and raising up the voices who are pushed down farther than mine is. Really, though, my fingers would fall off if I delved into everything I give a damn about, because I give so many damns.
What's coming up next for you?
I'm performing with a choir pal Chance with the Missoula Symphony. My choir teacher, Ellen Mckenzie, set it up for us. She's an incredibly inspiring woman, I adore her. Super talented and an amazing teacher, I shifted a trip to nyc just so I wouldn't have to back out of the symphony and disappoint her. That's how much I admire her. I also just absolutely dread the feeling of disappointing anyone.
Where can people connect with you on social media and check out your music?
My twitter handle is meofthesea, because I'm Maris and Maris means "of the sea" in Latin.
My instagram is starnip, because I used to like how girls would cover their nipples with the little star emoji when they'd post pictures on instagram topless, AND I'm a big fan of the concept of an intergalactic nipple.
My soundcloud is maris99 and I have my most recent music there for now, but in the fall I'm releasing an ep called LOVELUST written 100% by me and produced by a pal Ryan Maynes.
Anything else we should know?
I see music in the form of color and cinema. Different film qualities and hues and grains, etc.
Can we get a quick selfie of whatever it is you are doing right now?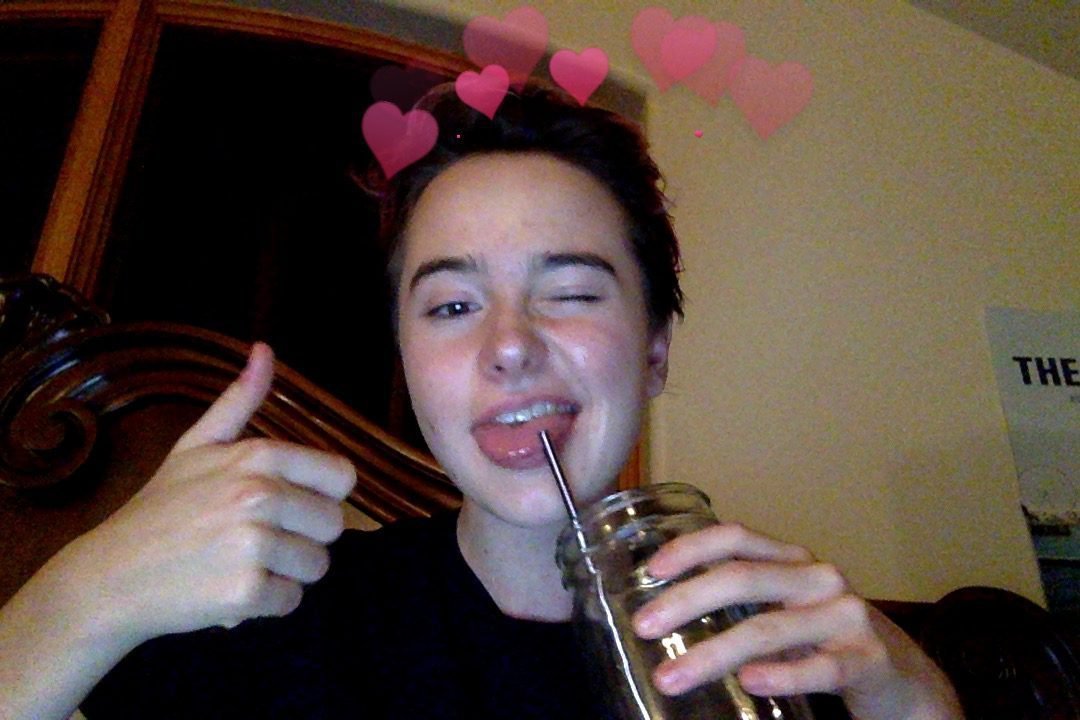 And now listen to Maris in this clip she recorded just for you!