How to make electronic music in Ableton with Rodin Flash – Interview & video!
EDM has taken the world by storm, and what used to be an underground movement which started with techno and house music parties (raves) in the 1980s has exploded onto the mainstream scene. Artists such as David Guetta, Steve Aoki, Martin Garrix, Marshmello and others have incorporated the heavy beats and electronic sounds of the pioneers, such as Juan Atkins, Frankie Bones, Richie Hawtin, Todd Terry and others, into radio-friendly hits.
One thing which hasn't changed from the origins of electronica is the do-it-yourself, home production vibe. Entire careers have been hatched from bedrooms and living rooms, and its getting even easier to produce thanks to cheaper gear and software.
Teens Wanna Know is featuring one of these emerging artists. His name is Dylan Huey and goes by the stage name Rodin Flash. If you want to learn how to make electronic music in ableton, produce your own beats or enter the world of international deejaying, you are going to love this feature, because in addition to a written Q&A, Rodin provides a video where he shows off his music production gear and deconstructs one of his tracks to show how it was made in Ableton Live. It's dope!
First, a few facts:
He is 16 years old
Uses Ableton Live
Released his first EP, called the Royal EP, in June 2015.
Released two more EPs, on in December of 2015 and one in March 2017.
Has over 250K followers and 3.5M+ likes on Musical.ly and close to 70K followers on Live.Me
Over 20K followers on Instagram
Consistently on ReverbNation's Top 10 EDM producer chart, and recognized on Shazam and Global DJ Rankings

Tours regularly
Now, let's get on with the interview!
Okay, let's start with your stage name Rodin Flash. At first I thought it was some kind of superhero name, but then I read that it actually comes from "Rotten Flesh!" Please elaborate lol.
Yeah, as I kid I was surrounded with video games and I loved playing them. When I was in elementary school, the hype was around Minecraft and in the game, there was an item you could collect called rotten flesh. It was edible, but you'd lose health from eating it. So you could say my stage name is based off bad food!
What do you consider your musical style to be?
Pop/EDM/hip-hop
What part has Musical.ly played in your music career? – or is it all just cringey looking back at your old ones lol?

Despite the fact that I have parted ways with my Musically past, I am still active and seeing what my friends are up to on the app. Musically has definitely helped me grow my fanbase and give my music publicity and a platform to be seen. It has also allowed me to find like-minded individuals and collaborate with them.
Do you DJ as well, or do you plan to stay strictly as a producer?
I've DJ'd in the past, but it wasn't something I was truly passionate about so I decided to strip the DJ'ing aspect from my concert performances. Instead, when I perform I sing, interact with my supporters, and more!
Many artists are skipping record labels and doing it all themselves. Do you think record labels are obsolete, or is signing with a label still important?

Signing with a record label is still crucial to grow as an artist without an already defined fanbase. Labels give developing artists the push they need to develop their craft and help provide resources to grow for artists to grow as individuals.
Tell us what's in your production gear setup.

Software: Ableton Live
Computer: Apple MacBook Air
Microphone: Rode NT1
Keyboard: Akai Pro MPK
Accessories: Novation Launchpad
Watch this video to see his equipment and how one of his songs was made. It will help with you how to make electronic music in Ableton:
Biggest pet peeve?
High pitch noises and people eating with their mouth open
Most embarrassing moment IRL?

I've had too many embarrassing moments. Most of the times were me just being clumsy lol.
Favorite food?

Pizza, Mac & Cheese, or Ice Cream
Favorite book?

Follow Me – Ricky Dillon
Favorite movie?
Expelled (the one with Cameron Dallas)
Favorite musical act…never mind I know it's the Chainsmokers. Okay, how about favorite DJ?

The Chainsmokers are also DJ's, but other than the Chainsmokers, Cheat Codes, Martin Garrix, and Marshmello are pretty dope as well.
What do you have coming up next?

A new pop/hip-hop album different from any of my previous albums. You'll definitely be surprised! It's gonna be lit.
Can we get a quick selfie of wherever you are at, to keep it real for the fans?
I'm in Toronto!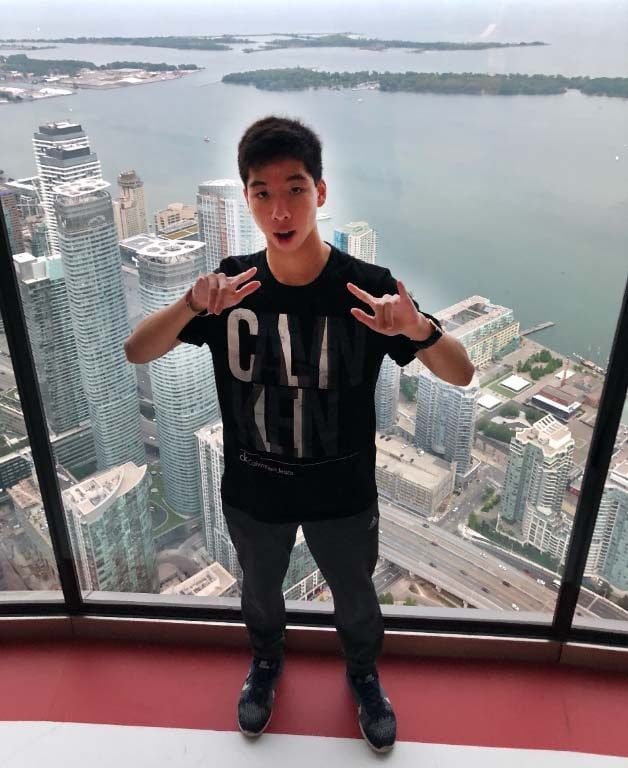 Follow Rodin Flash:
https://www.instagram.com/rodinflash/
https://www.facebook.com/rodinflash/
http://www.rodinflash.com/
https://www.youtube.com/channel/UCYs6Hkk55YwzaaxlsfJE4jA