Labor Day/Back to School Giveaway for Teenagers
Some of you might be happy that beach and barbecue season is just about over and sweater weather is almost here. But we are sure that a few of you out there are feeling a bit glum about summer being nearly over.
So, to cheer everyone up, we are doing one last product roundup and giveaway feature before Labor Day — and its a big one, with everything from books to DVDs to baseball caps and Disney Descendants merch. (Note: not everything below is in the giveaway, go to the bottom of the page to see what is and how to enter!)
We received a couple of AcneFree® 24 Hour Acne Clearing Systems to try out/giveway a couple of weeks ago, and since then we have been using it on the teens around the office here as guinea pigs. The truth is, we can see positive results already. Its not a miracle cure for acne (this doesn't exist), but it has lessens the severity of flareups, reduces inflammation, and gives the skin a smoother appearance.
The system is a convenient, daily regimen comprised of three simple steps using AcneFree® Oil-FreePurifying Cleanser, AcneFree® Renewing Toner and AcneFree® Repair Lotion. It has something called Advanced Micro-Benzoyl Peroxide, which is stated as designed to work fast and penetrate deep into pores. Furthermore, the products continue to work even after you're done washing your face – "continuously releasing acne-busting ingredients throughout the day to help clear your acne!"
Why we love it: It works.
Available at Amazon and other stores
Invented by dad and inventor Samir Lyons of Marina del Rey, California, the Daytrader financial board game is Monopoly for a new generation which promises to "bring you the thrills and chills of the stock market to your own home sweet home and you can also take the game with you for your travels to play at your destination."
The point of the game is to retire young and rich (just like real life, haha). The way you do this is earning salary, saving, investing, and managing risk. While this sounds kind of boring in writing, the game is actually VERY fun to play. The pace is fast, and surprises abound (including the possibility of getting completely wiped out).
A few critiques: the play money is too similar in color to really distinguish (see the 10,000 and 100,000 notes in the picture above for an example). Also, the instructions were a bit unclear on one minor point, which we sort of corrected ourselves (we won't bore you with the details). Finally, you don't really "day trade" per the real investment definition of the term, so the name of the game might not be the best choice. A bit more testing with focus groups and these likely would have been caught before wide release.
Nonetheless, it is a cool game, and highly recommended, especially if you are as sick of Monopoly as we are.
Why we love it: Fast paced, fun, and educational.
Available on http://playdaytrader.com.
Capture the best moments with your friends and family this fall with the Vivitar Selfie Stick with Bluetooth. This selfie stick comes with a separate Bluetooth trigger which makes it easy to snap a pic even when the rod is extended to its full extent: a whopping 40 inches in length!
Some of the features:
Camera or phone clamps into the Universal cradle for fast photo snapping.
Lightweight
180° ball head lets you find the perfect angle.
Bluetooth-enabled remote offers convenience.
Why we love it: The stick is strong and has a comfortable grip; we even got it support our Lumix GH4 camera — although we wouldn't recommend doing this for too long.
Available on Amazon and other online stores.

Whoever thought luggage could be so much fun? With Hablando Sola from ATM Luggage, packing your bags becomes way to show off your whimsy.
There are several models to choose from (we show the "Little Pieces of the World" model above) which are built with a lightweight and durable polycarbonate shell and sport 360º spinner wheels that glide effortlessly through busy terminals and around tricky corners. An expandable design and beautifully lined interior allow for excellent packing space, and the bright designs make your luggage easy to spot on airport conveyor belts.
Other features include a TSA-approved locking mechanism, an easily collapsible handle, and an interior zipper pocket for small items.
Why we love it: Super light-weight, so you aren't paying extra for no reason when you check luggage at the airport.
Find out more at http://ATMLuggage.com
Fans of Disney's "Descendants" movie are going to like this next group of products from the movie. Basically, we just needed a good excuse to give this stuff away, so we made it part of this back-to-school giveaway just because. This is your chance to get your very own "Mal" doll, a T-Shirt, a CD of the soundtrack, plus a tiny teddy-bear T-shirt (or stuff your cat into it and send us a pic, we are sure he'll love it. ahem)
Why we love it: Disney breathes new life into characters we all know, through their teen kids!
As teens, you probably already are or soon will be responsible for helping out with the laundry. Awareness of the damage some artificial chemicals cause to our bodies and the environment increases every day, and the products of MyGreenFills should be on every eco-conscious teen's radar because they are made without all the chemical gloop that mainstream brands contain. Instead, natural substances such as baking soda, sodium salts, citric acid, and organic essential oils are used to leave clothes fresh and clean.
Some of their products include: unscented laundry soap, fabric softener, color safe brightener, and enzyme cleaner. They also produce all-natural insect repellant!
Why we love it: They will give you a free sample to try it out!
Check them out at http://www.mygreenfills.com/
For many of us, there are still a few weekends left to enjoy the beach. For others, there is always the community or school pool. Regardless of which you prefer, putting on traditional swim goggles with those hair-pulling rubber straps can be a pain (literally). Fortunately, Frogglez brand swim goggles solve this problem with a patented stay-put strap and no-tug adjusting.
Features:
• They are extremely comfortable with a stay-put patented strap design.
• They keep eyes dry and do not leak.
• They are stylish and come in a variety of colors.
• They don't tug hair or push out ears.
• They'll never get lost in the water because they float.
Why we love it: Someone should have thought of this years ago, and finally someone did!
In addition to online, Frogglez Goggles are now available in a variety of targeted Wal-Mart stores throughout the United States. www.frogglezgoggles.com
We don't know what it is about teenage girls, but they always seem to be checking themselves in the mirror. That's why they take so long in the bathroom. Well, someone came up with an ingenious way to speed up those bathroom lines at the mall while protecting your phone with the Glam Screen Mirror Screen Protector.
Created by television personality Jonathan Cheban, it is a smartphone cover that doubles as a mirror. When the screen is lit, the Glam Screen is invisible. When it's off, the cover turns into a cool mirror ­you can use to check your make up, fix your hair and otherwise not hog up the bathroom mirror when your little brother needs to pee. Bonus: the tempered glass is scratch-resistant tempered glass, and it installs without bubbles in a snap and comes with a lifetime guarantee.
Why we love it: it comes in three colors…including pink!
$34.99 at www.glamscreen.com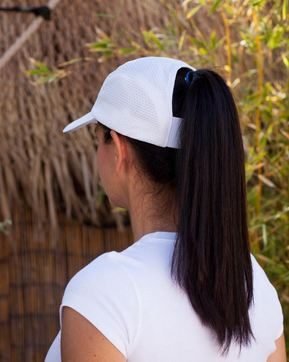 ADActivewear's new Athletic Version Hytail Hat is another one of those ideas that has you think "surely someone has invented this already?" but nope. So what is it?
It is a sports cap designed for women which allows them to comfortably wear their pony tails thanks to a high arch opening and 2 inch band in the back. It features a moisture wicking, breathable material to help keep your head dry, and will keep hair away from your face even if you forget a hair tie.
Looks stylish too!
Why we love it: Made by women, for women.
Find out more at http://www.adactivewear.com/
"Hope Bridge (family drama, all ages) shares the devastating impact and grief of those impacted by suicide. Christi and David Eaton produced the movie after having experienced suicide twice in their family. Through the film and their web site (www.reason2live.org), the Eatons' provide information, discussion, and resources to help those struggling with thoughts of suicide, loves ones impacted by suicide, or those wanting to help reduce the number of suicide each year."
"About Hope Bridge: After his father's shocking suicide, Jackson (Booboo Stewart, Twilight:Eclipse, X-Men: Days of Future Past) begins a search for the truth behind the devastating decision his father made."
"A violent outburst at school crosses his path with a counselor, Eric (Kevin Sorbo, God's Not Dead, Hercules) . Jackson travels down a twisting road leading to a decades-old secret that could destroy him. As Eric's guidance falls on deaf ears, Jackson's quest for answers is only breeding more questions. Will he be doomed to repeat the same cycle, or will he choose to journey forward and find hope for his future?"
Why we love it: Somehow, most of Booboo Stewart's family makes an appearance in this movie.
"Pirate's Code: The Adventures of Mikey Matson (family adventure, all ages). Heroes Mickey Matson (Derek Brandon, The Adventures of Mickey Matson) and his best friend, Sully (Francesca Derosa, Christmas With A Capital C), are forced to take on a mission to save our country from the evil plans of Admiral Ironsides (Frank Collison, O Brother, Where Art Thou? )."
"The Admiral and his motley crew of modern day pirates have taken control of a large merchant ship with plans of deploying a new type of weapon that could destroy every electronic device on Earth. If Ironsides succeeds, it could be the end of the world as we know it. Mikey and Sully embark on a mission to stop the pirates from taking over a submarine and stealing the last part needed to complete their devastating weapon."
"The film also stars Christopher Lloyd (Back to the Future) and Patrika Darbo (Days of Our Lives)."
Why we love it: Okay, its more for little kids than teens, we admit. But its got some pretty campy, funny moments.
"The first installment of The Dining and Social Club for Time Travellers trilogy, entitled Divine Intervention, takes place in modern day Paris after protagonist, Louisa Sparks tragically loses both of her parents. Louisa is forced to move in with a distant family member and thrown into a world of chaos and adventure when she finds an unusual timepiece that has the ability to transport her through time and space."
"After her arrival in Paris, Louisa is invited to join the top-secret Dining and Social Club for Time Travellers, whose members span centuries, continents and galaxies. Upon becoming a member of this eccentric fraternity, she swears an oath to uphold the traditions, closely guarded secrets and sacred rules of the club. The most important rule being that she can never under any circumstances, alter the past."
"Louisa navigates the daily pre-teen challenges of moving, starting fresh at a new school, and enduring her rather bombastic new guardian Uncle Hignard. In the process, Louisa encounters strange new friends, terrifying enemies, unscrupulous criminals, and the mysterious Nephilim, who under the direction of an evil mastermind, seek to extinguish all those who hold the power to travel time!"
"But her adventures have only just begun! Time travelers are going missing and Louisa may be the only one who can save them!"
"With over 100 illustrations, Divine Intervention is complete with action, suspense, tragedy, thrills, laughs and even a few tears. Young adults, and adults alike can enjoy reading this series!"
Why we love it: Time travel rocks.
"National Geographic Kids Guide to Photography is the most comprehensive, up-to-date guide to covering every facet of photography and photo equipment: from smartphones to point-and-shoot to SLR to even underwater cameras. Presented in a kid-friendly format, this fun, fact-filled book is packed with all the essentials for budding photographers."
"As you know, few art forms have changed more over the last decade than photography. The technological advances have made it much more accessible, and now everyone, including kids, is walking around with some kind of camera in their pocket. It's more important than ever to teach kids the right habits that will serve them well for the rest of their lives, as the deceptive ease of use of the new devices pushes aside the foundations of good photography."
Why we love it: While made for kids, even adults can get some valuable photography tips from this book!
http://shop.nationalgeographic.com/ngs/product/books/kids-books-and-atlases/culture/national–geographic-kids-guide-to-photography
Control your beliefs and take command over your life with 7 Keys to Unlock Your Full Potential by C. James Jensen.
"Why is it I have prayed and prayed and got no answer?
Jim Jensen has been asked this question untold times. It's a very common complaint all over the world. His answer is this: "All thoughts are prayers, and all prayers are answered – positive or negative. In life, you don't often get what you want – you get what you expect. And the key to creating the realities you desire and deserve is to make what you want and what you expect the same."
"The reader will be taken on a journey toward a doorway that opens a life of expanded opportunities and potential successes. This book does not require a leap of faith. The principles and techniques presented herein are both practical and well documented by modern science. Learn how to rid yourself of emotional baggage, negative self talk, and to unleash the empowering wisdom of the subconscious mind to achieve a better life. This is not a system, this is not a program, this is the way the universe works and the roadmap to manifesting all you deserve and want presented in a style, clarity, authenticity and down-to-earth manner anyone can comprehend and put into practice."
Why we love it: We have started putting these principles into place ourselves, and the results have been pretty amazing already.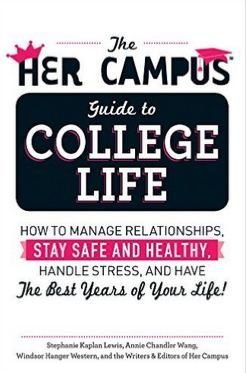 The Her Campus Guide to College Life by Stephanie Kaplan Lewis, Annie Chandler Wang, Windsor Hanger Western, and the Writers & Editors of Her Campus
"From dating to internships–everything you need to know about college"
"Get ready for the best years of your life! Written by the experts behind Her Campus, this college guide is bursting with insider tips to help you navigate classes, relationships, and all your extracurriculars–including parties and Greek life. Whether you're a seasoned upperclassman or are starting freshman year in just a few months, you'll learn how to:"
Bond with your roommate and set ground rules for your new space
Beat the Freshman 15 without having to give up dessert
Snag a date with the cutie from your Lit class
Cope with stress and anxiety–even during finals week!
Score jobs and internships that will help you transition into post-collegiette life
"You'll also get the lowdown on campus safety so you can enjoy all that college has to offer while avoiding the unfortunate scary parts that sometimes come with it. Complete with fun checklists and worksheets to help you carry out HC's essential advice, The Her Campus Guide to College Life shows you how to make the most out of your experience–in and outside the classroom."
Why we love it: Easy to read and relatable for older teens.
GIVEAWAY!
Teens Wanna Know Labor Day/Back to School Prize Pack
One (1) winner receives:
AcneFree® 24 Hour Acne Clearing System
Disney Descendants "Mal" doll, T-Shirt size Youth Large, official soundtrack CD, plus a tiny teddy-bear T-shirt
One free MyGreenFills Laundry Detergent jug, with free refill offer
Frogglez Goggles (purple)
Athletic Version Hytail Hat (white)
Hope Bridge DVD
Pirate's Code: The Adventures of Mikey Matson DVD
The Dining and Social Club for Time Travellers: Divine Intervention book
National Geographic Kids Guide to Photography book
The Her Campus Guide to College Life book
How to enter:
A) Follow @teenswannaknow on Instagram.
B) Post a pic on Instagram that represents GOING BACK TO SCHOOL and mention @teenswannaknow and the hashtag #TWKGiveaway in the description or comments.
We will follow everyone who enters back, and pick a random winner on 9/10/15!!!
OTHER RULES:
1. A random winner will be picked from all eligible entrants: giveaway open to U.S. residents only.
2. Children under the age of 18 years old must ask permission from a parent or guardian prior to entering this giveaway.
3. Winner will receive an email notifying them that they won and asking for a mailing address in order to deliver prize. If this email is not responded to within 72 hours, another winner will be chosen at random.