Last Minute Stocking Stuffer Ideas for Teens and Tweens – GIVEAWAY!
Alright, let's say you have very little time for Christmas shopping and are out of ideas and don't have too much cash lying around.
Don't worry. We have compiled a few of the best items sent to us for review, all but one of them under $50, which you can either purchase for your fellow teens, put on your own last minute Christmas wish list yourself, or even give to your younger siblings.
Let's start with some electronics:
(Note: some of the links below are affiliate links, meaning we will earn a small commission if you purchase something from them)
Audio-Technica SONICFUEL ATH-CKX5is
The major selling point of these smartphone-compatible earbuds is the fact that they are customizable, via the supplied accessories and 360 degree rotating eartip, to fit virtually any size ear.
Our review pair were very comfortable and sounded crystal clear. Getting them in the ear took some getting used to, but once we figured it out we were pleased with how much outside noise the headphones blocked and just how amazing the sound quality was. Bass is not "Beats" level, but we aren't fans of so much coloration in our music anyway.
The headphones feature controls on the cord to pause as well as control volume to some degree. A minor complaint is that you cannot completely mute the sound via the controls, and that there is no on/off switch for the cord's microphone input, which means you will hear a lot of noise if you jog with these and the microphone rubs against your clothes.
Otherwise…these are pretty cool at less than $49.99 retail (and much less on Amazon)
Vivitar Camelio Family Tablet (7 inch)
The Camelio Family Tablet is a good entry-level tablet for kids up to about age 9, although our 16 year old red carpet reporter Michael Pena has recently been spotted carrying this device around all day 🙂
The biggest selling point, apart from it's low price (you can find it for about $60) is that it is customizable with different OS skins and matching shell case. The unit we show above features the "Monster High" customization, but you can choose from a wide variety of themes, such as Batman, Barbie, Hello Kitty, My Little Pony and more. Another good feature is the parental controls to keep kids from browsing sites or downloading apps they shouldn't.
As far as performance…well, it's an entry level tablet, so it cannot compare to an iPad mini or most any other 7″ tablet on the market. Its a bit sluggish, and the graphics and battery life are not too hot. However, your kid brother or sister is probably not going to mind much, and because of the low price, they can smash it to their hearts delight and you can just get a new one without too much pain. Try that with your $800 iPad.
Full fledged 7-Inch Android Tablet display with 1024×600 Pixels

1.1GHz processor,1GB of memory plus an expandable Micro SD slot, OS Android 4.1 Jelly Bean, Google Certified

Rear and front cameras
Wi-fi
We tested the CAM740 model, but the CAM760 model seems to sport slightly better specs.
Firefly Hello Kitty Ready Go Brush and Anticavity Rinse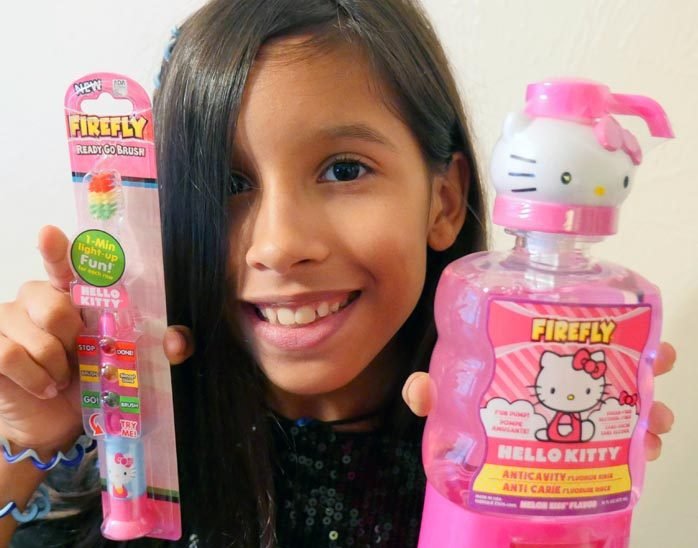 Hello Kitty mania shows no sign of stopping as she celebrated her 40th Birthday this year, so give your tween-or-younger sibling some Hello Kitty swag that also promotes dental hygiene with the Firefly Ready Go Brush (about 2 bucks) and the Anticavity Rinse (about 4 bucks). The brush features a lightup timer in red, yellow and green to encourage longer brushing, and the rinse features its own cup.
And let's not kid ourselves here that these are just for little kids. We all know some 19-year-olds who are gonna want them!
Wallet Ninja
The Wallet Ninja is an 18-in-1 multipurpose tool which is the size of a credit card and almost as thin. This makes it easy to carry around in your wallet.
Now, the truth is the "18" tools claim is a bit overblown. It has a cell phone stand which doesn't work very well, a fruit peeler which isn't all that handy, and the letter opener and can opener also leave a bit to be desired. However, from the viewpoint of having something for emergencies, this is a great product to own, and the bottle opener, hex wrenches and screwdrivers work fine.
It is made out of heat-treated steel and has a lifetime guarantee never to rust, bend or dull. If you can find it for less than its $14.95 retail price, it is well worth it.
Spaghetti Headz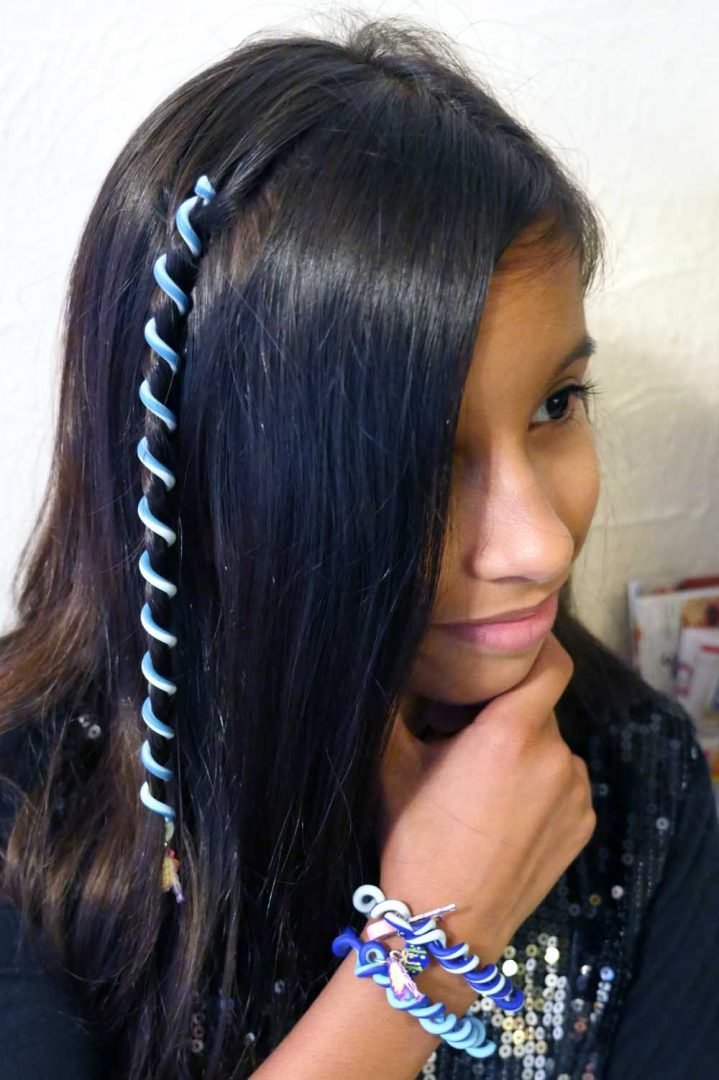 Spaghetti Headz are cool hair twist accessories made from eco-friendly, brightly-colored polymer clay. They come in many color schemes, and each features a different charm at the end depending on the model (Keira above is rockin' the Hannukah pack).
Each pack comes with three Spaghetti Headz and retails for around $14. You can cut them for shorter hair, and even wear them as bracelets.
The Art of Adapting
Cassandra Dunn's first published novel makes for fine reading for the Young Adult crowd looking for something more down-to-earth than sexy vampires or know-it-all wizards. In fact, the book deals with the all-too-real issues of a family dealing with a divorce, teen bullying, eating disorders, and Asperger's Syndrome.
Each chapter in the book is told from the viewpoint of one of the four main characters (a mom, her two teen kids, and her mentally challenged brother), and effectively draws you into their minds. Another plus is that, while the book deals with serious topics, it is not as big of a downer as one might expect — so it won't ruin your holiday! Buy it for $12 or so on Amazon.
They Eat Horses, Don't They?
This one is for lovers of everything French. You know, the people that can gorge themselves on pounds of cheese without getting fat and drink gallons of wine without getting drunk. The ones that never bathe and whose women never shave yet frolic topless at every beach. Wait what?
Piu Marie Eatwell takes on the above and 40 other myths about the French in this detailed, yet often humorous, book (her first). What sets the book apart is that she exhaustively documents things with interviews, statistics, government records, etc. Another thing is that the language and vocabulary are quite sophisticated, just like the French (or maybe that is just another myth…)
Get it for less than $20 on Amazon.
So Not Okay – Mean Girl Makeover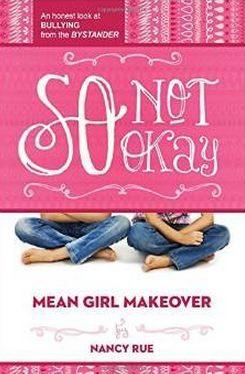 Bullying is still (unfortunately) a hot topic among tweens and teens. Bestselling author Nancy Rue's contribution to the conversation is three books with a biblical slant, called the Mean Girl Makeover series, which each deal with bullying from a different point of view: the bully, the victim, and the bystander. This was done so that each reader can find a character he or she relates to, and hopefully raise awareness of how his or her behavior exacerbates the problem. This first book, So Not Okay reflects the viewpoint of the bystander – the role that most kids find themselves in.
Synopsis: "So Not Okay tells the story of Tori Taylor, a quiet sixth grader at Gold Country Middle School in Grass Valley, California. Tori knows to stay out of the way of Kylie, the queen bee of GCMS. When an awkward new student named Ginger becomes Kylie's new target, Tori whispers a prayer of thanks that it's not her. But as Kylie's bullying of Ginger continues to build, Tori feels guilty and tries to be kind to Ginger. Pretty soon, the bullying line of fire directed toward Ginger starts deflecting onto Tori, who must decide if she and her friends can befriend Ginger and withstand Kylie's taunts, or do nothing and resume their status quo. Tori's decision dramatically changes her trajectory for the rest of the school year."
No Cell Phone Day
This is a book for your younger bro who is starting to obsess over watching YouTube videos on his phone all day. Or perhaps to drop a hint to a parent to chill with the phone while you guys are supposed to be spending quality time at the beach or restaurant.
Written by renown Jazz musician Delfeayo Marsalis (brother of Wynton), this short book covers a day in the life of a family who decides that their dad's cell phone habit need a break. Wonderfully illustrated by Reginald William Butler.
How Much is Too Much? Raising Likeable, Responsible, Respectful Children from Toddlers to Teens in an Age of Overindulgence
This book, published by Da Capo Press and written by Jean Illsley Clarke, Connie Dawson and David Bredehoft, makes a nice stocking stuffer for your parents. While it might seem crazy to give your mom and dad a book which gives them techniques to stop overindulging (spoiling) you, in the end, doing so might make everyone get along much better. Especially since the recommendations are very sane and fair.
Our only criticism of the book is that it can get a bit repetitive, as the authors emphasize their points repeatedly, but overall we think it makes an good read for both adults as well as teens who need to learn to reign in some of their habits. It currently sells for about $12 on Amazon.
The Pointless Book: Started by Alfie Deyes, Finished by You
Popular YouTuber Alfie Deyes has put together a companion book to his PointlessBlog channel and it is just about as pointless as you'd expect…but quite a bit of mindless fun as well. Excellent for the days after Christmas when you have nothing much to do except hang out in your pajamas and drink hot cocoa.
The book is full of games, activities, and silly pranks, such as designing a tattoo, people-watch, play "squares", and just plain doodle. It also includes a Pointless Book app that displays content when you hover your phone over certain pages in the book–cool!
The book retails for $12.95 but, you guessed it…get it cheaper on Amazon!
Scar Away
Okay this last one might not seem as cool as a new pair of headphones or a tablet, nor as intellectually stimulating as a book (and the middle pic above might be a little gross)…but we were amazed at how well ScarAway Silicone Daily Discs work at making scars a lot less noticeable. Just clean the area, pop on a silicone disc, and replace when it falls off. After a few weeks, your scars will be practically gone. Retails for about 20 dollars.
GIVEAWAY!
We are giving away a HUGE prize pack worth over $125 with many of the items above, including the headphones and the Spaghetti Headz! Follow us on Instagram and watch for our post with details on how to enter! Giveaway ends noon pacific time 12/19/14 so hurry!