Meet Rebecca Juliet, a 16-Year-Old Who is Definitely No "Damsel in Distress"
Rebecca Juliet is a 16-year-old New York City-based singer-songwriter on a mission to change the world through her music–both through the messages in her lyrics and by donating to charities with the proceeds of her sales.
Her latest single, "Damsel in Distress" is an empowerment song for girls, making a point that girls do not need to be "rescued" by guys to succeed in life.
According to her press release, "Rebecca will be donating all the net profits from the purchase of "Damsel In Distress" on iTunes and Amazon, to "Girl Inc. of New York City" an organization that assists under-served 6 to 18 year old girls in New York City to realize their full academic, emotional and physical health potential. As Pamela Maraldo, CEO of Girls Inc. of New York City said, "Girls Inc. of New York City is proud to partner with strong, smart, and bold girls like Rebecca who work hard and give back to their communities".
We got to ask Rebecca a few questions (and of course, get an exclusive selfie). You can read her answers below, but first — watch her video!
Hi Rebecca, nice to connect with you online! Let's get right to it: tell us about your new single Damsel in Distress.
"Damsel in Distress" is all about the empowerment of women, a cause that I have been passionate about for years. In writing "Damsel," I really wanted to create both a song and a video that got across a really important message but were still upbeat and fun.
Was it inspired by some real-life experience?
Not to be too much of a downer, but I believe that almost any woman you ask would say that she's been marginalized in some way because of her gender. So, yes, personally, I also have some real-life experiences where I have been treated in a problematic way because I am a girl.
I'm often catcalled on the street, for example, which is a demonstration of the view that women's bodies really belong to men. Guys who don't respect when a girl says to stop or tries to assert her own rights (and there are lots of them) further impose the belief that women are objects.
Don't you think a guy should be able to pay special attention to a girl, and help her out if she is in trouble though? What about chivalry and traditional manners?
I think there's a big difference between manners and assuming that a guy can do something for a girl better than she can do it herself. I like when people hold the door open for me, regardless of gender (and I always do the same).
That being the case, there's a line where manners and politeness become sexism. I even say as much in the lyrics for "Damsel in Distress:" "You can open the door,/ You can help me with my coat/…./But I didn't go to school to be a victim in a dress./ Please don't treat me like a damsel in distress."
You donate the profits of your two singles to charities. Why is giving back to your community so important to you?
I went to a Jewish day school when I was younger and am very involved in my synagogue, and I truly believe that Judaism has instilled an imperative in me to make positive change in the world. There's an amazing passage in our prayer book that says, "Pray as if everything depended on God. Act as if everything depended on you." The value of tikkun olam (repairing the world) has been a part of my life for as long as I can remember.
I also live in New York City, which is one of the most economically diverse and divided places in the nation. There are low-income housing projects just blocks away from multi-million dollar townhouses. Living somewhere with such a socio-economic dichotomy is really eye opening to the inequalities in our larger society.
You have a pretty amazing voice. Tell us about your training past and present.
First of all, thank you so much!
I've trained with Judith Farris since I was 11. We almost exclusively work on musical theatre and opera repertoire because Judith believes that having a strong technical background is essential for any vocal style. Just like most dancers train in ballet to then go on and learn other styles like jazz, I'm classically trained vocally so I can go on and learn any other vocal style. Judith is absolutely incredible. She has been a performer and teacher for years and years, and has worked with some of the best in the business. It's an absolute honor to work with her.
At my school, I'm also in the chorus and all female a capella group.
What would be your dream gig as a performer?
Hmm, I'd love to play at a music festival like Gov Ball or Coachella. I think it would be so much fun to perform outside with such a dynamic and excited audience. The sunshine would be such a nice perk!
If there was one general thing about your fellow teenagers that you could change, what would it be?
If I could change one thing, I'd like to instill a deeper understanding of the importance of love, both for fellow people and for oneself.
In terms of loving other people, I think many of us are too quick to judge others—either because they're too different or too "basic" or too whatever. We're all products of our backgrounds and none of us are perfect, but we all deserve the appreciation and acceptance of our peers. That being said, the person who most deserves your admiration is yourself! It's really hard to love what you see in the mirror, but making that effort is amazingly important and rewarding.
What are you working on next?
Next, I'm working on getting into college! Junior year is just as hectic as it's cracked up to be, and right now I'm honestly focusing on my schoolwork and standardized tests. Hopefully I'll be able to get going more intensively with my music once the college process dies down.
Anything else we should know?
I'm really lucky having grown up with a stable and economically comfortable home life with access to an excellent education. Because of my own good fortune, I'm donating the proceeds from "Damsel in Distress" to Girls Inc. of New York City, an amazing organization that educates underprivileged girls ages 6-18. The classes offered at Girls Inc. of New York City range from lessons in STEM fields to lessons in economics to lessons in pregnancy prevention and self-esteem. You can easily support this amazing cause by purchasing my song or video on iTunes or Amazon or by donating directly via my website, rebeccajuliet.com.
Selfie time! Can you please send us a quick selfie of whatever it is you are doing right now? (just chilling on the couch, hugging a pet, playing guitar…whatever)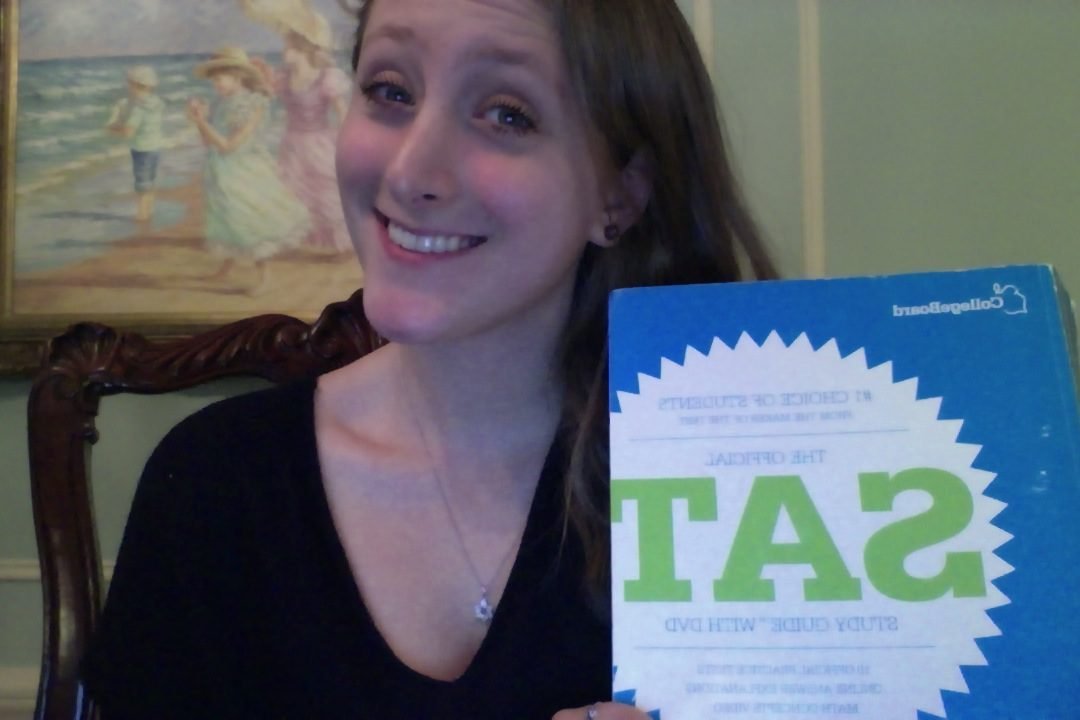 Aha, you weren't kidding about working hard to get into college!