One Piece Film: Strong World Comes to US Theaters
IN U.S. THEATERS – NOV. 7 (DUB) & NOV. 9 (SUB)
To celebrate airing its 1,000th episode this November, hit anime series "One Piece" will present a two-night special theatrical showing of "One Piece Film: Strong World."
Dates will be November 7 (English Dub) & November 9 (English Sub) in select U.S. theaters. This will be the first-ever U.S. theatrical release of "One Piece Film: Strong World" – the 2009 movie written by creator Eiichiro Oda and 10th film in the One Piece franchise. As part of this special event, moviegoers will also experience the U.S. premiere of the "One Piece: Mugiwara Chase" featurette.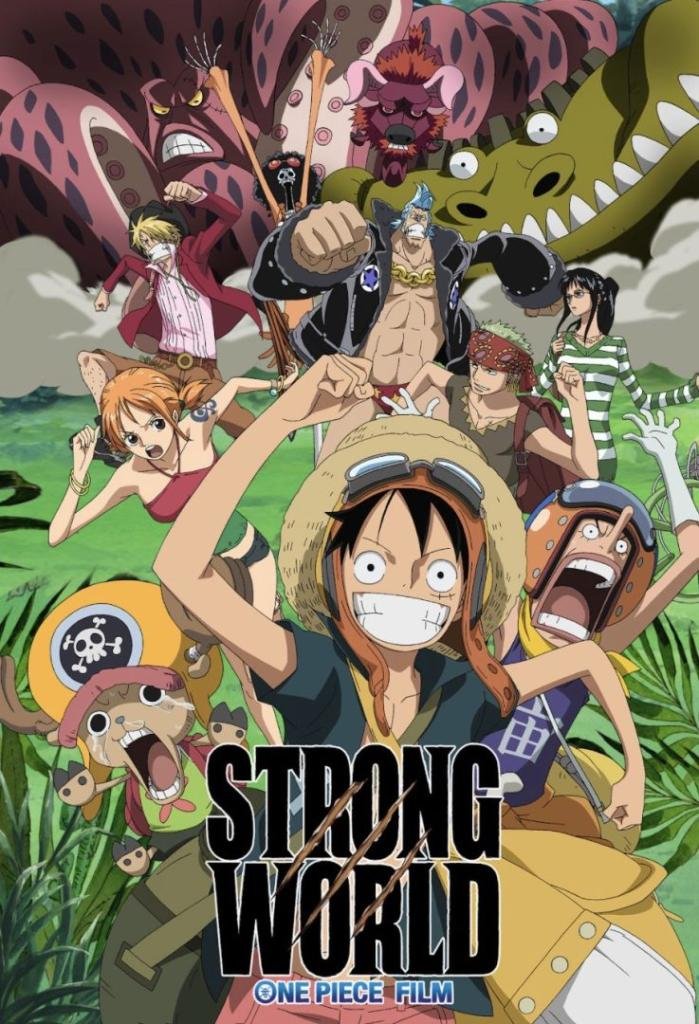 Quick review/synopsis: The action starts right away with the One Piece Characters on an epic chase scene through the jungle where our hero Monkey D. Luffy fends off a series of ever-more-powerful and aggressive mutant animal foes. What's his goal? To rescue Nami, the navigator of the Straw Hat's ship, the Thousand Sunny.
Nami's been kidnapped by an initially friendly pirate named Shiki, the Golden Lion. Thanks to the use of a powerful plant, he has the power to levitate anything–including massive islands which float in the sky like something out of the Avatar film. Oh, and he also cut off his own legs to escape prison, and replaced them with broadswords.
After besting the Straw Hat Pirates in battle and locking many of them in a large dirt formation, Shiki presents Nami with an offer she cannot refuse: join his pirate crew willingly as their new navigator, or her friends will die. She reluctantly accepts, and the rest of the film deals with the Straw Hats' quest to save their kidnapped Navigator and prevent Shiki from destroying the East Blue–their home.
Although thee film is not new, watching this film in a theater will be a treat for US One Piece fans, as the action is non-stop and there are plenty of funny moments suree to make fellow theatergoers laugh (including from Shiki's clown sidekick who wears shoes that make a farting noise with each step–much to Shiki's chagrin.)
All-in-all, very entertaininig and highly recommended. Go watch!
WHEN: Sunday, November 7, 2021 (English Dub)
Tuesday, November 9, 2021 (English Subtitle)
WHERE: In select U.S. theaters from Fathom Events.
Complete list of theater locations at fathomevents.com/onepiece