Pop's Past Goes Future with Magdalena Bay
Retro-pop futurism hits new peaks with Magdalena Bay, a Los Angeles-based duo dripping with semi-ironic style. Following the release of mini mix vol. 1—a genre-bending 12 minute flurry of nostalgic production and saturated visuals—Mica Tenenbaum and Matthew Lewin have followed up with two new songs: Venice and Good Intentions. Read on for an inside look on what makes the group tick.
We recently saw a switch from the reclaimed look of your Mini-Mix series to a more polished feel with your recent release "Venice." Is there a point for you where aesthetic informs your music, or vice versa?
Our music definitely informs our aesthetic! And our aesthetic doesn't exactly inform our music, but we do think that both in our visuals and our music we like to have fun and not take ourselves TOO seriously. So even in a more polished video like "Venice," we like having some DIY weirdness and crafty vibes.
What's your most unconventional source of influence?
Don't know if it's unconventional or not, but a non-musical influence for us is video games. We've just gotten into Zelda and Mario games and they have such sick soundtracks and stories that we're definitely inspired by!
What might people be surprised to know about you?
That we started making music in a progressive rock band in high school. Our music was inspired by 70s bands like Yes and we didn't even like pop until a few years ago! Now, we're obsessed with it.
What's your favorite song of yours that you think might be overlooked by fans?
Probably "Set Me Off," it's such a jam!
Are you guys still working long-distance? Run us through your collaborative process living cross-country from each other.
We're not working long distance anymore, but we did for like two years! It was a lot of sending files back and forth and a bit of a hassle but we think it helped us develop our songwriting skills independently in a cool way.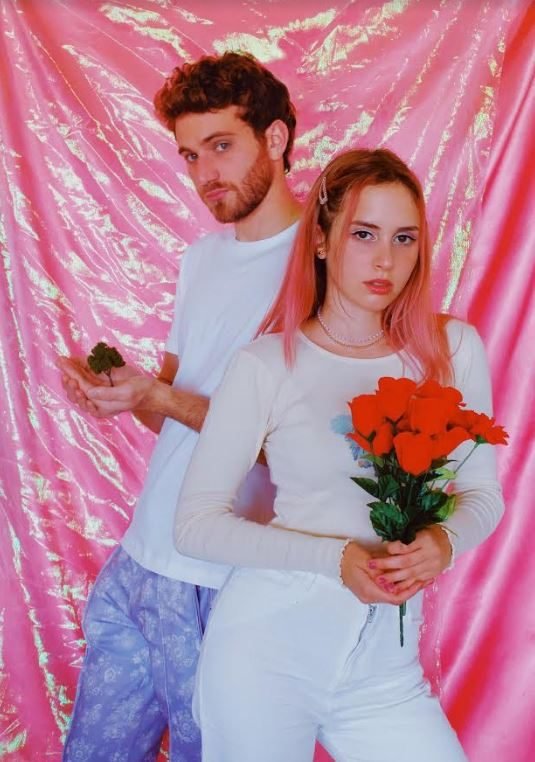 Are there any lessons from your experience in a prog-rock band that you've applied to your careers as pop musicians?
Definitely! We love injecting weird chords and song structure into our pop songs. We think it keeps things interesting.
Mica, as a working professional in marketing, are there any lessons you've learned at work that you've applied strategy-wise for the group?
Haha maybe! I think it's helped me have a productive mindset. It's important to always have new videos, photos, newsletters, and ways for fans to connect with us and feel like they're a crucial part of our journey, because they are!
You're both young, but if you had the opportunity to travel back in time and give one piece of advice to your younger selves (say, age 13), what would it be?
We'd tell ourselves to stop listening to Radiohead nonstop and check out Kylie Minogue!
What's up next for Magdalena Bay?
More singles, more shows, and maybe some long form releases soon…
Can we please get a selfie of whatever you are doing at the moment, to keep it real for the fans? : )
Yes, here's an awkward pic of us driving down the PCH from Santa Barbara to Los Angeles (attached)
Socials:
Website // Facebook // Twitter // Instagram
---
Michael Peña is a Los Angeles-based musician and Kanye West enthusiast. When he's not busy being unusually defensive about Kacey Musgraves on the internet, he can be found on Instagram.