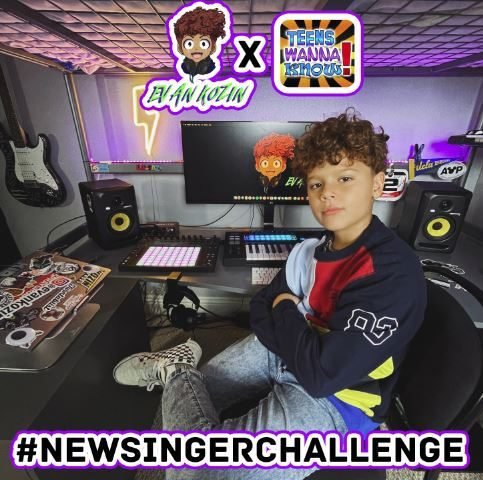 Grand Prize:
Rising Star Producer and DJ Evan Kozin will produce your next track, including (if desired) writing or co-writing with an ASCAP songwriter with major artist, TV and film placements (including Disney Channel, NBC, New Line Cinema, Ruthless Records, and R&B singer Mya) and arrange for professional mixing and mastering. This package is worth easily $1,500!
Also, you will be featured in an exclusive interview on leading teen website teenswannaknow.com and promoted on their social accounts once song is released!
How to enter:
Record your BEST vocal performance as a MAX ONE MINUTE VIDEO. You can do acapella or to music, but your vocals must be heard CLEARLY. Contestants who are RAPPERS, DUETS, TRIOs, etc. are okay!
Follow @evankozin and @teenswannaknow on Instagram
Upload your video to your main Instagram FEED (not story or IGTV) and use the following tags and hashtags in the description: @evankozin @teenswannaknow #NewSingerChallenge. Keep video live until the end of the contest. Select entries may be reshared/promoted on both Evan and TWK's Instagram Story and other social media at their sole discretion.
All entries must be received by 11:59 p.m. pacific time on Friday, January 8, 2021.
Depending on the number of entries, Evan Kozin (Producer) and TWK will pick 3 to 5 finalists and announce via Instagram on Monday, January 11th, 2021. Finalists will be picked using a number of factors, including vocal ability, personality, commercial potential, etc. as adjudicated by the judges.
Upon release of Finalist names, both Evan and TWK's followers will VOTE via Instagram Story Poll or other appropriate method to pick the WINNER from the finalists. Voting ends Thursday, January 14, 2021.
Winner will be announced Friday, January 15, 2021 via Instagram and contacted via DM for email details to proceed.
Contestants must be in middle or high school (home school ok).
Producer will perform all work in his home studio. Collaboration will be remote by sending in Winner's vocal track.
Song will be released to Digital Music Streaming Platforms via DistroKid or similar DMD at an agreed upon date.
Co-writing credit will be split between Producer and Winner with 50/50 split of any and all revenues and royalties.
Winner has final say on whether the end recording will be released or not. In the event they decline a release, Producer will be entitled to use the instrumental track (without Winner's vocals) as he sees fit without compensation to Winner.
Winner must sign separate Production Agreement with Producer. Winner agrees to hold harmless Teens Wanna Know and its owners, partners, heirs, assigns, and associates from any damages arising from disputes with Producer or non-performance of any agreements entered into with Producer.
Contest is not sponsored, endorsed or administered by, or associated with Instagram or Facebook.