The exquisite photographic eye of 17-year-old Kelly Needleman
Kelly Needleman is a Northern California teen in his junior year of high school with a gift for photography and filmmaking. His pictures have appeared on the websites for National Geographic, CNBC and ABC thanks to a keen eye for composition and his knack for capturing ethereal, almost magical qualities from the landcapes he photographs.
What's even more remarkable is that he has only been shooting for about two years and has no formal training, being entirely self-taught besides getting a few tips from fellow shooters, including a cousin in New York who is a professional photographer. While he is still learning, he is already producing some excellent work, and we cannot wait to see his career blossom.
We asked Kelly a few Qs about his background and his techniques, and share some of his best work. Read on to get inspired to pursue your own passion!
Images below courtesy Kelly Needleman and David Needleman
Hi Kelly, thanks for taking the time to answer a few questions. Before we get into your video and photography work, tell us a little bit about yourself.
Hi, thank you so much for talking to me. I am a 17-year-old film director, writer, producer, entrepreneur and photographer located in Northern California. Although I am still a junior in high school, I have created my own production company called Needleman Productions. I plan on majoring in film directing and minoring in business when going to college.
Thanks. How long have you been capturing images, and what made you get into it?
I have been in the creative industry for the past few years. I started taking photos when my mom bought me my first camera when I was 15 years old. I gravitated towards landscapes and nature, which was fueled by the beauty that surrounded me. This lead to a natural progression into the film industry.
Which film of yours are you most proud of, and what makes it stand out to you most?
One of my favorite films I have made recently was "Italian Masterpiece". This is a compilation of my entire time spent in Italy. It showcases these locations: The Dolomites, Venice, Rome, Cinque Terre, Florence, and Tuscany. I feel that this film captures Italy through the countries dramatic mountains to the unique cities, visually showing a country full of life, love, and art.
And which one do you most wish you could do over so it was better?
I would like to revisit my film "My Identity". Though it was very popular and received many awards, I feel I could have recognized the people who influenced me to be the person who I am today.
What's your overall goal – like what do you want to achieve long term as an artist?
My overall goal is to create movies that are visually beautiful with attention to detail. I would like to make the viewer feel that they are enthralled by the visual experience.
Let's talk equipment. What camera do you shoot with, and your favorite lenses?
I recently invested in a cinema camera called the Canon C200. In the past, I have used the Canon 6D for photos and short films. My favorite lenses to use are the 17-40 mm wide angle and the 70-200 mm telephoto lens. This allows for artsy and creative shots in my opinion.
What are your top 3 favorite photographs, and what makes each so special.
My ultimate photograph would have to be "Peaceful Violence"
I have taken this shot many times, but this day the sky exploded and there was a magical feeling to the atmosphere. I was in the right place at the right time, for sure.
My second favorite photo would have to be "Italy From Above" I took this photo with my drone off the side of a mountain in the Dolomites. Again, lucky that this one car was driving up at the time I was shooting.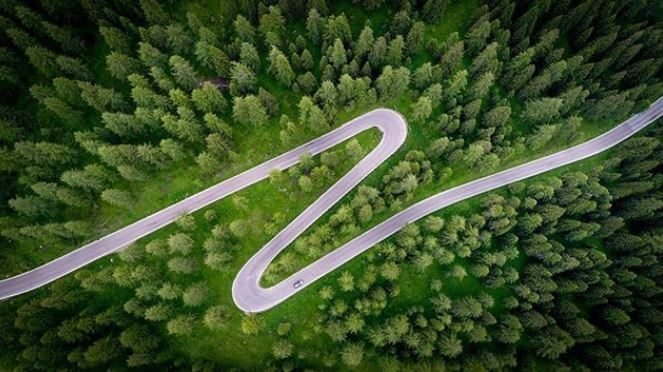 My third favorite photo is called "Silky Flow." This is one in a series of fog photos that I have taken in Mount Tamalpais in Marin County. Capturing the fog was a weekly schedule for me and every photo was completely different, although shot in the same location. This taught me how to be patent and disciplined when waiting for the right moment and conditions to take the best photographs.
Can you shed some light into how do you produce your stunning photography? Do you use photoshop to composite images together, such as add lighting and fog, or it that all in camera? Explain your process a little.
I try to edit as little as possible. All of my images are natural, not superimposed or created with Photoshop. I use Lightroom for editing colors and contrast. I have found my own style which is dramatic and mystical. I try to make each photo the same type of mood to convey a story or feeling.
Which is your go-to camera to shoot with? Why?
I have always fallen in love with the Canon brand. For me personally, I gravitate towards the Canon products because they are very reliable and bring my visions to reality. My go-to camera would have to be the Canon 6D because I am the most familiar with it and have used it throughout my entire creative career. I have developed a small relationship with Canon and have been published on their website and social media various times.
And from some of the bird-eye shots, such as the Golden Gate Bridge and a few of your videos, I see you have a drone as well, right? Which one do you use?
Yes, I have the DJI Phantom 4 Pro. I have used the drone for the last 2 years and it is the best drone in the market for its price. I have traveled through Europe with this drone and I found it quite cumbersome. I recently purchased the DJI Mavic Air which is very compact and easy to travel with.
Which filmmakers or creators do you look up to most?
The classic directors Martin Scorsese, Ron Howard, and Steven Spielberg. I also admire the careers of both Matt Damon and Ben Affleck as directors, writers, and actors.
Currently, I am really loving an extensive amount of Netflix movies and TV series. The creativity and storylines are incredible. Some of the series I admire are Breaking Bad, Ozark, Bloodline, Dark, The Mist, and The Rain to name a few. I am a big binge watcher.
If you had the power to write, direct and star in your own movie with an unlimited budget, what would you call it and what would it be about?
That's a really hard question because there are so many possibilities. I know would like to do something in the genre of psychological thriller mixed with drama/mystery. I would like to have the setting in a country that is not filmed in frequently, such as Iceland.
Tell me something people would be surprised to know about you?
I have been playing tennis since I was 10 years old and I am currently the captain of my tennis team in high school.
Biggest pet peeve?
The sound of people eating loudly and licking fingers.
Favorite food?
Olive oil based penne pasta with chicken.
Secret obsession?
Watching YouTube videos, specifically David Dobrik.
What's the last movie you watched, and give me a review…but you can only use TWO WORDS for the review : )
Bird Box. Bizarre and Transfixed.
The one thing NOT related to filmmaking/photography I cannot live without is__________.
My Family
Most embarrassing moment IRL you wish you could do over?
Just imagine an intensely competitive and quiet moment during a tennis match tournament with an audience watching and you completely airball your serve. On top of it, the racquet hit my leg and I had to play in pain for the rest of the match. It doesn't happen a lot, but when it does happen it is extremely embarrassing.
What else are you working on or have coming up next?
Currently, I am in the midst of my first feature film. I am the director and writer of the film Lost Visibility. The logline for the film is: Maybe they weren't as close as they thought they were. Three friends share intimate dreams that bring their secrets to reality.
The movie is in the genre of Teen Drama, Mystery, and physiological thriller. I have a confirmed lead actress, Gigi Cesare, who will be playing the role of Sam. She is on Netflix and has been nominated for an Imagen Award for best actress in a feature film. Currently, I am casting, alongside my Casting Director. We are in contact with a local famous actor, Disney Channel star, and Netflix star for roles in my movie. It's a very exciting process and I can't wait for the official shooting in summer!
Could we get a selfie of whatever you are doing at the moment? It's something we ask to keep it real for the fans!
Currently talking to my producer for my feature film and drawing storyboards with my storyboard artist.
Follow Kelly!