The Top 5 Most Iconic Sneakers You Can Still Buy Today
Sneakers, or trainers, are shoes designed primarily for training and exercising purposes, but evolved to be worn as casual footwear over time. These shoes have a flexible sole and an upper part, both of which are made of either rubber or leather and are comfortable for physical activities such as running or jumping because they absorb shocks and provide good grip and support. They come in various designs and colours which also allows them to be a style statement while helping to improve your basketball game if you play.
Early models came to be known as Plimsolls in the 1870s, according to the book 'The Plimsoll Sensation' by Nicholette Jones. The shoes had a coloured band which connected the sole to the upper, and this resembled Plimsoll lines on a boat. Today, these shoes are known for comfort, design, flexibility and most of all, the fame garnered within the fraternities of celebrities, sportsmen and artists. While sneakers are generally affordable, there are many expensive models designed or promoted by well-known sports and entertainment figures.
Let's have a look at the most iconic sneaker brands, all of which are still available to buy:
#5 Vans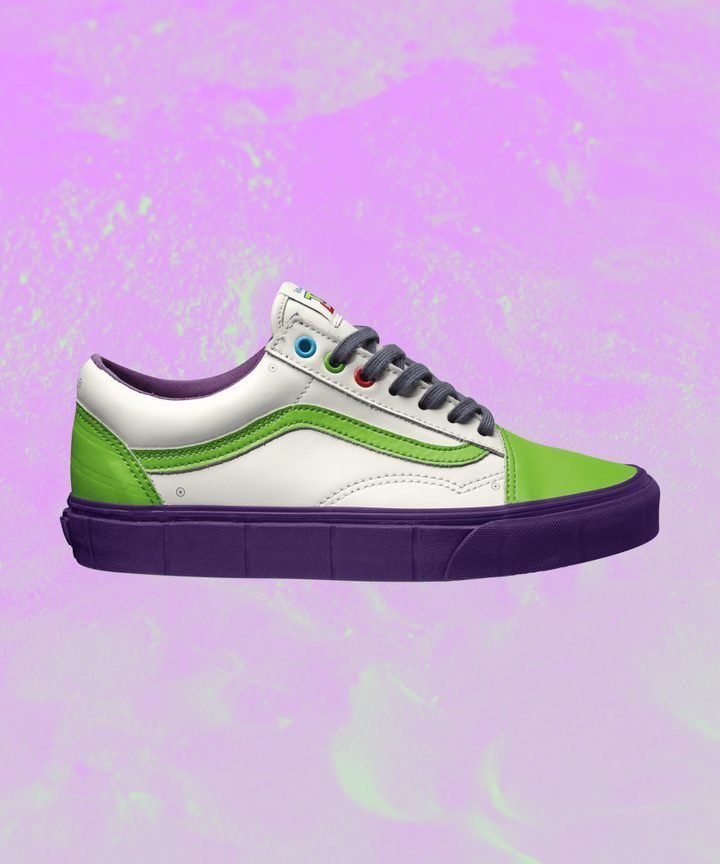 Since the 1960s, Vans have been synonymous with skate culture, starting first in California and extending throughout the rest of the world as years passed. These shoes were specifically designed for skaters, not traditional athletes. Today, they are associated with extreme sports cultures, such as BMX, Motocross, surfing, and snowboadring. The company also sponsors the Warped Tour, an annual travelling rock festival.
Now, Vans is a major apparel brand, and you can even order custom vans online, with your choice of colors for just about every element of the shoe. Vans made a splash with their recent release of the Toy Story line of Vans, featuring designs inspired by the Pixar films.
#4 Air Yeezys
Air Yeezy was a sneaker collaboration project between Nike and Kanye West from 2007 to 2014. It is iconic because probably no other non-athletic shoe has ever received as much hype, with collectors showing near fanatic devotion to the brand. Air Yeezy and Air Yeezy II featured various official releases, as well as test samples which only served to increase the hysteria around the shoes, which normally sell out in seconds.
Due to royalty disputes, Kanye moved his Yeezy brand over to Adidas in 2015…and these are proving to be even more popular than the original Nike Yeezys. Collectors are willing to pay up to $10,000 or more for cerain mint condition, genuine models. Unfortunately, many of the models available in the market are knock-offs made by Chinese laborers of inferior quality material and craftmanship, so be careful when shopping for you next pair of Yeezys!
#3 Adidas Originals
In 1920, Adolf "Adi" Dassler and his older brother Rudolf created their first sneaker, and Dassler Brother shoes became quite popular athletic footwear. Due to differences between them (Rudolf was rumored to be a devoted Nazi), Rudolf later went on to create his own brand called Puma, while Adi renamed the company Adidas ("Adi" + "Das," from his nickname and last names).
An Adidas Original is a sub-brand of Adidas and is also its heritage line. An Adidas Original gives a retro feel and is popular amongst celebrities. Adidas has multiple iconic designs which have their own editions like the Stan Smith, Gazelle trainers and Adidas Superstar. Adidas Stan Smith was originally designed as a tennis shoe but is now used more as a fashion item, as are the Adidas Superstar which were shoes designed for basketball players.
#2 Chuck Taylor All Stars
Chuck Taylor All Stars is a casual shoe brand manufactured by Converse, which is a subsidiary of Nike. The design of Chuck Taylor consists of a stitched upper portion, a white rubber toe cap and a brown rubber sole. It was first manufactured in 1917 as a high performance athletic shoe for basketball players by Converse Rubber Shoe Company. Charles Chuck Taylor joined a basketball team which was sponsored by Converse Shoe Company, and he marketed the shoes while he held basketball clinics in high schools where he taught the basics of the game. Chuck Taylor made improvements to the shoe after which the shoe had enhanced flexibility, support and also a patch for ankle support. Initially, Taylors name was engraved on the shoe but later, they included his autograph in the shoe. Initially a sports shoe brand, it later evolved as a casual shoe brand where it gained popularity with teenagers and rock stars everywhere.
Two models of Chuck Taylor All Star shoe have been launched till date, with the new model sporting more modern elements for greater comfort.
#1 Air Jordans
When Air Jordan's first came out, they caused nearly the same hysteria as Yeezys do today. They were produced by Nike and specifically introduced for Chicago Bulls player Michael Jordan in 1984. The shoe which was designed for Jordan was then released publicly in 1985. Unlike what you may believe, Jordan did not design the sneaker himself like Kanye did. The shoe for Nike was designed by Peter Moore, Tinker Hatfield and Bruce Kilgore. Air Jordan launches a model every year and 31 models of Air Jordan's have been released till date. Air Jordans currently sponsor 21 active NBA players–they are not just reserved purely for Jordan any more.
The nomenclature of the shoes for every year has been AJ followed by model number in Roman Numerals except for some years wherein the launch year was mentioned. The naming examples are as follows: AJ I, AJ II, AJ 2009. There are other shoes also from the Air Jordan line which include Spizek, Defining Moments, Retro 6 Infrared Pack to mention a few. There is also a special edition collection known as Jordan 6 Rings which is a mash-up of elements from Air Jordan shoes that Michael Jordan wore during his 6 championship seasons.
Sneakers are one of the most preferred footwear of our times. They are trendy and comfortable, both of which are the most desired attributes while purchasing footwear. Being closed shoes, they are also protective for your feet. Trainers are a must have and these five iconic shoe brands offer trainers that will fit your budget. You can now choose the one that suits you the most by simply comparing each one on online retailer sites like mandmdirect.com which offer all the brands so you don't have to go and check each and every brand's store.
Want to check out some more modern styles? Read More Here