Interview with Carlos Alazraqui of Reno 911! and Rocko's Modern Life
Carlos Alazraqui is the voice of Rocko on Rocko's Modern Life, the father on Casagrandes, and also plays Deputy Garcia on Reno 911.
He also just premiered his own feature-length live-action horror/comedy movie WITNESS INFECTION as co-writer, producer, and onscreen role of Mr. Serrelli. Carlos also won the prestigious ANNIE AWARD for Outstanding Achievement in Voice Acting in an Animated TV/Broadcast Production for THE MR. PEABODY and SHERMAN SHOW. He's been a standup comic for over 25 years, a well-known television/film actor and one of LA's top voiceover actors with hundreds of credits to his name. ​
Carlos recently returned as Bane in the BATMAN vs. TEENAGE MUTANT NINJA TURTLES animated feature, Mike Wazowski IN THE KINGDOM HEARTS III video game, and Carlos Casagrandes in Nickelodeon's THE LOUD HOUSE. Other animated roles include Mayor Temoroso on THE NEW ADVENTURES OF PUSS IN BOOTS for Dreamworks Animation and Netflix, Mr. Crocker on Nickelodeon's long-running series FAIRLY ODD PARENTS, Lazlo on Carton Network's CAMP LAZLO, Skylar in Disney's ELENA OF AVALOR, Mr. Weed on Fox's THE FAMILY GUY and Jimmy Pierce on Cartoon Networks new show UNLOVABLE. One of his most famous roles was the voice of The Taco Bell Chihuahua, for TACO BELL, which has been documented as one of the most well-known advertising campaigns of all time. ​
​Scroll down to learn more about Carlos in his Q&A with TWK!​
Hi Carlos, nice to e-meet you! Tell us a little bit about yourself outside of show biz.
Nice to meet you! I am a Burbank Dad, who used to sky dive back in 1995-2010 and now I enjoy swimming, backyard camping with my daughters, and watching MLS soccer with friends!
What shows are you currently working or appearing on at the moment?
On camera: there are newer episodes of Reno 911! coming to QUIBI at the end of August. Animation: The Casagrandes, Maya And The Three, Kamp Koral, Lego City, Victor And Valentino and others!
Of all your voice characters you have played, which one stands out as your favorite and why?
Rocko from Rocko's Modern Life is, and will always be my favorite. He's my first and sweetest character. He started my career!
And which one are you most glad you never have to voice ever again? : )
Hard to think of one – since I always love to work but scratching for CHAKAL on Book Of Life tore my throat up!
Do you sometimes feel you miss out on being recognized on the street since most of your work is off-camera?
Sometimes. But I almost get recognized as much for being Rocko as I do for Garcia on Reno 911! I Know That Voice put a lot of us voice actors on the map for people!
What's the biggest challenge you have faced so far in this industry?
I think just staying in the game when times have been slower. Working during the pandemic is challenging with the booth at home but the engineers on different shows have been fantastic with their help!
Have you ever been starstruck, and if so what happened?
I was start struck when I walked into LA Studios in the Valley and met Lucy Davis from the British The Office. HUGE fan of that show. She is now on Sabrina The Teenage Witch. Of course I was over the moon working with Eljah Wood and Robin Williams on both Happy Feet movies!
Since this is a site for teens, I am going to ask you a couple of teen-related Qs. First, what was your biggest insecurity during your teen years and how did you overcome it?
I was so insecure about my nose! Hahha! It grew faster than my face! I overcame it by becoming a cut up in front of my friends and by becoming a really good athlete!
If you could travel back in time and give your teen self just ONE piece of advice, what would it be?
Don't try to get everyone to like you. JUST BE YOU!!!
Biggest pet peeve?
People who don't return shopping carts!!!
The one thing I won't eat is _____________.
CILANTRO!!!!
Secret fear?
Dirty Bathrooms!
What's the last movie or show you watched, and give me a review…but you can only use TWO WORDS for the review : )
The Alienist – Happily Transported
The one thing I cannot live without is__________.
My daily 30 minute naps
Most embarrassing moment IRL you wish you could do over?
IRL? Maybe this question! haha!
Tell me something people would be surprised to know about you?
I was a skydiver and a college soccer player
What else are you working on or have coming up next?
More Casagrandes and Kamp Koral and my movie Witness Infection is getting distribution soon! WITNESSINFECTION.COM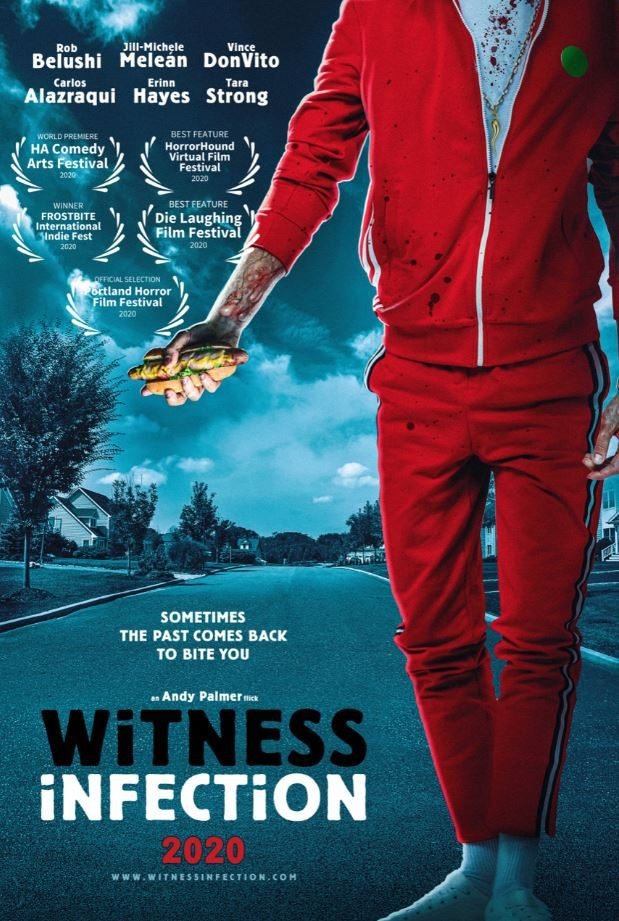 https://www.facebook.com/CarlosAlazraquiOfficial/
http://www.carlosalazraqui.com/
https://twitter.com/carlosalazraqui