Rising star Natasha Bure talks Faith, Hope & Love – and her butterfly thumbs!
Natasha Bure (@natashabure) is a singer, author, actor, and YouTuber with a growing fan base, currently at 400,000 Instagram followers and 100,000 YouTube subs. She has perfomed on the hit show The View as well as NBC's The Voice, and starred in Hallmark Channel's Switched for Christmas. She has also published a teen advice book called "Let's Be Real: Living Life as an Open and Honest You."
Pretty great accomplishements for a 20-year-old, but perhaps her biggest is that she maintains her strong Christian values despite being involved in a business loaded with problematic messages and behaviors. Part of the credit no doubt goes to her parents, actress Candance Cameron-Bure of Full House fame, and former NHL player Valeri Bure, who raised her and her brothers to love Jesus and follow the Bible. That upbringing has clearly paid off, as Natasha seems to have a great future ahead of her while avoiding many of the traps that young influencers succumb to.
Her most recent work is Faith, Hope & Love, which opens March 15th. The romantic comedy deals with two broken-hearted people who find love through a dance contest. Natasha plays Gia Elpidas, who coaxes her father (played by Robert Krantz) to enter. Rounding out the cast are Peta Murgatroyd (Dancing with the Stars), Corbin Bernsen (L.A. Law), Ed Asner (Lou Grant), Nancy Stafford (Matlock), Michael Richards (Seinfeld), and Maks Chmerkovskiy (Dancing with the Stars).
We asked Natasha a few things about her role plus some "getting-to-know-you" questions. Read on for the Q&A!
Hi Natasha, nice to e-meet you! Before we get into your new movie "Faith, Hope & Love," tell us a little bit about yourself outside of show business.
I'm super into music, acting, writing, cooking, and hanging out with my family and friends! I'm a pretty simple girl and I just love being around people that make me smile and doing things that bring me joy.
Thanks! What is "Faith, Hope & Love" about, and tell us about your character?
I play Gia in "Faith, Hope & Love." She's a typical teenager who is dealing with the everyday things that all teenage girls deal with. It was super awesome to play her and work with such awesome people on the film. The title pretty much explains the movie in itself. It's all about faith, hope, and love.
I think a huge theme throughout this movie is family, taking risks, dealing with your faith, loving one another, and of course having fun.
Why do you think teens are going to want to watch this movie?
There are so many fun moments in the film and lots of great dancing! I hope everyone watching, enjoys the cute moments and can groove along during the film.
What was the most memorable moment during filming?
I had such a wonderful time filming with the whole cast and crew. My most memorable moment during filming was probably all the outtakes and blooper moments that we laughed about for so long.
Your family is known for having conservative Christian values, something rare in the Hollywood scene. And you talked about your own personal faith in your book "Let's Be Real: Living Life as an Open and Honest You." Has it been challenging to be a young Christian in show business, with all the problematic content themes and behaviors (drugs, sex, violence, profanity) common in Hollywood?
Personally, I've grown up in that type of environment my entire life so I don't know anything different. I definitely have moments where I get discouraged in trying to stand up for what I believe in, when it's not always the most popular opinion. In the end I just try to surround myself with people who encourage me and push me in the right direction.
You recently wrapped up your teenage years. Looking back, if you could travel back in time and give one piece of advice to yourself the day you turned 13, what would it be?
It would probably be to push myself and follow my passions with all my heart, regardless of other people's opinions.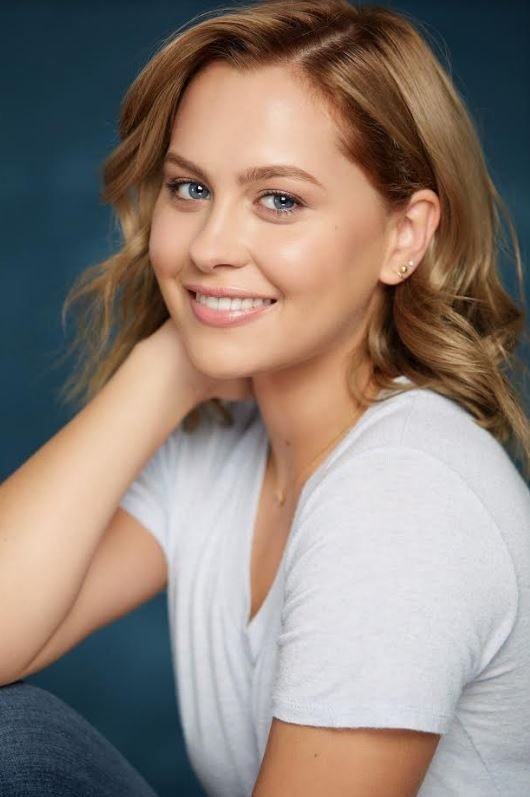 Tell me something people would be surprised to know about you?
Hmm. I'm a clean/organize freak. I love cleaning and making things organized. I'll even go over to my friend's house and clean their rooms or organize their bathroom because I love neatness. I feel so much more calm in an orderly room, and I get too stressed when things are messy.
Biggest pet peeve?
When people are messy or disrupt my organized rooms/house area.
Nervous habit?
This isn't really a habit, but when I get super nervous, my thumbs start to really hurt and feel like they have butterflies inside of them. Normally people get that in their stomach, but I get butterflies in my thumbs.
Favorite food?
Sushi.
Secret obsession?
It's not really a secret obsession, but escape rooms.
What's the last movie or show you watched, and give me a review…but you can only use TWO WORDS for the review : )
"The Marvelous Mrs. Maisel." Quirky. Riveting.
The one thing I cannot live without is__________.
My family.
Most embarrassing moment IRL you wish you could do over?
One of my most embarrassing moments of my entire life happened quite recently and I'm still not over it. I don't think I can even speak of it yet! But, I had a quite embarrassing incident where I accidentally jumped into the wrong car at the valet, and there was an older couple in the car screaming because they were so confused why I hopped in their car.
What else are you working on or have coming up next?
I have lots of music on the way. It's something I've been working on for a while now and I'm super excited to release! I'm still making YouTube videos weekly and documenting my life for others to watch and share with me. More acting to come too!
Could we get a selfie of whatever you are doing at the moment? It's something we ask to keep it real for the fans!
Follow Natasha Bure:
Instagram: http://instagram.com/Natashabure
Twitter: http://twitter.com/Natashabure
YouTube: youtube.com/natashabure
Faith, Hope & Love Trailer