"The Remaining": Interviews With Star Alexa PenaVega and Director Casey La Scala
Faith-based themes have been cropping up more and more in Hollywood films lately — from Noah to Son of God to Heaven is For Real — and audiences are responding by rewarding filmmakers with respectable box office grosses.
Now another film with biblical themes is set to enter the fray, although this time, it's a horror movie. Scroll down for an interview with the star Alexa PenaVega and the writer/director Casey La Scala — but first, a little bit about the film itself.
The Remaining is based on biblical accounts of the end-times, described as "an action packed, horror thriller about a group of close-knit friends that come together to celebrate the marriage of Skylar and Dan. The group is enjoying the festivities when tragedy strikes. The wedding party is sieged by a series of catastrophic events, which turns the celebration into a life-and-death struggle. The young group is desperately scrambling for refuge and self-preservation while an enemy unleashes its wrath against those remaining alive. They must figure out what is happening around them, and find a way to survive together in a new world of death and destruction."
Written and directed by Casey La Scala (Donnie Darko, A Walk to Remember (Exec. Producer)) with writing help from Chris Dowling, the movie stars Alexa PenaVega (Spy Kids: All the Time in the World in 4D), Shaun Sipos (Texas Chainsaw 3D, TV's The Vampire Diaries), Johnny Pacar (Flight 29 Down), Italia Ricci (TVs "Chasing Life"), Bryan Dechart (Step Up 3D) and newcomer Liz E. Morgan. It is released by AFFIRM Films, a division of Sony Pictures Worldwide Acquisitions (SPWA), and principal photography took place in Wilmington, NC.
The Remaining is rated PG-13 for intense sequences of terror, violence and destruction throughout, and thematic elements, and is slated for a September 5th opening date.
Official Website: http://www.sonypictures.com/movies/theremaining/
INTERVIEW WITH STAR ALEXA PENAVEGA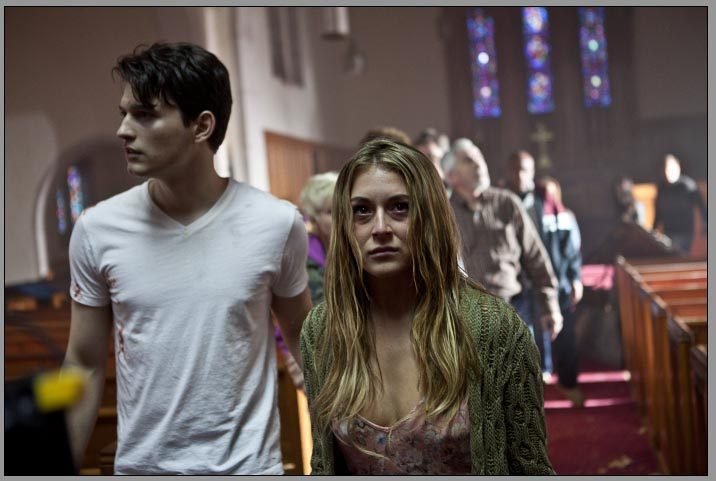 First of all we love you, think you are awesome, and have been watching your stuff forever. With that out of the way, tell us about your new film "The Remaining" and your character in it.
Oh wow thank you! 🙂
The Remaining is a really scary film about the Rapture! I've never seen a cool horror film about the Rapture! So it's really exciting to see this film get made!
I play Skylar. When we meet her it's her wedding day. She is a fun awesome girl who has a really tight knit group of friends. When disaster strikes at her reception… You can begin to see the conflict within the group as to what is going on and how they can survive.
What drew you to the project in the first place?
I am a pretty faith-filled person. So for me it's really cool to see a horror film about The Bible and done in a universal way. I feel like whether you are a religious person or not this film will really interest you and frighten you!
Why should teens watch it?
I really think teens should watch this because the film really gets you thinking. It makes you want to live a better life! It makes you rethink the things that you are doing and really makes you want to do good!
Did anything spooky happen on set?
Italia's farts! lol just kidding. She is a girly girl. She does not fart! 🙂
We had such a fun time working on this film but the sets were so spooky!
Seeing dead bodies everywhere and cars flipped over and buildings on fire. You can't help but get a little tripped out.
"The Remaining" is being billed as a biblical-based horror film. Did your Christian faith play a part in deciding to do this role?
Absolutely! 🙂 My faith is everything to me. And to be able to make a film that works universally and about the Bible… It really doesn't get any better than that 🙂
Does it (faith) influence any of the other roles you choose?
It definitely has. Especially with where my husband and I are at now with our faith… We are much pickier about what we choose. But at the same time you are only playing characters not yourself… So you just have to find that balance.
What was the most rewarding part about working on this film?
The message. I love what the film represents! And the amazing teamwork that went into making this film. We had the best cast and crew. Till this day the cast and I are still on a group text! That's never happened before for me on a film! We all came together in a great way.
Do you think the things depicted in the film could really happen some day?
Absolutely! That's why it's so important that we live good solid lives. You never know when it will happen but you want to be prepared.
One of the things we admire about you is that you are not involved in unnecessary drama while in the public eye. With so many crazy things you can get into in show business, what keeps you grounded?
I have surrounded myself with amazing people who would kick my booty if I ever went in a direction that I shouldn't be going. Obviously my husband and our faith keeps us grounded in this crazy business. We are constantly lifting each other up and challenging each other to grow.
We sort of share a last name (Teens Wanna Know was created and is produced by the Peña family). Why did you do a completely non-traditional thing and combine two last names into one (PenaVega) without the hyphen common in Latin culture?
We really loved the idea of starting our own family. We love our families but we loved what it meant to come together as one. And for us it made sense to embrace both sides of each other. We left like a hyphen would take away from the true "combining" of names. So we just went for it!!! 🙂
We will make you guys an honorary PenaVega 🙂
And is it supposed to have a tilde ( ~ ) on top of the "n" or did you guys drop it when you combined the names? Because hispanic teens wanna know! : )
Carlos' name never had the tilde! [Alexa is married to Carlos Pena from Big Time Rush – Ed.] But so many people think it did because most people think of "Peña". But it's just Pena 🙂
Speaking of teens, they are under a lot of pressure these days, from cyberbullying to constant news about terrorism, a poor economy, global warming, etc. You made it out of those crazy years in one piece…do you have any advice for kids that might be struggling out there?
Oh gosh, it's so hard because as easy as it is to say "don't look at what people are writing about you" but it's much easier said than done. You just have to know who you are. You have to be so comfortable with yourself. At the end of the day not everyone is going to like you. No matter how much you want to be liked by everyone… It's just not possible. So be the best you you can be. God made us all so special and unique and we have to recognize that within ourselves.
Based on your IMDb, you've been working like crazy lately…what's your secret?
I am so thankful and fortunate to work with my friends! I started acting when I was four and have made some amazing relationships along the way. Whenever we can find an excuse to work together, we do!
Tell us something people would be surprised to know about you?
I am obsessed with elbows! I love pinching my elbow. It sometimes puts me to sleep! You can see me doing it to Carla Gugino in the opening of spy kids 1!
What's next for Alexa PenaVega?
I am heading out to Nashville to shoot a little something fun!
Anything else we should know?
My husband and I are total nerds!
One final thing: can you send us a quick selfie of whatever you are doing right now, this instant, while answering the questions? You can make a peace sign, or just smile, drink a latte, or hug your dog if you have one…whatever!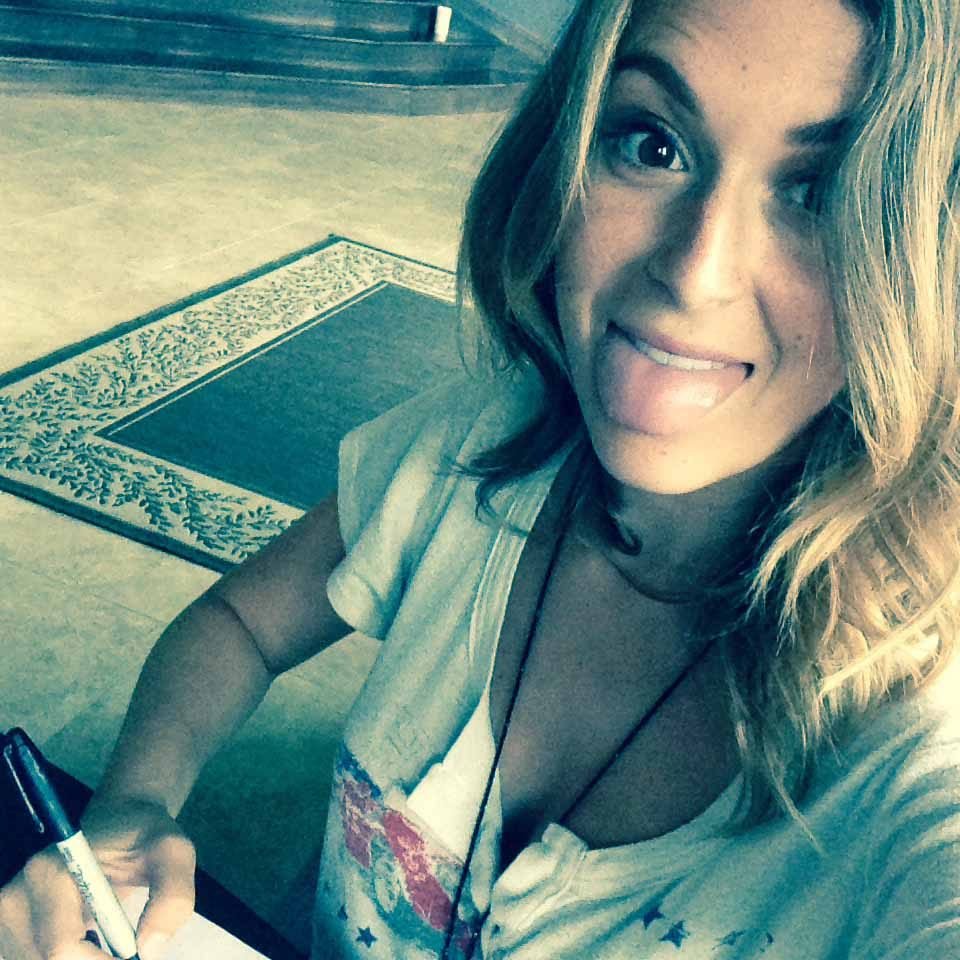 Haha! This is why we love her! : )
INTERVIEW WITH DIRECTOR/WRITER CASEY LA SCALA
Tell us about this movie and why teens should watch it.
The remaining is the story of what happens after the rapture, which is a moment described in the bible when all the believers are taken to heaven before the end of the world and 7 years of hell begins. It tells the story of five best friends and how they fight to stay alive while the world is ending. Teens will really appreciate the film because the main protagonists are young 20-somethings just starting out in their lives. Hopefully, the teen audience will identify with these types of characters and thus be more involved in the ride of the story telling. The take-away of the film is for the audience to examine their lives and take inventory on where we they are with their own faith
You have kind of a challenge here: to make "The Remaining" not so terrifying that faith-based audiences will shun it, while make it entertaining enough that regular audiences won't be turned off by the religious aspects. How do you strike that balance?
The film is PG-13 and we tried to show a lot of the scares off camera. This makes the thrills less graphic and easier to watch. This allows the imagination to fill in the gaps and also doesn't scare the faint-of-heart too much. We tried to make the terror real, but not exploitative. We worked very hard to walk the line between this film being solely for a faith based audience. We made a conscious decision to make sure the themes work for mainstream audiences and the message isn't pushed down anyone's throat.
What was the most rewarding part about working on this film?
The most rewarding part was directing the actors. Frankly, they are some of the most talented individuals I've ever had the pleasure to work with. I was very impressed how my actors brought specific details to their characters that I had not even thought about. These details help round out all of the characterization and made my job a lot easier. Further, they are some of the nicest people in the world and I've made lasting friendships with all of them. A very rewarding part of the experience.
Is it totally a found footage-style movie with shaky camera work, or is it cinematic?
The style of the film is a traditional narrative with moments of found-footage style. I like to call this a bit of a hybrid. We shot the movie traditionally, but when we needed a real visceral response from the audience, we purposely punched into the main protagonists hand held POV.
What influenced that choice?
Originally, the film was going to be shot first person shooter, but as I wrote the script I realized this type of style was limiting. I really wanted to capture emotional moments and that is a hard to do when you are trying to justify why the camera is rolling. By moving into a hybrid style, I was able to not only tell the story in a more organic way, but more cinematic.
Are you a religious person? If so, do you think the things depicted in the film could really happen some day?
I am a religious person. I was confirmed in the Lutheran church, went to church camp as a kid, and still go to a church. I believe a version of these events may take place. Look around. Is it starting to happen now?
Did anything spooky happen on set?
Not so much spooky. I felt a real sense of calm while filming. Not to sound corny, but I did feel a little bit of a divine hand on my shoulder when things got tough. For instance, a rainy day on a shooting day is death. It costs money to go indoors or even shut down. We had a lot of exteriors and didn't have a back up plan if it rained. It rained only one day while we were shooting. That day we were already scheduled to be inside all day shooting the green screen visual effects. Prayers were answered.
You are generally known more as a producer…what's been the best part about writing and directing "The Remaining"?
I love the writing process. First and foremost, I'm a writer and have been writing projects at various studios over the years for hire. I love the fact that these characters and the adventures they went through, all came out of my head. When you see actors saying words you wrote, it is amazing and rewarding. Also, since I wrote the script, I knew the material. It made it easier to direct. Basically, I had all the answers in my head as the writer and could make decisions quickly or inform the actors' motivation because it was my material.
What do you have to say about your actors? Especially (ahem) Alex PenaVega and Italia Ricci, who are also being interviewed here and are thus very likely to read what you have to say about them LOL! : ) [Editor's Note: Italia was unavailable to answer questions by the article deadline]
Haha! I wrote some nice things above. Frankly, I've been doing this a long time and I can tell you honestly that Alexa and Italia are two of the finest actors I've had the pleasure to work with. Every day on set, they would show up with a smile and ridiculous energy to pump up the entire crew.
Funny story, Alexa wrapped around midnight and was told to go home to get sleep. We were going to shoot till morning. At around 2 am, I look behind me and Alexa was standing there. She decided to stay on set and keep the energy up until we wrapped. It was crazy! I was exhausted and she was dancing and singing behind the monitors boosting everyone up. Amazing! Alexa and Italia have first dibs on all my future projects because they make me look so good. I'm truly blessed to have worked with them. Beyond being the nicest people I know, they are funny. I mean really funny. They kept me laughing when I was stressed out of my mind.
Tell us something people would be surprised to know about you?
I think people would be surprised that I like to laugh. I love comedies. There is just nothing better than a big hearty laugh and I try to have fun at everything I do, even scaring people.
What's next for you?
I'm developing a supernatural thriller called HELL IS REAL. It's the story of a doctor who loses his wife in a horrible accident. He uses his skills to temporarily kill himself hoping to find her in the afterlife. He wants to make sure she's okay. Unfortunately, she is in hell and his world is turned upside down as he tries to save her.
Are you doing a premiere in L.A. when the movie releases? If so, you are inviting Teens Wanna Know to interview on the red carpet and see the movie right? Right? Pretty please? Sugar on top?
If and when we have a premiere, we would love to have you.
Anything else we should know?
I'm a drummer in a band made up of other writer/directors. My guitar player has a movie out right now called The Possession of Michael King. It's really good.
One final thing: can you send us a quick selfie of whatever you are doing right now, this instant, while answering the questions? You can make a peace sign, or just smile, drink a latte, or hug your dog if you have one…whatever!
Great pic Casey!
Trailer: