10 cool new products for summer
You know what's up? Summer's up, dat's what! Our favorite time of the year is upon us, and that means beaches, lakes, barbecues, and just generally sitting around chilling with our friends or our phones. Okay, mostly our phones.
But anyway, we rounded up a few cool products to make you summer even more awesome. So let's get to it. (post includes some affiliate links, thanks for your support!)
HyperChiller ($28.99)
Now THIS is a summer must-have! The Hyper Chiller was made specifically to take hot coffee and turn it cold enough to make iced coffee in about a minute or so without touching ice and getting diluted. That being said, it works to cool down ANY liquid super fast – from iced tea to water to soda (although you might lose a little carbonation in the process).
It has a multichamber stainless steel design which has a surface area equivalent to 30 ice cubes. All you have to do is leave it in your freezer for a few hours (12 hours recommended) and pour up to 12.5 ounces of liquid inside. After waiting a minute or so, pour it out! Depending on how hot the liquid is, you can use it to cool down more than one drink one after the other. Making two iced coffees from hot coffee works…you just have to leave it in a little longer after the first one.
Lush Lash Growth Serum ($69)
Thick, healthy eyelashes are definitely in, and Lush Lash by MeSkinLabs promises to help you achieve them with a physician-grade blend of 542 proteins, peptides and growth factors to nourish, fortify and restore hair follicles. According to the manufacturer, the key ingredients Redensyl®, Capixyl® and SymPeptide® "are clinically proven to increase the length and density of lashes, and botanicals add resilience and shine" in as little as 10 days (twice a day application to upper lash)
So, after several days of use…does it work? Definitely not as much as the promo pics which look like the girl applied fake lashes on the "after" pic, lol! But test subject reports that it did offer a bit of improvement due to a plumping, moisturizing effect.
LushLash is made in the USA without parabens, sulfates or phthalates. In addition to eyelashes, you can also use the product on your eyebrows to thicken them as well!
BONUS: the product ships with a free container of MeSkin Age-Defying Moisturizer.
Want to try Lush Lash for yourself for free? Enter our giveaway at the bottom of this post and you could win a free bottle of the growth serum PLUS the moisturizer!
Kwilt Shoebox – Keep Your Personal iPhone/Android Photos and Videos Private ($59)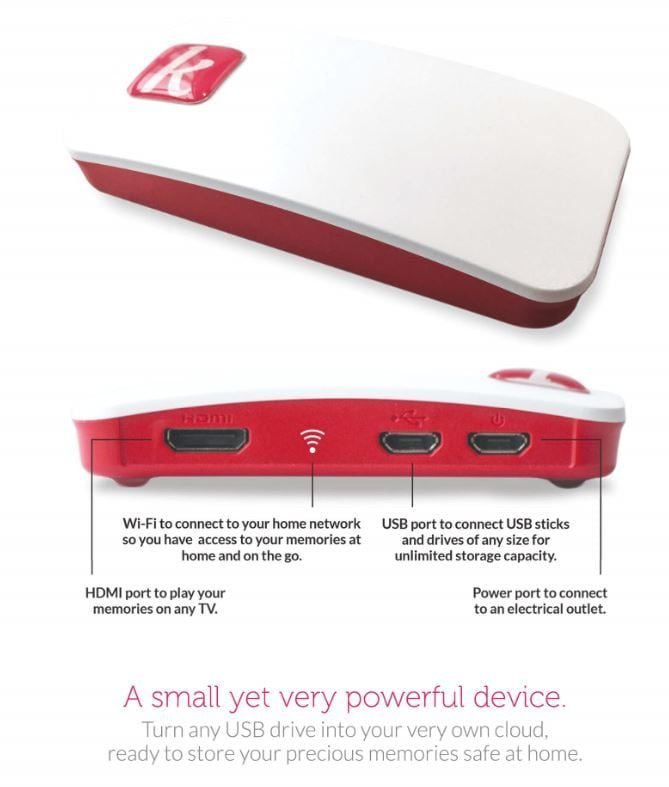 Summer means tons of Instagram shots. Are both your phone storage and iCloud account full? Are you paranoid about all your private stuff being stored on cloud servers, with who knows who at these big companies having access and doing who knows what with them? How would like to have 1 TB or more of space to back up all your pics and videos? The Kwilt Shoebox (strange name we must say) helps solve your storage woes by turning any USB hard drive into your own private cloud storage device. Your data is not stored by some big company but by you at home.
The product does not copy your private content to its own servers, but rather connects your own mobile devices from anywhere you are (using your data plan or public Wi-Fi) to your USB drive as long as the Kwilt Shoebox remains connected to your home's Wi-Fi. All you have to do is set up the device once, download the Kwilt app to your Android or iPhone, pick what you want to be stored in your private cloud, and then delete the originals from your phone. You will still be able to see the photos from the Kwilt app after you delete them from your phone's internal storage — similar to the Google Photos app.
Unlike Google Photos, you cannot delete photos from your storage directly from the app. You have to disconnect your USB drive from the Kwilt Shoebox and connect it to a computer in order to delete files. Maybe a future app update will allow this functionality. The cool thing is that if your private device (USB stick, for example) gets full, just get a larger or new one. NO monthly fees!
The Kwilt Shoebox comes with USB/USB Mini and HDMI/Mini HDMI adapters. The HDMI output is there so you can view your content on a big screen using a feature called KwiltCast — which is not yet available as of this writing.
One last benefit is that the device is pretty small…its just a bit longer than the included power adapter!
SABRE RED Pepper Gel ($11.99)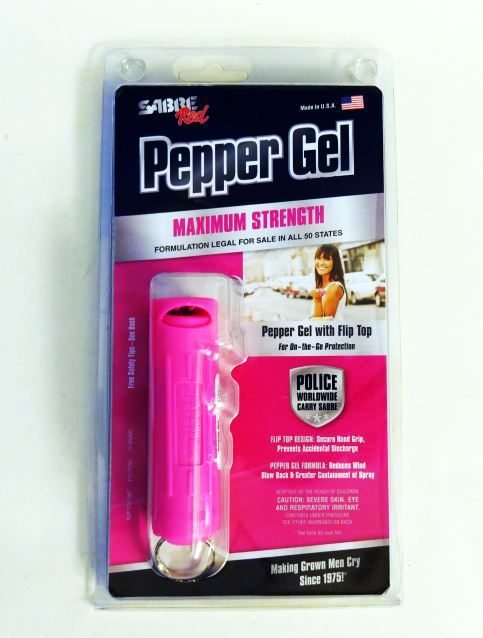 Protect yourself, your family and your friends during summer travel with SABRE RED Pepper Gel. The gel comes with a flip-top which prevents accidental discharge and a keyring. Carry the comfort-grip case when in a sketchy situation, and deploy the gel with a quick flip of the lid.
Because its a gel instead of a spray, there is less chance of the spray blowing back into your face…and it sticks to your attacker's face better. Spay reaches 12 feet. Check local regulations — some places ban pepper spray.
To see SABRE'S full line go to https://www.sabrered.com/
Travel Tray ($15)
The Travel Tray is a simple invention ideal for long summer road trips. It fits right into your car's existing cup holder and extends it, so you can put snacks, coins, or other small items in it instead of having these all over the place. It comes with a removable bottom cup in order to adapt the size to fit most cars. It also comes in wide variety of colors (11 of them).
Its a good idea…but it didn't fit my car's cup holder with the bottom cup — and removing it made it flop around uselessly. So, not for me, but perhaps its because my car is a 2001 SUV!
OMG! Accessories Hologram Cosmetic Cases ($24)
OMG! Accessories makes super cute bags, such as cosmetics bags, backpacks and even cases for your shades. OMG was founded by Anne Harper in 2009 out of her Chicago apartment with the goal of being ahead of the fashion curve while remaining within reach of today's youth price-wise. Her design team's products have found their way onto shelves of top retailers such as Nordtrom and Macy's.
The Love So Much bag pictured above top features a glittery, shiny hologram cover, a lined vinyl construction, and OMG zipper pull. Great for carrying your necessities around this summer!
We are giving a cosmetic bag away courtesy of OMG! Accessories! (scroll down to the bottom for entry instructions)
The Water Pillow by Mediflow (starting at $49)
After playing hard at the beach or a park, you want a good night's sleep. Enter the Water Pillow by Mediflow, a water-filled pillow which adjusts to your neck and head as you sleep for better comfort. John Hopkins University has stated water pillows improve sleep quality, so its not just the marketers behind the product who are touting its benefits. These pillows are also recommended by many chiropractors to help relieve neck and shoulder pain and to recover from surgery — so you know it is legit.
The pillow is very comfortable and stands up to normal use, although it is kind of heavy. The trick is to adjust the water level to your liking, because it gets firmer and heavier as you use more fluid. It comes with a spout to help fill it up.
If you are the type of person who likes to sleep with a pillow on their head…this cannot be your only pillow because you will probably suffocate! So get the Water Pillow for underneath and a normal pillow for your head/snuggling lol. Or if you are like me, one under head, one over head, one for snuggling, and one between your legs!
MOJO Aromatherapy/Color Therapy Slap Bracelet ($14.99)
Bring the MOJO aromatherapy/color therapy slap bracelet to your next summer festival and feel the Zen wash over you. Or at least look trendy and smell nice! Apart from this, you can visit this site for an amazingly vast collection of bracelets including sterling silver, gold, paracord, rope bracelets and the list goes on.
The slap bracelets come in several funky patterns, colors, and fragrances to suit your style and mood. Apply the supplied 100% natural essential oil to the super-absorbent microfiber bracelet and it will slowly release its aroma throughout the day.
The bracelet pictured above is the "RELAXED" model. According to the maker, "The color blue is associated with speech, communication, and self-expression. It invokes a feeling of peace and relaxation, can stimulate your imagination, enhance intuition, and is perfect for meditation sessions."
The essential oil blend for RELAXED contains: Orange Sweet, Lemon Sicily, Tea Tree Australian, Rosemary Spanish, Frankincense (India), and Eucalyptus Globulus. "Characteristics: The citrus Orange Sweet and the Rosemary blended with hints of soft, woody Frankincense will soothe your senses and bring you a feeling of deep relaxation."
Sounds (and smells) good to me!
AcneFree Maximum Strength Terminator 10 ($6.49)
Severe acne sufferers can get help by way of AcneFree's newest product, Terminator 10 (show above with an earlier product, the Body Clearing Acne Spray). It has 10 percent Micro-Benzoyl Peroxide to reach deep to eliminate bacteria. According to AcneFree, "Micro-sized Benzoyl Peroxide minimizes the over-drying that can occur with ordinary benzoyl peroxide. Triple-action power of chamomile, ginger and sea whip soothes and reduces redness."
We like the AcneFree line and recommend them in conjunction with care from a dermatologist.
Prep U for Boys Personal Care Products (start at $9.50)
Move beyond Axe with Prep U Personal Care Products for Boys. What sets this line of body sprays, foaming wash, active dry powder, deodorant, and more is the emphasis on all-natural products. The powder, for example, has no talc.
Prep U products can keep you smelling and feeling great even after a full day of activity without BPA, synthetic fragrances, or other artifical ingredients most personal care products are chock full of. We tried them and they smell nice. And here's a secret– adults around here have been known to use the samples we received as much as the teens.