18th Annual "All For The Love of Kids" with Cameron Boyce, Ochoa Boyz, CEEJ and more interviews
Los Angeles County Supervisor Michael D. Antonovich hosted the 18th Annual "All For the Love of Kids" Fundraiser and Silent Auction Benefiting the Children's Trust Fund.
According to the organization's website, "For 45 years, the Children's Trust Fund has provided a wide range of services and self-development opportunities for children residing in Los Angeles County who currently have open cases within the foster care system. When government funding is not available, the Trust Fund provides such items as: clothing for special events, replacement prescription glasses, educational field trips, uniforms, equipment for sports/enrichment activities, special medical, orthodontia and dental services."
The Master of Ceremonies for the event was KTLA 5 co-anchor Chris Schauble, Honored were adoption and foster youth advocate Arlene Getman, Founder of Foster Care Counts Jeanne Pritzker, and actor/director Andre Truth, also known as Young Dre the Truth.
The evening featured catering by Whole Foods Tarzana, a silent auction, and entertainment from CEEJ, Cameron Boyce with X-Mob, Ryan Ochoa and the Ochoa Boyz, and Andre Truth.
Cameron Boyce and X-Mob dancers
Cameron Boyce and Teens Wanna Know's Keira Peña
KTLA co-anchor Chris Schauble
Los Angeles County Supervisor Michael D. Antonovich
CEEJ being interviewed by Teens Wanna Know's Lisa-Marie Woods
Lisa-Marie with event sponsor and caterers Whole Foods Tarzana
Andre Truth (Young Dre the Truth) performing
Actor Stephen Bishop
Ryan Ochoa and the Ochoa Boyz
Honoree Jeanne Pritzker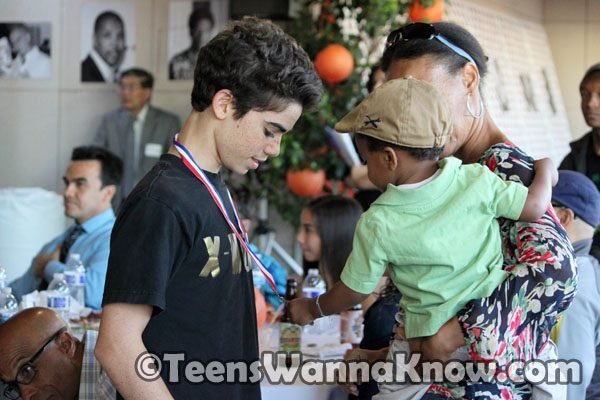 Cameron Boyce and a fan
"All For The Love of Kids"
Website: http://antonovich.com/all-for-the-love-of-kids/
Facebook: https://facebook.com/pages/All-for-the-Love-of-Kids/317586078325307

Los Angeles Department of Children and Family
Website: http://dcfs.co.la.ca.us/
Facebook: https://facebook.com/ShareYourHeartLA

Cameron Boyce and X-MOB
Imdb: http://imdb.com/name/nm2624602/
Facebook: https://www.facebook.com/TheCameronboyce12
Twitter: https://twitter.com/TheCameronBoyce

CEEJ
Imdb: http://imdb.com/name/nm4023806/
Facebook: https://facebook.com/CeejOfficial
Twitter: https://twitter.com/ceejofficial
YouTube: http://youtube.com/user/ceejofficial
Instagram: http://instagram.com/ceejofficial
Whole Foods Tarzana
Website: http://wholefoodsmarket.com/stores/tarzana
Facebook: https://facebook.com/WholeFoodsTarzana
Twitter: https://twitter.com/WFMTarzana
YouTube: http://youtube.com/user/WholeFoodsMarket
Instagram: http://instagram.com/wholefoodsmarket
Michael D. Antonovich
Imdb: http://imdb.com/name/nm2031817/
Website: http://antonovich.com
Facebook: https://facebook.com/pages/Friends-of-Michael-D-Antonovich/145596578853627
Twitter: https://twitter.com/mikeantonovich
YouTube: http://youtube.com/user/MikeAntonovich
Chris Schauble
Imdb: http://imdb.com/name/nm1331254/
Website: http://ktla.com/bio/chris-schauble/
Facebook: https://facebook.com/ChrisSchauble
Twitter: https://twitter.com/ChrisKTLA

Stephen Bishop
Imdb: http://imdb.com/name/nm1212071/
Website: http://stephenbishop.net/
Facebook: https://facebook.com/officialstephenbishop
Twitter: https://twitter.com/stephencbishop
YouTube: http://youtube.com/user/tracemidas24

Jeanne Pritzker
Website: http://fostercarecounts.org/
Facebook: https://facebook.com/fostercarecounts
YouTube: http://youtube.com/channel/UCrLlKr-oe_1074NIE_9AmVg