5 Fast Facts about country singer Savannah Rae
Savannah Rae is an up-and-coming country artist who has released singles and videos for "Look Ahead" and "I Hate You" as she works with top players in the music industry, including producers/engineers for Justin Bieber, Miley Cyrus, Taylor Swift and Dolly Parton.
Savannah was recently chosen to be a official ambassador for the SOS Foundation and Tour, an anti-bullying musical tour and non-profit, and an ambassador for Miranda Lambert's clothing line, Idyllwind.
Here's 5 fast facst about Savannah!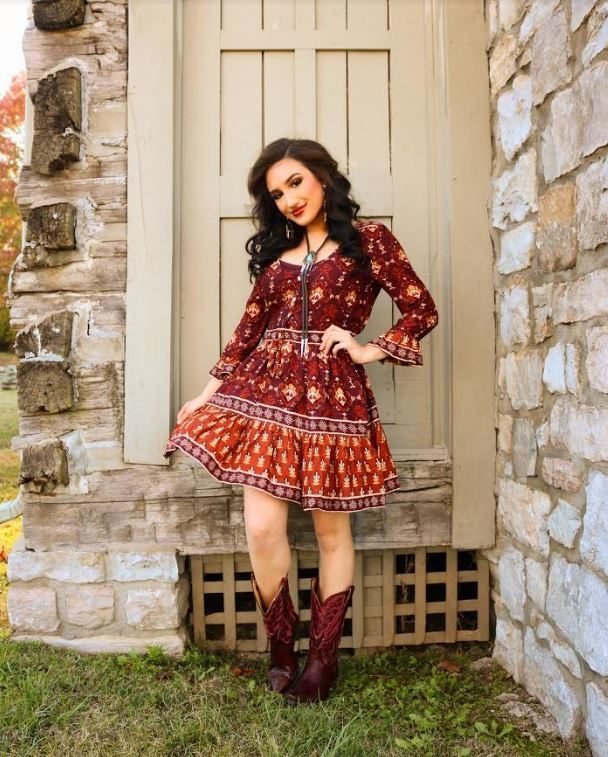 She sang with Demi Lovato.
My most special moment in the entertainment industry has been singing back up for Demi Lovato. I've definitely had some personal triumphs and successes, but singing with her has to be at the top of my list. I've been a huge fan of her's ever since I can remember. Camp Rock was THE movie and she was THE girl and I totally wanted to be just like her. I remember I went to Universal Studios with my family and did the back lot tour/ride. As we were going through it, I told my mom "I'm going to be back here one day, but actually working on a show". It's crazy how the universe works because not even a month later, I got a call to perform with Demi on the Voice. It's the most vivid, blatant, full-circle moment I've ever seen. I had such a blast and now I truly believe you can speak things into existence!
She experienced horrific bullying in school.
I started getting bullied around 6th grade, with it progressively getting worse each school year. I would get slammed into lockers, yelled at in the hallways, and had my music played on the loudspeakers and projectors in class for everybody to make fun of. I would get prank called at all hours of the night and people even went as far as to create fake Instagram pages hating on me, my appearance, and my music. I had no real friends and had to result to the "only in movies" solution where I ate lunch in the bathroom or library everyday, or just skip lunch all together and go hungry. I was constantly harassed for years and it took such a toll on my mental health that even today, I am still dealing with the repercussions.
I recently became an ambassador for the SOS Foundation and the Save A Life Fund. This organization has become so important to me because it spreads such a good message. I hope to be a guiding light for anybody going through something similar to what I went through because I have first hand experience, and know exactly how hard it can be to navigate. I want them to know that the storm does not last forever and anybody who is bullying another person, has a multitude of issues that has nothing at all to even do with them. I want the kids to know that they will be okay, don't listen to a word they say, and you'll come out stronger on the other side. If I can save one life, then it was all worth it.
Dear Dallas, she didn't mean it.
I'm constantly embarrassing myself! There is not a day that goes by where I don't embarrass myself in some form or fashion. The most recent memory that comes to mind however, is where I accidentally shouted out the wrong city on stage. I was in Dallas at the time, and was probably the most tired I've ever been in my life on tour. As I was walking out on stage, I shouted "What's up Houston?!?!"….I quickly corrected myself and laughed it off but needless to say, I was SO embarrassed!
She moves a lot.
I feel like I'm an open book! There's actually not a whole lot people don't know about me as I'm pretty open with my life. I think people would be surprised to learn that I've lived in about 14-ish states. I say "-ish" because it's probably more, but that would take a lot of thought, parental guidance, and looking at a map to figure out. From New York, to Florida, California, to Colorado, there's been a few!
She and her mom were both addicted to THIS:
Back in the day I was OBSESSED with Angry Birds and Candy Crush. My mom and I would always compete with each other to see who could beat more levels. It got to the point where we both had to step away from the phone and give ourselves a reality check. It was so easy to get sucked into those games and they're so addicting!
Links:Instagram – https://www.instagram.com/thesavannahrae/?hl=en
Facebook – https://www.facebook.com/savvygmusic/
Twitter – https://twitter.com/thesavannahrae?lang=en
Youtube – https://www.youtube.com/channel/UCYHbR5W_d0IECn31rAphSTw