Alexander James (AJ) Rodriguez says it 'Doesn't Matter to Me' in new video – INTERVIEW
13-year-old award-winning actor and singer-songwriter Alexander James (AJ) Rodriguez was born in Marbella, Spain. During his early years in Europe, he was featured in various magazine print campaigns; however, it wasn't until his permanent move to the United States in 2011 that his passion for the performing arts was truly cemented.
Since living in Los Angeles, Alexander has appeared in several prominent feature-length films including the 2020 Golden-Globe winner and Academy-nominee 'Missing Link', along with Disney's 'Alice Through The Looking Glass' with Johnny Depp, 'All-Stars' starring John Goodman, and 'Flock of Four', set in 1959 Los Angeles, directed by Greg Caruso.
The young actor, who speaks in both a British and American accent, has been the voice of Cardamon in the popular animation TV series 'Bee & Puppycat', which is now headed to Netflix.
In May 2020, Alexander headed to the recording studio to progress his career in music – original songs My Crew, Your Smile and Up To You were released and in October he recorded a cover Christmas record, Holiday in LA for UNICEF.
Alexander kicked off 2021 with his debut ballad, Doesn't Matter To Me and has a line-up of records releasing through the year.
Scroll down for our interview with AJ!
Hello Alexander, nice to catch up again since our last feature with you! Your new single "Doesn't Matter To Me," is out with the music video dropping today, March 5th.
Can you tell us a little behind the meaning of the song lyrics?
Hello! Yes, so this song was always meant to be a kind of ballad. The original idea was a Spanish-English hybrid song, but when we heard the music it was apparent the message was about love or relationships. The thing is I am only 13 and so singing about love isn't really on my radar – although so much music is themed on love. I really wanted something fitting for teens and the times we currently live in – things that affect our daily lives now, and so the song became about forbidden love. Whether that's a friendship parents aren't okay with or love interest or even a new friendship other friends don't open their arms to – and ultimately their opinions don't matter because it doesn't matter what they think or say – you just have to follow your heart.
What can you tell us about the music video shoot which stood out most for you?
The song is very much about walking alone and reflecting. I already have a girl interest in my song Your Smile, so although we could have gone down the same route, we wanted to keep the music video for this one a bit different and super simple. One camera and just me feeling the emotions of the song. We got in the car and literally drove around LA. From train tracks (where we stumbled across CBS: The Rookie being filmed) to baseball bleachers in a North Hollywood park. We settled on the area of the LA River where I'm told Grease (1978) was filmed. We ended up staying there for an hour and capturing the whole video. I think the funniest moment of the shoot was when we decided to have the camera film me 360 degrees. Because there was nowhere to leave our things without them being in the shot, my mom trotted behind the camera the whole time carrying everything and throwing out directions for me to look!
Your mom is a well-established publicist in Hollywood – what's the best advice she has given you to date regarding publicity or your career?
She has taken me to red carpet events and press events since I arrived in Los Angeles at age 4. My first red carpet interview was at The Muppets premiere at El Capitan, she really loves The Muppets. I have watched her over the years which has taught me how to stand, look, pose, and behave to everyone including always be respectful to the photographers. She has taught me so much but the biggest thing that stands out to me are her words – "Alexander, stars don't brag they shine." She means that it doesn't matter how successful I may become; I am to stay grounded and treat people with kindness always.
You are 13 years old and although you have acting/voiceover experience, you just started your music career last year. What's been the biggest challenge in launching that so far?
I think my biggest challenge is getting my music out there and knowing who to trust with playlisting. There are so many sharks. The other challenge is I'm not a huge fan of TikTok. I find it forced and I can't relax around making videos daily. Besides, I am in online LA public school and there really isn't much time what with assignments, homework, Spanish, French, singing, swim practice, photoshoots, studio days, music videos and Instagram. The list is endless!!
What are your eventual goals in the entertainment industry?
I'd like to be a successful actor and singer-songwriter where I can have a platform like Leonardo DiCaprio and make a positive social impact. I think whatever I do it has to be something great for everyone – or why do it at all. For fun, I'd like to join fellow Brit James Corden on his Carpool Karaoke!
Dream collab?
Easy! Musically: Harry Styles and Finneas. Acting: a project with Steven Spielberg or Martin Scorsese. Brands: I'd love my own custom branded Vans – AJ Rodriguez collection and I'd love to be signed to Columbia or Sony Records.
Favorite social media influencer or channel and why?
When we are stuck in LA traffic, I watch Crainer, Jelly and Slogo on YouTube they just make me laugh.
Secret celebrity crush?
None yet but things change daily!
Biggest pet peeve?
Those really loud exhaust pipes on cars – they aren't cool, they are really obnoxious.
One food I REFUSE to eat (and why) is …
Cauliflower because it's feels like I am eating a bland, tasteless wet tree. Say less.
Secret fear?
Bees – because I stood on a dead one when I was 3 and it was really bad.
What's the last movie or show you watched, and give me a review…but you can only use TWO WORDS for the review: )
Tom and Jerry (2021) – Funny. Entertaining.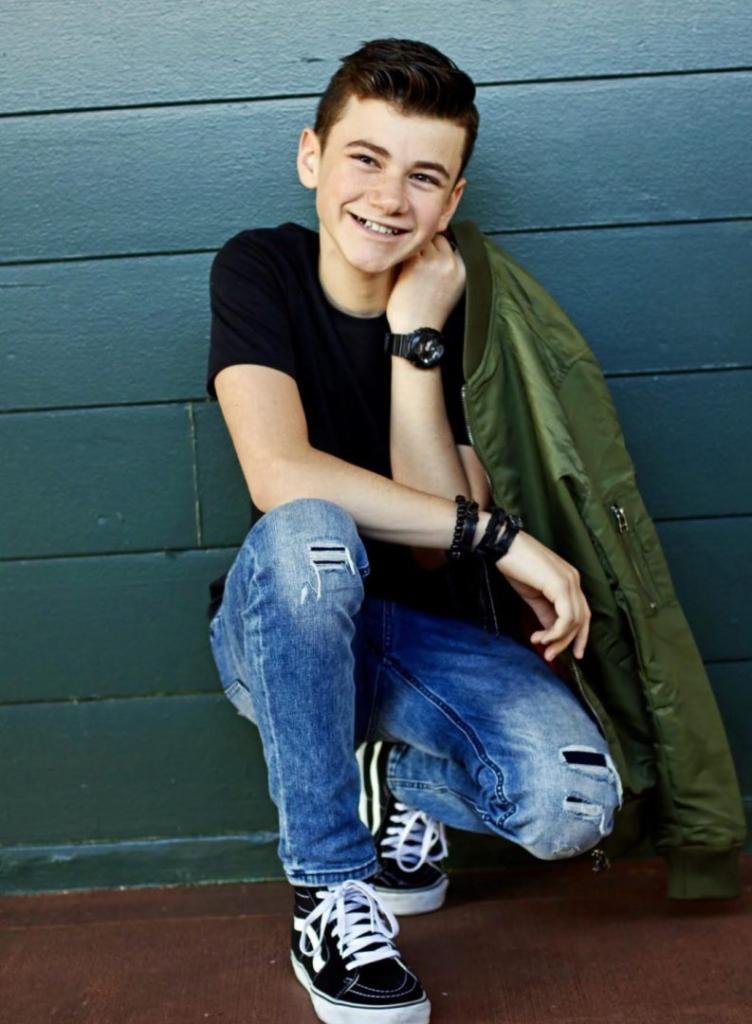 The one thing I cannot live without is__________.
My mom
Most embarrassing moment IRL you wish you could do over?
Still waiting for that one!
Tell me something people would be surprised to know about you?
I love to read. I read anything Greek mythology, Dragon books, Egyptian mysteries and I am currently reading the series, Ranger's Apprentice by John Flannigan.
What else are you working on or have coming up next?
I have new music coming out every 6 weeks from now until November and I'm starting my own talk show this month. I plan to invite other teens to the show to talk about what's new with them, what's out there and what's affecting us. I want it to be a platform that teens like me can get our message across on.
Anything else you want to tell our readers and your fans?
Just want to say thank you for taking the time to read this interview and for following my journey. Drop by my IG and DM me anytime – I read them all!
Follow AJ:
http://www.instagram.com/iamajrodriguez
https://www.youtube.com/c/alexanderjamesrodriguez
http://www.tiktok.com/iamajrodriguez
https:/www.imdb.com/name/nm4493704/
http://www.facebook.com/iamajrodriguezofficial.com