Autumn Calabrese's Fitness Tips and 21 Day Fix Extreme – Interview with Teens Wanna Know
Teens seeking to get in shape know how tough it can be to stay committed to a program until you see results. Even if you stick with the workouts, it is easy to lose the fitness game by eating too much of the wrong types of foods, which slow your gains and can discourage even the most dedicated exercisers.
Autumn Calabrese solved this problem for countless people through her best-selling and highly effective workout/diet plan called 21 Day Fix, available through Beachbody.com. What makes the program so appealing is that it requires only 30 minutes a day of exercise for three weeks, and you get to eat so much food that you will never starve — although the diet will take some getting used to if you have never eaten a lot of fruits and veggies before or are addicted to carbs.
Fortunately, Autumn designed system of color-coded containers to measure your food and help you hit the right ratio of protein, carbs, and fats for maximum results.
On February 2, Autumn Calabrese's latest program, 21 Day Fix Extreme is being released…and this one promises to take your fitness to the next level.
We got the chance to ask Autumn a few questions while she was on a short vacation…scroll down for the Q&A where she reveals just what she eats personally and how long her daily workouts last — prepare to be motivated!
Hello Autumn, nice to meet you. Tell us what motivated you to become involved in the world of fitness?
Fitness has always been a part of my life. I grew up dancing and went on to major in dance in college. I enjoy being active and never wanted to sit at a desk all day. I also really enjoy helping/teaching people to lead healthy lives. Fitness is a perfect fit for me.
Your 21 Day Fix program is Beachbody's #1 selling weight-loss program to date. What has been the most satisfying part about having created such an impactful product?
Having the #1 selling weight-loss program is great, but helping people is the best part.
I have received several emails from people saying they previously had eating disorders and after doing 21 Day Fix they are no longer afraid of food. They now understand what to eat and when and feel healthy and in control.
That is an unbelievably amazing feeling!
And now you have your new product, 21 Day Fix Extreme. What are the major differences between this and the original?
21 Day Fix is a program for everyone of all fitness levels, it teaches proper portion sizes but still allows some treats and "cheats" The workouts are 30 minutes and there is a modifier so even someone who has never worked out before can keep up and have fantastic results.
21 Day Fix Extreme is taking it to the next level. The portion control is still there but the nutrition is laser focused, no more treats or "cheats.
I've stepped up the intensity on the workouts as well. They are still only 30 minutes and there is still a modifier to follow but this is no a program for beginners. Its dialed in and focused; its for people who like intensity — but its only 21 days. You can do anything for 21 days!
You are in fabulous shape. How many hours a day do you work out (be honest!)
Being honest I workout for about an hour and 15 minutes a day unless I am prepping for a fitness competition. If I'm getting ready to compete then its closer to 2 hours a day. I enjoy working out so I like to make my workouts a little longer.
I know most people don't have that kind of time for a workout that is why I design my programs to be 30 minutes. You push for 30 minutes, get in, get out and get on with your day.
What does your diet consist of typically…and do you use the little color-colored containers yourself?
I do use the color-coded containers, not every day at every meal because I can eyeball my portions sizes pretty well but I do still use them to make sure I'm staying on track.
My diet consists of lean proteins like eggs, chicken, turkey and the occasional steak, healthy carbohydrates like steel cut oatmeal, sweet potatoes, brown rice, lots of veggies, fruit, a little healthy fat like avocado, almonds, coconut oil or peanut butter and a LOT of water.
What is the biggest fitness or nutrition challenge you have had to personally overcome, and how did you do it?
I have a bulging disk in my lower spine. It doesn't bother me often but when it does it puts me out of commission for almost 2 weeks. I've learned how to workout smart and not aggravate it.
I make sure I warm up before every workout, stretch at the end of every workout, get plenty of rest and most importantly: listen to my body. If it starts to bother me I take it easy for a few days to make sure it doesn't completely slip out of place.
Of all the people you have helped through your work, are there any stories which stand out in your mind?
There have been a lot of the last 12 years. My very best friend was once a client of mine. I started training her when she was pregnant with her second child.
There was a person in the original 21 Day Fix test group that I got to know very well. She had a very tough story of domestic abuse, I watched her get stronger both physically and emotionally through my program and ultimately change her life. She lost 100 lbs in 11 rounds of 21 Day Fix. That's a pretty great one.
If you could travel back in time and give ONE piece of advice to your teen self, what would it be?
Just believe. Everything happens for a reason.
All of those doors that are going to slam in your face will ultimately lead you to the exact place you are supposed to be, so for now, smile and enjoy the journey.
What is coming up next for you?
There are a lot of new things in the works, I can't talk about all of them just yet. For now my focus is the launch of 21 Day Fix Extreme. I'm so excited to give this program to people.
Anything else we should know?
I always say if its important to you you will make time, if not you will make an excuse.
Life is busy for me, I'm a single mom trying to navigate my way through this crazy, awesome new life but I'll always make time for my son and for my health.
Could you send us a selfie of whatever you are doing right now, like hugging your pet, throwing up a peace sign, just chillaxing, whatever? We like to keep it real!
The selfie attached is me sitting working in the lobby at the Westin Snowmass, I'm here with my son Dominic to celebrate his 6th birthday. He's in a snowboarding lesson and I'm working 🙂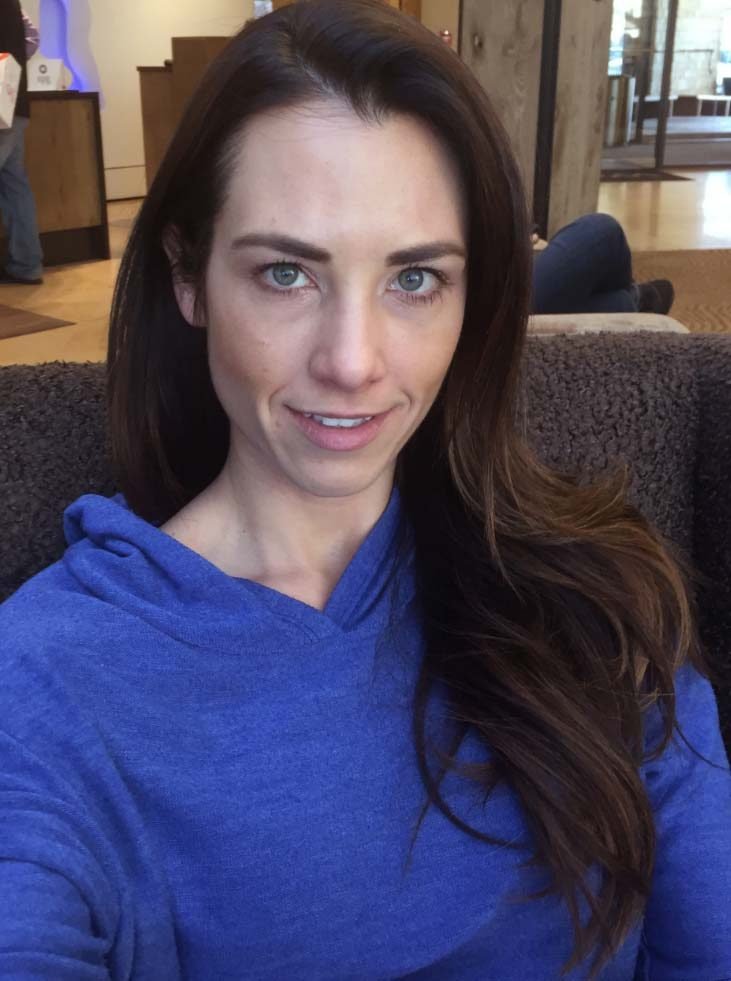 Follow Autumn Calabrese on social media:
https://www.facebook.com/autumncalabresefitness
https://twitter.com/AutumnCalabrese
http://instagram.com/autumncalabrese
https://www.youtube.com/user/AutumnFitness