Autumn de Forest Interview – Young Prodigy Artist Inspires and Gives Back
Autumn de Forest is a remarkable 12-year-old girl who just happens to be a world-renown artist, selling her first piece for $1,000 at age seven. She has sold considerably more since then, and has been featured on the Discovery Channel's "Genius Kids," the "Today Show" on NBC, and the "Wendy Williams Show," among others.
In addition to supporting charities through donations for relief efforts in Haiti and Japan, she is also a strong advocate for art in schools — and despite her young age has spoken on the topic to mature audiences at Harvard University as well as the National Arts Educators Association conference.
Recently, Autumn was named the official artist of the 2014 PGA Valspar Championship, a golf tournament in Palm Harbor, FL. One of her works was auctioned off, with the proceeds going to Habitat for Humanity. She is also one of the faces of Aeropostale's 2014 Epic Kids PS from Aeropostale campaign.
We got the chance to ask Autumn a few questions, and here are her answers:
Some artists have a defining moment where they KNEW they had to become artists. Was this true for you, or was it more of a gradual thing?
❤️How I knew I was an artist was when I picked up a paintbrush and felt the power to express what I think and feel in ways that words couldn't describe for me. It was like another language, another voice, deep inside my soul. I love expressing myself, and using big gestures to create what is in my mind.
Tell us your process…imagine you have a blank canvas in front of you…what is the first thing you do to get started?
❤️The first thing I have to do before painting is be inspired. I can be inspired by anything or anybody in my everyday life. It can be as simple as a billboard or an ad on television, or looking at paintings by great masters and learning about their artistic process, or even by a dreams I have at night.
I love taking classical paintings, like "American Gothic" by Grant Wood, or "Marilyn Monroe" by Andy Warhol and adding my own personality, sort of combining their vision with my vision to create a new vibe.
What do you think can be done to restore arts education in schools, keeping in mind that lack of money IS a real problem for most public schools.
❤️In World War II, in order to save money they had to shut down all of the art programs in the schools, Winston Churchill's reply to that idea was "Then what are we fighting for?"
I stand by that.
I believe cutting school art programs is going to limit our future leaders, inventors, scientists and so on, from being able to think outside the box and come up with creative new ways to deal with old problems. Every subject in school has art as it's root…art is in everything!
I believe we can do things like write letters to our congressmen and learn about different ways we can fight this injustice.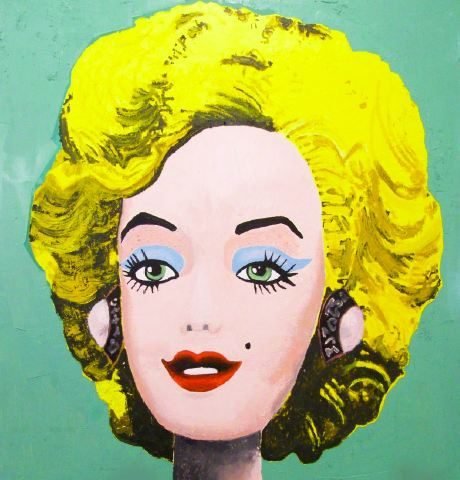 Who has helped you most in your career as an artist?
❤️There have been many people who have worked very hard to help me on this remarkable journey. First, my parents, for giving me this opportunity and supporting me every step of the way. I'm grateful to my art "team" that makes everything I do possible.
At the top of my list is Albert Scaglione,my mentor, who founded and owns a company called Park West Galleries. He hired me to be a part of the ParkWest family and has helped me very much in my path to changing the world for the better.
How do you deal with the pressure of having a career at such a young age?
❤️I do not think I have any more pressure with my career than any other active kid my age who is involved with sports, dance, debate team or any extra curricular activity.The only reason why do it, is because it's my passion, my love, my other voice.
There are things I want to say about life that words can't express for me. I can't imagine my life without speaking through my art. My life would become black and white.
Why painting? Why not ballet, or sports, or piano?
❤️When I was younger, I was introduced to the piano, drums and different musical instruments and although I'm crazy about music, it just never really struck my passion button.
I love ballet and dance, but I don't think making a career of it is for me and as far as sports, again I love playing but it just didn't move me like painting does.
Painting gives me the opportunity to express myself, give back to those in need and also to inspire others to follow their dreams.
Which is your favorite piece you have painted and why?
❤️My favorite painting is the next one I do, but of all the paintings I have done so far, I would have to say AUTUMN ROSE is my favorite. I painted it when I was 8 years old from a picture my mom took of me smelling a rose in the park. It was such a wonderful memory for me that I just had to paint it.
Which master artist do you admire the most?
❤️I have many artists that I love and admire very much, Jasper Johns, William deKooning, Andy Warhol, Roy Lichtenstein and Grant Wood! And many more. It really depends on how I'm viewing the subject matter I want to paint and which techniques I want to incorporate from which artist. As I go through different phases in my life, my favorite masters seem to change. There is valuable information to be learned from experiencing them all.
Your work, Dripping Golf, is a bit surreal. If you had to describe this piece to a blind person, and try to evoke the same feelings about it in them as someone who had sight might feel, what would you say?
❤️"Dripping Golf" actually has a lot in common with Braille. Braille is the conversion of traditional letters into a code of raised bumps. What my painting "Dripping Golf" is about, is the joy golfers feel about their favorite sport. I use the visual of that joy "raining down" upon them.
Because the golf balls on the painting are actual miniature ceramic replicas of real golf balls, a blind person could run their hand over the golf balls and feel the idea of joy "raining down" upon them being expressed.
Who is your celebrity crush? : )
❤️I am not a typical Justin Bieber, or One Direction — my celebrity crush is an actor who was in BBC's "Sherlock," and also in "Star Trek: Into the Darkness." His name is Benedict Cumberbatch.
I love Benedict Cumberbatch because he has a sense of mystery, and how he plays Sherlock Holmes comes the closest to the original Sherlock Holmes who I already loved.
Kids and teens are facing a lot of pressure these days. What advice would you like to give to readers out there that might be struggling, or feeling hopeless?
❤️Whatever you love you can do it too, it doesn't matter whether it ballet, sports, painting or drawing, just don't focus on how good you are focused on how much you love it! Many kids start something, they love it but they think, "I'm terrible at this", so they just stop, and they might not ever get the opportunity to see how good they truly are.
If you could change ONE thing about the world through your art, what would it be?
❤️Well I have many things on my checklist that I want to change about this world. But one of them would be to give every child the opportunity to express their life and their experiences. I want to provide every child in this world a paint brush and canvas.
One thing I have learned is the empowering nature of creativity. It has enabled me to help others and to express my ideas. I can tell you it is a privilege to have people listen to my ideas. I am just a little girl on a big world but through people listening, it has made me hopeful that I might do some good.
Find out more about Autumn at http://autumndeforest.com/