Bored of your room? Try these unique home makeover ideas!
The mere idea of a makeover is exciting. This is one reason the makeup industry thrives, you can literally transform yourself into a new person! Now, how about you dab some "makeup" over your home?
Don't be discouraged by the possibility of coughing up a large sum of money; you can actually do a lot without spending much cash since you can use some of the stuff you already have in your home.
1. With Plants, You Never Go Wrong
Potted plants add a certain vibe to your home. If you aren't using them already, now is a perfect time to add them to brighten up your stairway, windowsill or fireplace. Including potted plants in your home décor can give a healthy look to your house (because plants give off oxygen). And if you're worried about where to get pots, even large mugs and old coffee tins can be used to hold those plants and flowers.
2. Go Bold on Your Door Colors
Make an amazing statement of boldness as soon as anyone steps into your house with brightly colored doors.
Repaint your doors to be as fun as possible. For your room, you can get very creative with even bolder colors, animals, flowers, or chalk paint.
3. Wall Art Has Never Been Cooler
Get creative with your walls! All you need to do is place pieces of artwork or plates of different sizes or cool posters from a thrift store.
And don't worry about being totally symmetrical: check out this wall with different sized pieces arranged on different levels.
4. Move Stuff Around
If you have done this before, you'll have noticed the automatic facelift it gives to your rooms. You can give your home a whole new look by the simple act of rearranging a room's content.
For instance, you could rearrange books in your bookshelf according to color or size; rearrange your bedroom furniture along opposite walls on in an L-shape, or place your outdoor dining sets in the center of your patio.
5. Make Your Closet Fascinating
When you have a warm and inviting wardrobe closet, it's a lot easier for you to enjoy picking out clothes each morning. Repainting the closet to a warm color, or placing some cool vignettes on it to remind yourself of how awesome you are each day, might be helpful.
6. Use Leftover Fabric Creatively
If you've got bundles of leftover fabric lying around, you can turn them around to make creative cushion covers from them if you have basic sewing skills.
7. Use Fruits as Dining Table Centerpieces
When you line up those fresh, colorful fruits in big glass bowls, they look super amazing as dining table centerpieces. Plus you get to eat them.
8. Shoe Boxes Can Be Used to Store Stuff
Especially for things like concert or school memorabilia, you can wrap up old shoe boxes in wrapping paper and voila! You have before you the perfect storage solution for your knickknacks!
9. Use Old Household Items in New Ways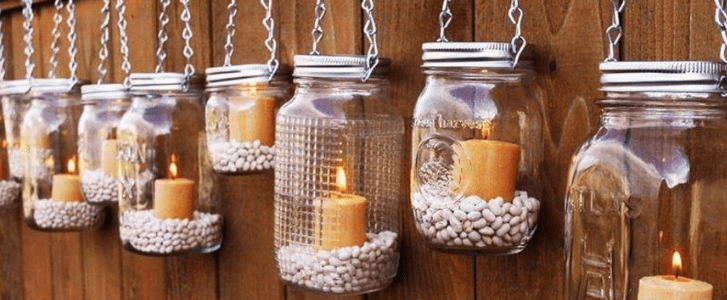 Put battery-powered lights in old jars for a cool rustic look. Or you could fill the jars with beautifully bright beads, pebbles or even sweets! And those sweet old baskets you're so fond of? Use them as magazine holders.
Wrapping Up
What do you say to the use of these unique ideas to transform your home into a hub of newness and utter beauty?
For more ideas read "what is coastal decor style".