Christmas/Holiday Gift Ideas!
Ho Ho Ho! Its time for our next product roundup to help you decide on last-minute gifts for Christmas or other winter holidays!
Note: Affiliate links below, meaning we might earn a small commission if you purchase a product directly after clicking a link.
AtGames Blast! HDMI Video Games – between $19.99 and $39.99
Want to get something cool for your little bro or sis, or even yourself, without a big cash outlay? Check out these "plug & play" video game HDMI dongle/wireless controller kits from AtGames. Each bundle comes with between eight to 20 classic videogame titles per model and are available at most retailers, including Amazon.
These are NOT arcade versions of the games, these are simulations but do the trick for quick classic-style gameplay when you don't want to fire up Red Dead Redemption or Call of Duty.
The USB-powered HDMI dongle plugs directly into a TV with HDMI inputs and comes with an ergonomic six-button wireless gamepad. The Atari Flashback Blast! Vol. 3 swaps the wireless gamepad for a pair of wireless game paddles, which are specially optimized for its selection of classic paddle and ball games.
Atari Flashback Blast! Vol. 1 features 20 Atari 2600 classics like Centipede, Millipede and Yars' Revenge.
Atari Flashback Blast! Vol. 2 features 20 Atari 2600 classics like Adventure, Asteroids and Missile Command.
Atari Flashback Blast! Vol. 3. features 20 Atari 2600 paddle-based classics like Breakout, Pong and Warlords.
The Activision Flashback Blast! features 20 of the most iconic Activision home classics, including Pitfall!, H.E.R.O. and River Raid.
The Legends Flashback Blast! features Space Invaders and an additional 11 favorites like Burnin' Rubber and Jungle Hunt.
The Bandai Namco Flashback Blast! features eight gaming mainstays, including Pac-Man, Galaga and Dig Dug.
Every Blast! includes high-definition video output, an intuitive menu system, save and resume game functionality and the ability to rewind a game in progress to recover from a play misstep. An optional second wireless gamepad can be purchased for games that support two players.
LaurDIY Craft Kits – $14.99 and up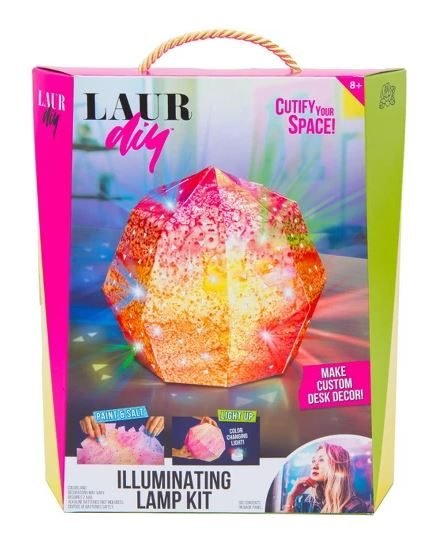 Influencer and YouTube star, Lauren Riihimaki (LaurDIY) recently launched her Craft Kit product line partnered with Mattel and available at Target, Amazon and Walmart Canada. Options include a Balloon Unicorn Kit, Illuminating Lamp Kit, Marble Desk Décor Kit and Mini Plushie Kit, in addition to a Letter Board Kit and Tie Dye Wall Hanging Kit. These pieces can serve as finishing touches to any room and reflect LaurDIY's love of all things fun and fabulous and the content that she regularly features on her channels.
UnPlugged 10K Wired/Wireless Portable Charger – around $50
Have a Qi-enabled phone (wireless charging)? The UnPlugged 10K Portable Charger will charge your phone without a cable! If your phone doesn't use Qi, you can use a USB cable like any other charger. The UnPlugged 10K Rechargeable 10,000mAh Wireless portable charger from myCharge allows you to wirelessly recharge your device on-the-go and provides up to 5x extra battery life.
Qi WIRELESS CHARGER & USB PORTABLE CHARGER IN ONE: Extend the battery life of your Qi enabled phone with 10W of fast charge wireless power and/or via Dual USB Ports to any USB compatible devices with 10000mAh/2.4A for up to 5x extra battery
Qi CERTIFIED COMPATIBLE: Works with all Qi enabled devices (iPhone XS, iPhone XS Max, iPhone XR, iPhone X, iPhone 8, iPhone 8 Plus, Samsung Galaxy S8, S8+, Note 8, S7, S7 Edge, S6, S6 Edge, Nokia 9, Nexus 4, 5, Lumia 920 and other Qi enabled devices)
NO CORDS NEEDED: Simply place your Qi enabled smartphone directly on the wireless power bank to charge your phone wirelessly with ease at home or on the go – pass through charging allows power bank and phone to charge simultaneously
THIN PROFILE, SOFT-TOUCH FINISH & DUAL USB PORTS: Features a thin profile as to easily fit inside a small bag or purse and a soft-touch finish with Dual USB ports to charge up to 3 devices at once via wireless charging and USB-A ports
PRODUCT SPECS: Qi Wireless Output = 10W / Input = 2.4A / USB Ports Output = 2.4A Shared (Recharge cable is also included)
Saved by the Bell: The Complete Collection – $28.95 on Amazon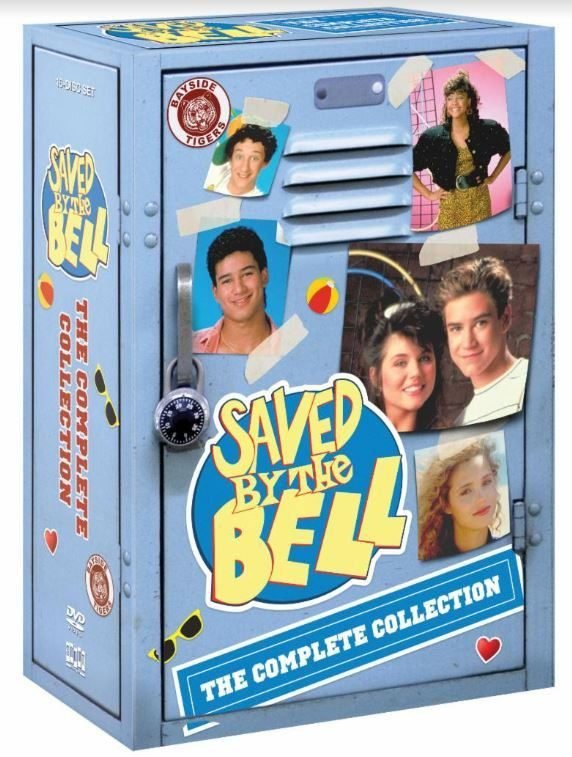 Join Zack and his Bayside High Pals in the ultimate 16-disc collector's set of this iconic '90s sitcom, featuring every series episode and BRAND NEW Bonus Features.
Set in the fictional town of Palisades, California and in the hallways of Bayside High, the breezy adventures of Zack Morris (Mark-Paul Gosselaar) and his friends — Kelly Kapowski (Tiffani-Amber Thiessen), A.C. Slater (Mario Lopez), Jessie Myrtle Spano (Elizabeth Berkley), Lisa Turtle (Lark Voorhies), and Samuel "Screech" Powers (Dustin Diamond) unspooled in hilarious fashion across 86 unforgettable episodes and home audiences can relive the laughter, lessons, and love all over again with this loaded set containing more than 46 incredible hours of Bayside bliss, including every episode from 1988's "Good Morning, Miss Bliss" which became "Saved By the Bell: The Junior High Years" and the fan-favorite "Saved by the Bell" to "Saved By the Bell: The College Years" and the two feature-length TV movies that followed.From 1989 to 1993, for a generation of TV viewers, "Saved by the Bell" was the show that perfectly echoed their lives in middle school and high school and it became a cultural touchstone, changing teen programming forever.
Bonus programming includes two BRAND NEW documentary featurettes: "Past Times at Bayside High: Making Saved by the Bell," a retrospective documentary featuring interviews with writer/producer Peter Engel, producer Franco Bario, writer/producer Tom Tenowich, writer/producer Bennett Tramer, actress Lark Voorhies, and more; and, "Bayside's Greatest Hits: The Music Of Saved By The Bell," a documentary short featuring songwriter/composer Scott Gale and composer Rich Eames! Additional bonuses include more in-depth featurettes, audio commentaries, a 16-page episode guide and more!
Complete List of Bonus Features:
NEW Documentary features: "Past Times at Bayside High: Making Saved by the Bell" and "Bayside's Greatest Hits: The Music Of Saved By The Bell"
Featurette: "Saturday Morning: From Toons To Teens"
Featurette: "It's Alright: Back To The Bell"
Featurette: "The First Of Its Class: From Sit-Com To Icon"
Audio Commentaries
Photo Galleries
16 Page Episode Guide
About Shout! Factory
Olbas Herbal Remedies: Aromatherapy Inhaler, Pastilles, and Lozenge – Pricing varies
The winter season means holiday fun — but it can also mean colds and the flu are in full effect. To get some relief, try the all-natural Olbas Oil line of soothing products from Penn Herb. https://www.pennherb.com/Olbas-Remedies
These products are made from essential oils from the traditional medicinal plants of Peppermint, Eucalyptus, Cajuput, Wintergreen, Juniper Berry and Clove. Olbas Oil originated in Basel, Switzerland over 100 years ago, and continues to be a European and worldwide favorite. It diffuses into the air, providing extraordinary benefits to nasal and bronchial areas. Olbas is also readily absorbed into the skin, producing a deep feeling of comfortable warmth. When used as massage oil, it stimulates circulation at the surface of the skin and brings a soothing warm feeling to tired muscles and joints. These unique properties of Olbas Oil are incorporated into each of the remedies in the Olbas line.
Apart from bottles of oil, they also sell products like the pocket-sized, portable Olbas Aromatherapy Inhaler to help you breathe easier, clear your ears, and soothe your sinuses and allergies.The all-natural Olbas Pastilles and Olbas Lozenges also help remedy coughs and colds on the go!
Icy Bev Kooler – $29.99 for set of two
The Icy Bev Cooler keeps a 12 ounce soda bottle cold (or beer bottle for your parents) thanks to a neoprene lining. It features a silicone stopper to keep in carbonation once bottle is opened, plus a bottle built into the cap (warning, not very durable per Amazon reviews).
STAINLESS STEEL INSULATION KEEPS BOTTLES COLD LONGER. The stainless steel outer shell and BPA free neoprene inner lining provide a double thick layer of insulation helping keep your drink cold in the hottest weather.

DURABLE PROTECTION FROM DROPS AND SPILLS. The unique design protects from drops and spills. No sweat or condensation! Great for the beach, pool, lake, golfing, boating, camping, tailgating, and more…

FITS A VARIETY OF BOTTLE SIZES. Remove the bottom and the cap and insert bottle. Re-thread the bottom until tight. The bottom extends for taller bottles. There's a silicone stopper that nests inside the cap to be used to re-seal your bottle and an opener built into the cap.

EASY TO USE. Easy to clean and fits most cup holders.
KOCOWA K-Pop and K-Drama Streaming Service – $6.99 for no ads
Love everything Korea? Then KOKOWA streaming service is for you! KOCOWA meets the strong and rapidly growing demand of an audience comprised mainly of teen girls and millennials for its trending K-Pop (Korean pop music and idol groups) and K-drama (Korean films and TV series) – all delivered in the US with subtitles 5-hours after airing in Korea.
The top genre for KOCOWA viewers is drama and the most popular program viewed across all age groups was Tempted, a drama about temptation and finding true love. Most viewers use mobile platforms to view KOCOWA content. Many of the actors are K-Pop idols.
What sets this content apart from US is the wholesomeness–Korean shows are not degrading with excess sex and violence like modern US shows tend to be. The pop/singing shows are fun to watch especially!
https://www.kocowa.com/ Now available on Roku
The Field by Ian Dawson – about $15
When fourteen-year-old Daniel Robinson is abducted during a game of hide-and-seek, his focus switches from enjoying his summer vacation to simply staying alive. He must find the courage and strength to escape his captors and get home, no matter what it takes. Will he survive? Or is this a nightmare that's too real to escape?
The Field makes for a suspenseful read–especially considering it is based on the author's real-life abduction and assault by two older teens 25 years ago. While not exactly "Christmasy," it should please anyone who likes action-packed YA novels .
BAO Cultured Sauces – $39.99 for 6 bottle sampler
BAO Cultured Sauces include Bao-B-Que, Sour K'Chup, Original Hot Sauce, Chipotle Hot Sauce, Mango Hot Sauce, and Jalapeno Hot Sauce. These fermented sauces are a blend of briny, tart, spicy, and umami packed full of organic ingredients and vibrant probiotic bacteria. All BAO products are gluten-free, certified organic, vegan and fermented.
We received the sampler pack shown above in an insulated foam chest as these sauces must be kept refrigerated. We were amazed by the flavors, and the fact that these sauces are good for you because of the probiotic bacteria make them even more awesome!
https://baofoodanddrink.com/products/mixed-sauces
DAVIDsTEA Tea Gift Sets – around $20
Celebrate the festival of lights with this Kosher tea gift set. It contains eight tins of caffeine-free loose leaf tea, so you can open up a tasty new treat each day. Plus each tin makes 1-2 cups of tea. Now that's something to look forward to. Includes: Blackberry Blizzard, Caribbean Crush, Carrot Cupcake, Cinnamon Rooibos Chai, Just Peachy, Serenity Now, Super Ginger and Turmeric Glow.
Net Weight:
80 g / 2.8 oz
https://www.davidstea.com/us_en/gifts-and-sets/shop-all-gifts/8-nights-of-tea/960532US01.html?cgid=shop-all-gifts#sz=12&start=46
HandsOn Gloves for Shedding, Bathing, Grooming, De-Shedding Horses/Dogs/Cats/Livestock/Small Pets – $24.99
Your dog or cat might freak out seeing you wear these for the first time, but will likely learn to love when you do because it means a nice grooming/massage session!
HandsOn Gloves work wet or dry with the 5-fingered glove allowing for the perfect combination of scrubbing nodules on fingers and palms. Users will find their animals wanting to come closer at groom time and HandsOn Gloves can help you bond with your animal. HandsOn Gloves are carefully designed with hypo-allergenic, bio-friendly components which are clinically proven to be safe for use with humans and animals. *Check out all 5 sizes Kids: size Junior and Adult: sizes Small, Medium, Large, and Extra Large.
Marvel Legends Series Black Panther Electronic Helmet – $99
Gear up like the warrior king Black Panther with this 1:1 full-scale premium role play electronic helmet! Adjustable to fit most heads, this helmet features Vibranium-inspired design with flip-up eye lenses and intricate detailing. Includes movie-inspired Vibranium light effects.
Tiwal 3 – starts at $5400 for you big ballas out there
The Tiwal 3 is billed as "The Only Sailboat That Fits Down The Chimney." And will set you back several thousand bucks! Since some of y'all are fortunate enough to afford it, and we thought it was pretty cool, we are including it here. Maybe you can get it cheaper on eBay, who knows? : )
Stored in two bags, the inflatable sailing dinghy can be taken anywhere, in the trunk of a car, a camper van or a bigger boat. It is easy to transport, store and assemble. The Tiwal 3 makes sailing accessible to everyone on the banks of lakes and on the shores of the sea. Simply inflate the hull, assemble the structure and set the sail. In under 20 minutes it is ready to be launched. It is just as simple to store and does not require any maintenance.
Lenght: 10.5 ft
Sail area: 56 sq.ft / 75 sq.ft
Total weight: 111 lbs, max. load: 418 lbs
2 bags: 57x 16×14 in / 62 lbs (each)
Capacity: 2 adults or 1 adult & 2 children
Eggnots Ceramic Eggs – $10.95 for a six pack
Here's a great little gift for crafty people, especially those who love to make Christmas ornaments! They are paintable eggs made out of ceramic material. They ome in their own super-cute carton but need NO refrigeration, are usable by people with egg allergies, and are more durable than the real thing.
Start a new tradition making eggnots as keepsakes finding unique ways to display eggnots not just for Easter, but other Holidays too – like Christmas.
Vegan friendly!
The Final Word
According to leading gift company, Bloomingbox, the above gifts can be sent with old favourites like exotic cakes, stunning bouquets and more. When it comes to holiday gifts, it is important that you put some amount of thought and effort into the same. This will ensure that the final outcome is something that the recipient of the gift truly enjoys.