Danger Force Star Terrence Little Gardenhigh Reveals Why Fans Will Love Danger Force Season 3
April 20, 2023. Yesterday, as of this writing. Why was this a memorable day? Well, it not only marked the premiere of the Third Season of Nickelodeon's hit series DANGER FORCE and it's also Superhero TERRENCE LITTLE GARDENHIGH'S birthday!
Terrence stars as Miles/AWOL in Nickelodeon's hit series, Danger Force, the spinoff of Henry Danger. Season 3 began on his birthday, April 20, 2023. It launches with a two-parter picking up from season two, with Cooper Barnes as Captain Man, Michael
D. Cohen as Schwoz and the other superheroes kids, Chapa, Mika and Bose who are forced back into their regular lives and out of Danger Force after their mothers discover their superhero secret. When their hometown is confronted with an unprecedented threat, Captain Man and his former proteges see a chance to get back to doing what they love the most: protecting the citizens of Swellview.
Terrence made his feature film debut as the lead in the Netflix original movie Coffee &
Kareem opposite Ed Helm, along with Taraji P. Henson, Betty Gilpin and David Alan
Grier. Other notable credits include the ABC series Speechless, Disney Channel's Just Roll with It, and the Nickelodeon series' All That, Side Hustle and Henry Danger, and his award winning short Turtle (Bruno).
He was born in North Carolina and raised in Olympia, WA. When not acting, he enjoys spending time with his family and playing sports like basketball, football and skateboarding. He lives with his mother in Los Angeles.
Let's find out even more about him in his Q&A with TWK!
Hello Terrence, nice to e-meet you! Let's first talk about Season 3 of Danger Force on Nickelodeon. Without spoiling any surprises, what can you tell us about what's new and why people are going to want to tune in?
Grand greetings, nice to e-meet you as well. I think this is our best season yet! It's the funniest, most action-packed season and the villains go hard.
How are you most like your character Miles in real life?
We both have the same mindset on the way we see the world and how we believe our paths are predestined by the Universe. He is laid back and takes things easy just like me.
And what's been your fondest moment on the set of Danger Force so far?
My fondest moment on the set of Danger Force was being able to celebrate my born day on set for the first time with the cast and crew! It was the first time ever being able to celebrate on set like everyone else gets to do.
While filming can be fun, it can also mean long days and a lot of work. What's one thing you would love to change about the filming process if you had the power?
If I could change one thing about the filming process it would be the number of takes that we do because that is the most time-consuming part of the day.
You turned 16 years old on April 20. What are you most looking forward to accomplishing or experiencing this year?
I'm really looking forward to learning/starting to drive this year. That's something I've been looking forward to for a while now lol.
Which platform do you enjoy creating for most and why?—TikTok, YouTube, Instagram?
I enjoy creating for TikTok the most because it's the most fun and engaging.
What has been your number one, ALL-TIME FAVORITE moment in the entertainment industry so far?
My all-time favorite moment in the entertainment industry (even though it was short lived) was probably seeing Kyrie Irving (my favorite basketball player), James harden, and Kevin Durant on the same team. Seeing some of the most talented and shifty players on the same team is something I never thought I would see. Even though it didn't go so well lol.
Craziest fan experience?
My craziest fan experience was probably being followed around a mall. It was a little creepy but now that I look back on it was kind of funny lol.
What's one thing about being a famous teenager that people don't realize?
Something that a lot of people probably wouldn't realize about being a famous teenager is the responsibility that comes behind your platform and that literally everything you do on and off camera is constantly being watched and critiqued.
Who are your role models and inspirations?
Kevin Hart, Kyrie Irving, Denzel Washington, Samuel Jackson.
Growing up, what was your favorite show on Nickelodeon?
My favorite shows growing up were SpongeBob hands down and Henry Danger.
What advice do you have for actors your age who want to be successful like you?
Stay motivated, stay focused and stay disciplined. Hollywood can be a stressful place, so you must be able to be alone with yourself and feel good about just being you. Know that you are doing your best and when the time Is right you will get what you are striving for.
If you could make one wild invention that was sure to work, what would it be and why?
I would probably recreate Tony Starks Mark 50 suit (the nano tech one). Because, not only am I kind of just invincible at that point but I can literally go to outer space at any time I want. I also never have to worry about traffic EVER AGAIN.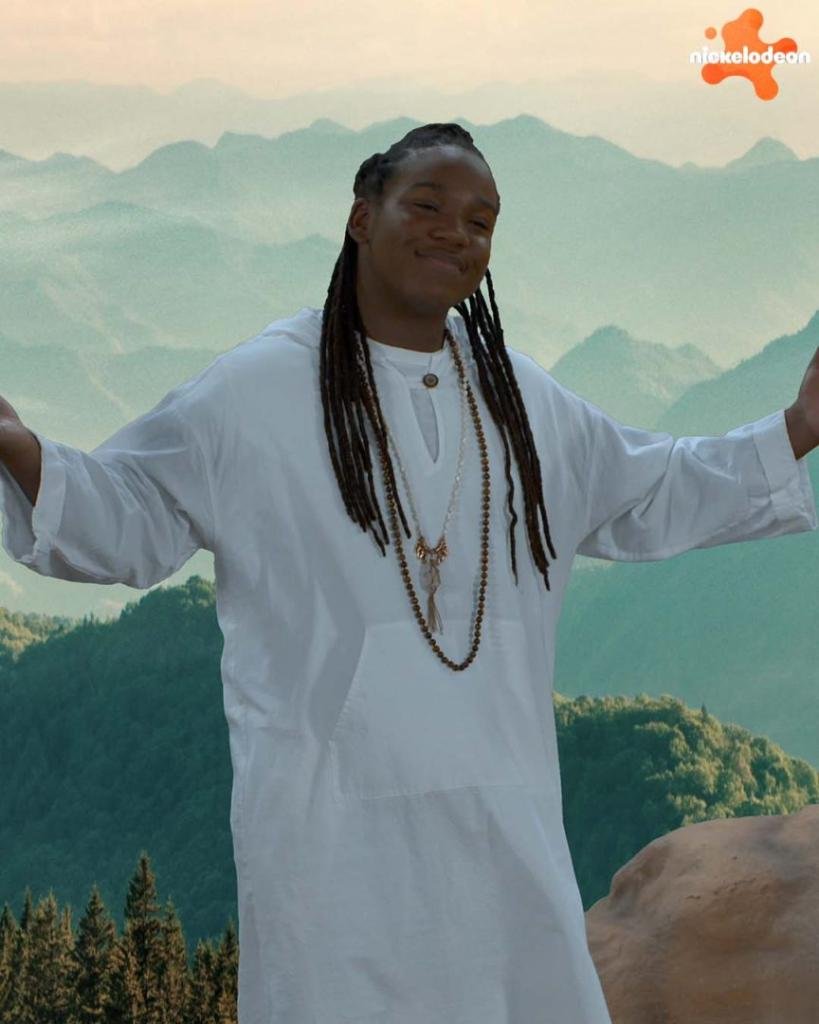 If we asked your friends what your best quality is, what would they say?
They would say my ability to listen to them and not interrupt.
And your worst haha?
That I sleep through phone calls lol.
Favorite snack?
My favorite snack is Munchies Snack Mix Cheese Fix chips.
Favorite city (and why)?
My favorite city is Brooklyn because that's where my favorite basketball team is.
Tell me something people would be surprised to know about you.
People would be surprised to know I'm afraid of butterflies.
Tell me ONE food you REFUSE to eat and why?
Cantaloupe. It's probably one of the nastiest fruits I've ever put into my mouth. That and fried eggs. I don't like the taste of cantaloup or even the smell of it; if I'm getting a bowl of mixed fruit and there's cantaloupe in it I won't eat whatever the cantaloupe touched. It's that bad.
What else are you working on or have coming up next?
I have a cartoon coming but I can't talk about it yet and some other stuff I have to save for later.
Could we get a quick selfie of whatever you are doing right now?
Absolutely!!
https://www.instagram.com/littlegardenhigh/
https://www.facebook.com/terrence.littlegardenhigh
https://twitter.com/littlegardenhig