Downtown Burbank Car Classic – July 27, 2013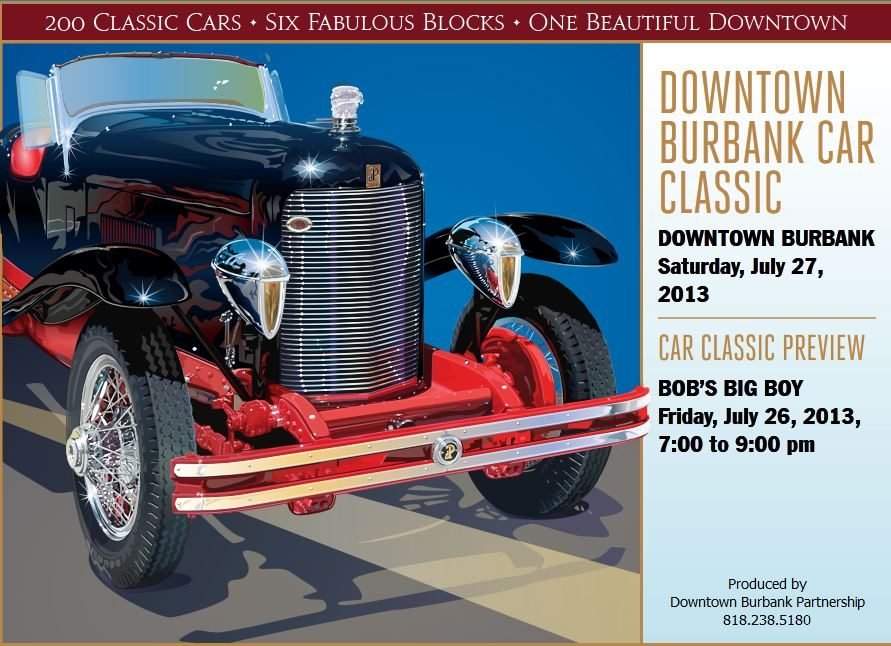 Downtown Burbank Car Classic: A Salute To SoCal Automotive Culture
DOWNTOWN BURBANK, Calif. – The region's most fabulous automobiles will cruise into Downtown Burbank for the 2nd annual Car Classic featuring restored and pre-1974 vehicles, exotics, hot rods and bikes on San Fernando Boulevard between Magnolia Boulevard and Angeleno Avenue, Saturday, July 27 from 3:00 to 9:00 pm. The Downtown Burbank Car Classic is free and open to the public.
In tune with Downtown Burbank's ties to the entertainment industry, cars with a "Hollywood" twist will be in the spotlight — those appearing in film or television, or having a distinguished pedigree of celebrity ownership. Rounding off the fun will be family entertainment, music, and automotive-related vendor booths.
Sponsored by Downtown Burbank Partnership, the show will be held on four city blocks packed with retail, restaurants and eateries, and will integrate top automotive design with the upbeat vibe of Burbank's legendary downtown shopping district.
For further information or to register a vehicle, please visit www.downtownburbankcarclassic.org
Downtown Burbank is a mixed-use urban neighborhood spanning 34-blocks and featuring more than 300 shops, restaurants and businesses. Situated in the heart of entertainment industry, the area is renowned for its dynamic street scene, outdoor dining, and pedestrian orientation. Shopping and dining destinations include Urban Outfitters, IKEA, Barney's Beanery, and Burbank Town Center. AMC movie screens consistently rank in the top five of theatrical circuits nationwide. The area is bounded by Verdugo Avenue, Glenoaks Boulevard, Burbank Boulevard and the I-5, and contains more than 9,000 parking spaces. The District is managed by Downtown Burbank Partnership, a California nonprofit mutual benefit corporation.
www.downtown-burbank.org
;
www.facebook.com/downtownburbank