Fittest Teen on Earth: 14-year-old Olivia Sulek Becomes the Youngest CrossFit Games Winner in History
14-year-old Olivia Sulek just became the youngest Reebok CrossFit Games winner in history, here is what she had to say about her accomplishment:
"To call myself the fittest teen on earth still hasn't sunk in. This past week has definitely had its ups and downs, but I wouldn't trade the result for anything else. If anyone asked me one year ago if I thought I could even qualify for the Games I would've thought they were crazy. To win the Games, I never would've imagined in a million years."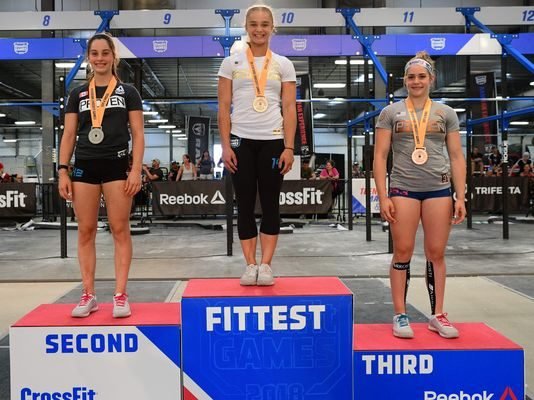 From the press release:
Today, Renaissance Periodization (https://renaissanceperiodization.com) – diets and training backed by science – is thrilled to announce that three of their athletes were named "Fittest on Earth" at this year's 2018 Reebok CrossFit Games with others topping the podium and leaderboards.
Making headlines as the youngest CrossFit Games winner in history was Renaissance Periodization athlete, 14-year-old Olivia Sulek, of Ohio who won the Girl's 14-15 year-old category after taking a commanding 86 point lead in the final afternoon of the Games.
"Olivia is a very committed athlete so when we realized that her diet could be better preparing for the Games, she was all over it," added Nicolas Simpson, Sulek's coach and Owner of ESF CrossFit. "I had previous success with Renaissance Periodization helping me prepare for regionals so working with them was a no-brainer."
In the team competition, "Fittest Man in History" Rich Froning along with Lindy Barber on Team CrossFit Mayhem Freedom won the Games for the third time in four years. Prior to this, Froning was named "Fittest Man on Earth" four times. Also topping the leaderboard at this year's Games, was Renaissance Periodization athlete Annie Thorisdottir who placed fifth this year after becoming the first female to win the CrossFit Games twice in addition Renaissance Periodization athletes and Fittest American Female Kari Pierce who placed sixth.
"We're incredibly excited to see three Renaissance Periodization athletes top the podium at the 2018 CrossFit Games," commented Renaissance Periodization Founder, Nick Shaw. "Their relentless work ethic and determination have paid off in a big way and we're happy to have played a role in helping these incredible athletes reach the pinnacle in their respective sport."
Renaissance Periodization was founded in 2012 with the understanding that science is the surest path to the truth, and in this field, to results. Their approach is the rigorous application of scientific principles to nutrition and training and was built on a foundation of peer-reviewed literature and experimentally confirmed theory. Renaissance Periodization boasts the most qualified staff in the industry of 20+ experts including a practicing medical doctor, 17 PhDs and five Registered Dietitians along with U.S. Olympic Sports Nutrition Consultant, Dr. Mike Israetel. Since 2012, Renaissance Periodization has helped hundreds of thousands of clients worldwide, ranging from world champion athletes to everyday men and women looking to get in better shape.
To date, Renaissance Periodization and their team of professionals are the official dietitians for Team USA Weightlifting and USA Powerlifting. For more information on Renaissance Periodization, visit www.renaissanceperiodization.com.