GUARDaHEART World Heart Day Celebration Gala
The GUARDaHEART Foundation, VIPs from the California State Assembly, renowned medical professionals, and actor Eric Roberts came together to celebrate World Heart Day at a sophisticated "James Bond"-themed gathering held in the Lyon Air Museum in Santa Clara California.
The event, which was sponsored by Aviir, promoted The World Heart Day's mission of stressing the importance of heart disease prevention, from childhood through adulthood. As heart disease is the #1 killer of both men and women in many countries, including the U.S., and 80 percent of premature deaths from heart disease can be prevented through early detection and lifestyle modification, the message of "LEARN. DETECT. PREVENT." is one that is timely and relevant for people of all ages — especially considering the obesity epidemic in America.
Attendees enjoyed live entertainment, "shaken, not stirred cocktails," passed hors d'oeuvres, and a silent auction. Proceeds from the event are going to providing education, detection, and prevention resources for the community at large, including members of the military, first responders, and low-income families.
Teens Wanna Know spoke to a few of the attendees, who gave great information for teens on how to maintain healthy hearts, warnings about the heart-damaging effects of popular energy drinks, and provided other words of wisdom.
Teens: these are smart folks…so pay attention! (interviews coming soon)
Eric Roberts and host Michael Peña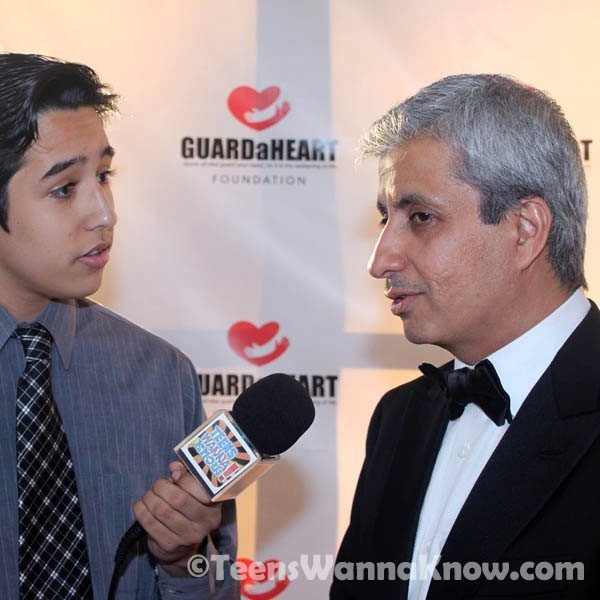 His Excellency Sheikh Khalid Bin Jabor Al Thani
Phillip Tsao, Ph.D, Associate Professor Stanford University
Eric Roberts and Tamara York
GUARDaHEART Executive Director Rose Hancock
Eric Roberts and Teens Wanna Know Executive Producer Diana Peña
Dr. Nathan Wong, UC Irvine Director of Heart Disease Prevention Program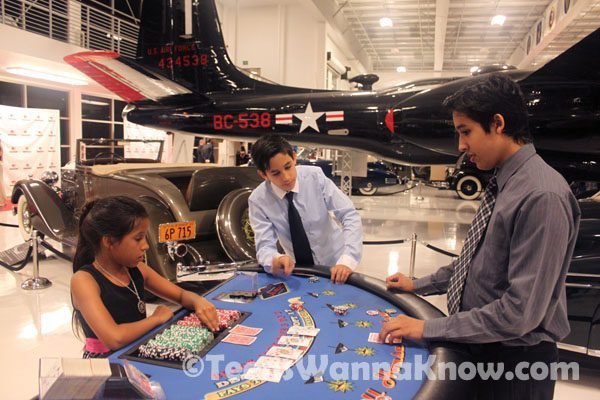 Our hosts taking a break "James Bond" style.
It's "James Bond" himself (or a good look-a-like!)
Dr. Douglas Harrington, USC Keck School of Medicine
Ms. California America 2013 Kimberly Lattimore
GUARDaHEART
Website: http://guardaheart.org/
Facebook: https://facebook.com/Guardaheartfoundation
Twitter: https://twitter.com/guardaheartorg
YouTube: http://youtube.com/user/Guardaheart

Eric Roberts
Imdb: http://imdb.com/name/nm0000616/
Website: http://ericrobertsactor.com/
Facebook: https://facebook.com/EricRobertsActor
Twitter: https://twitter.com/EricRoberts
Sheikh Khalid Bin Jabor Al Thani
Website: http://qatarcancersociety.org/en/about-us/founders/

Dr. Nathan Wong – Dir of the UCI Disease Prevention Program
Website: http:// heart.uci.edu/
Philip Tsao, Ph. D. – Ass Proffessor, Stanford University
Website: http://med.stanford.edu/profiles/Philip_Tsao/

Dr. Douglas Harrington – USC Keck School of Medicine
Website: http://keck.usc.edu/

Kimberly Lattimore – Ms California America 2013
Facebook: https://facebook.com/MsCaliforniaAmerica2013
Twitter: https://twitter.com/KimberlyLattimo
Dennis B. Keogh – "James Bond" Impersonator
Website: http://denniskeogh007.com/
YouTube: http://youtube.com/user/bondlookalike