Interview with new singer/songwriter & actor Justice Haller
Justice Haller
Justice Haller is a kind, quick-to-learn, charismatic 12-year-old with energy to spare. Justice is empathetic and enjoys acting, both comedy as well as dramatic. When he isn't acting he enjoys releasing new songs as a singer/songwriter. He released his first song, First Crush earlier this year followed by 100 Degrees. Today, he drops his eagerly anticipated new single, Wait for You!
His athletic endeavors including both snow skiing/boarding and surfing as well as any sport under the sun! He is working to release three more singles by the end of the year.
Let's find out more about him in his Q&A with TWK!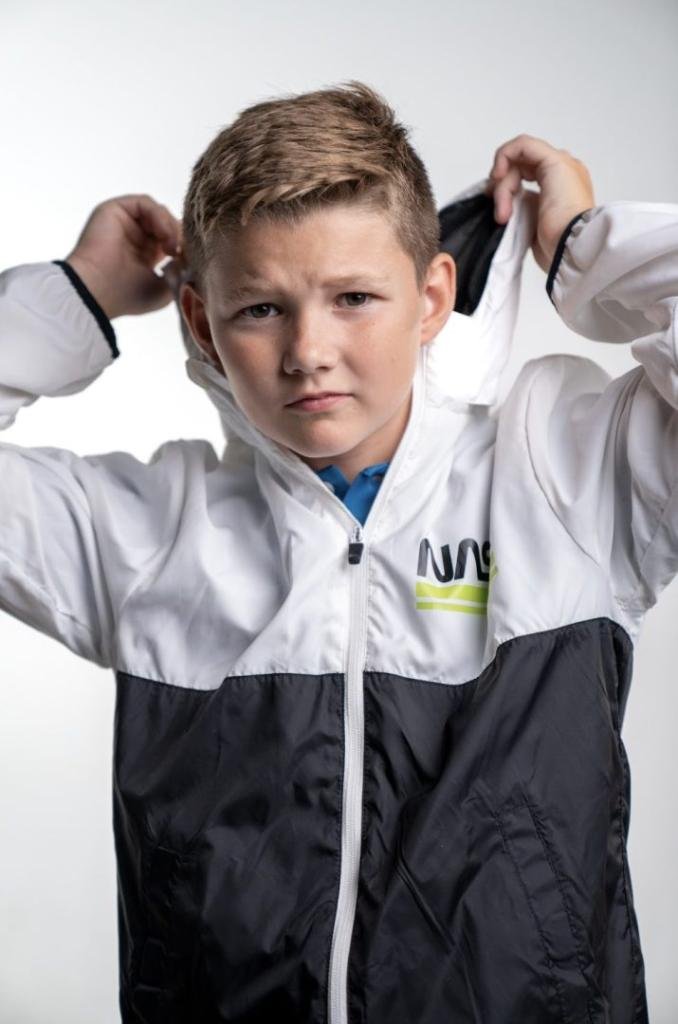 Hello Justice, nice to e-meet you! Before we jump into your new music, please tell us a little bit about yourself outside of show business.
I love making friends and spending time with my besties! I also love to travel with my family. My favorite trips have been London, Paris and Italy–but food in Italy is the best! My brother John and I love to ski, both snow and water ski, or surf. We love climbing and doing outdoor adventures.
Okay—you are set to release your third single, "Wait For You" on July 28th. What's the song about and what inspired it?
"Wait For You" was kind of a response to my first song "First Crush." I'm really young, but I did have a crush when that came out. Later she got a boyfriend and we don't get to talk as much, I really miss her as a friend and being funny together.  "Wait For You" is speaking to that situation.
Why do you think people are going to love listening to it?
I mean, I love the beat in my songs and try to make them catchy like something I would listen to. I love Ed Sheeran, Benson Boone, JVKE, and Imagine Dragons. They all inspire me, so I hope people love my songs as much as I do!
Your previous single, "100 Degrees," is a BOP! Just a real feel-good summer track with a great hook—I love it. Were you involved in the songwriting and production, or did your team present you the track and you ran with it?
Yea, I'm an independent artist, I don't have a "Team" yet. But I work closely with a songwriter named Lucas Valeti. He helps me put my words into lyrics. I'm very involved with all aspects of my songs. My mom helps coordinate everything and get it ready to release. It's just the three of us. It is very early in my career. I only decided to make tracks in February this year. I received a medal for performing "Believer" by Imagine Dragons at a showcase in January. That, and an offer from a manager helped me believe I could actually make my own music. I've been loving it so far and hope to make music for a very long time.
Which platform do you enjoy creating for most and why?—TikTok, YouTube, Instagram?
I'm so young for social media, but I like the platforms of Instagram and YouTube the best. I'm less than a year old on all of them–but I love my fans. They are literally the best! I owe my best fans to RockSquad, a YouTube channel that I love being in. The kids of RockSquad are the best!
What has been your number one, ALL-TIME FAVORITE moment in the entertainment industry so far?
I loved being Batman's son Damian in a fan film out this Christmas time. Dream come true! Everyone was so nice on set and Batman, Kevin Porter couldn't have been more gracious and kind to me.
What's one thing about trying to make it as an entertainer/influencer which has surprised you?
I am surprised how small the kid entertainment world is! I have made the best friends, and I love when I get to see them on different projects. I also love to meet people in person when they have become friends on social media. It's so fun!
What are your ultimate goals in this business?
I've been so lucky that there is a path for kids like me! I'm naturally performing and singing all the time, so this last year has been amazing to actually channel "me" into an industry that is so fun! My goals are to keep working hard and always bring positive vibes to all I'm doing. Of course, I'd love to catch a lead on a kids show, and eventually play a superhero, but if I can cheer someone up or do a good deed and help someone with my talent, that makes me happy. The bigger I can grow my audience, hopefully the more light I can shine.
Who are your role models and inspirations?
My dad and my brother are my favorite role models, but in the industry I am starstruck by Chris Hemsworth, and Dan Renolds. They are both so talented, and seem to try and make the world a better place–great role models for me.
What's the most effective and positive way you have dealt with trolls and critics?
I've been lucky that I haven't had too many at this point. However, if I get an occasional comment I always respond with something positive! I never let it bother me, because I understand that people that spend their time hurting others, they are probably not happy themselves.
If you could make one wild invention that was sure to work, what would it be and why?
Definitely teleporting –my dad is a physics scientist in his spare time and says it's coming, so I can't wait!!
If we asked your friends what your best quality is, what would they say?
Being kind. I always notice when someone needs help and I do my best to be a good friend. I think that is important!
And your worst?
Probably keeping organized. My brother is a king at that, and I rely on my family a lot to keep me on track. My talents are a different skill set, but I am lucky I have tools and support to keep up with my schedule that can be pretty hectic.
Favorite city (and why)?
Probably Rome, Italy. I was there this summer and in addition to being beautiful, the food was AMAZING! I didn't want to leave!
Tell me something people would be surprised to know about you.
I love being goofy–if you haven't already discovered that with my posts and social, I love to be goofy with my friends. I think it's great to have time to be you and not apologize.
Tell me ONE food you REFUSE to eat and why?
Cheese! Ok, the weirdest thing is I thought I was allergic, so I didn''t eat cheese unless it was on pepperoni pizza! That is the only way I'll eat cheese! Blaze is the best!
What else are you working on or have coming up next?
I have an additional single slated for September called "Let's Go" – I still need to record, but I am really excited about how it's going so far!
Selfie!
IG https://www.instagram.com/justicehaller/
YouTube https://www.youtube.com/@justicehaller
Facebook https://m.facebook.com/jjusticehaller/
LinkedIn https://www.linkedin.com/in/justicehaller/
TikTok https://www.tiktok.com/@getjusticemusic
Apple https://music.apple.com/us/artist/justice/1680918679
Spotify https://open.spotify.com/artist/5I6RuAf57B92Il5UwUwxwf?si=tBTOheVkTeibgQwLq3W1rQ
LinkTree @justicehaller | Linktree