Interview with teen performer Starr Hague
Hi Starr, nice to e-meet you! Tell us a little bit about yourself outside of show biz.
A little bit about me outside of the industry is that I love to take dance classes, hang out with friends as well as have a Instagram photo shoots with my friends.
Great! You are currently producing your first EP right? Tell us about it and why you think people are going to want to give it a listen?
Currently I am actually just working on three singles and they're all based on a different chapter in my life. I think people will definitely give it a listen because it is really relatable and empowering to people my age Going through similar things.
In addition to singing, you also act. What can you share about upcoming acting roles?
In addition to singing, I am currently working on this role that is a double personality character she's sassy sweet and mysterious all wrapped in one .
What has been your most memorable show biz moment so far?
So far my most memorable showbiz moment has been having my boyfriend also land a role in the film I'm currently working on just by being at my house — talk about destiny.
Why exactly are you a singer & actress? These are tough jobs, so what is the payoff for you personally?
I am a singer and actress but I would more describe myself as just an all-around performer. I just have had great stage presence since I was young and love everything about the entertainment industry and spotlight.
What's the biggest challenge you have faced so far in this industry?
The biggest challenge I face thus far in the industry is frustration. They always say that you are your own worst critic, so it's hard to be satisfied with where you're at now since you're always pushing and striving for your fullest potential.
And your biggest accomplishment?
I would say my biggest accomplishment is the film that I'm working on now if it takes off the way we want it to.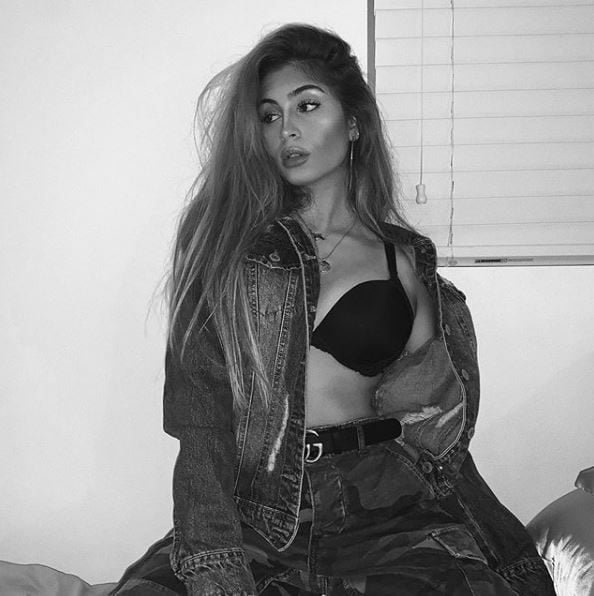 Tell us about your work as an anti-bully advocate. Why do you support this cause?
I am definitely a supporter of a non-bullying environment because of all the hate that's been spread around and social media. I don't think anyone deserves to be put through unkind words and actions. I've watched it affect so many people being influencers.
If you could pass one law that everyone on the planet had to follow without question, what would it be and why?
If I could pass one law that everyone on the planet had to follow , It would be for everyone to accept each other for how they are and learn to agree to disagree and not use violence in a way to solve issues.
Tell me something people would be surprised to know about you?
People would be surprised to know that before I was involved in the industry I was a competitive gymnast on the road to becoming a future Olympian.
Biggest pet peeve?
My biggest pet peeve is people pronouncing words wrong.
Favorite food?
My favorite food would have to be hibachi dinner and my favorite dessert would have to be cookies with ice cream on top.
Secret fear?
My secret fear is ghosts.
What's the last movie or show you watched, and give me a review…but you can only use TWO WORDS for the review : )
The last show that I watched was the vampire diaries and my review is "OK wow."
Describe your pets and their names!
I have one German Shepherd and one mixed breed their names are Ninja and Lucky Charms.
The one thing I cannot live without is__________.
One thing that I cannot live without is my phone .
Most embarrassing moment IRL you wish you could do over?
My most embarrassing moment in real life is forgetting my dance solo on stage.
Secret beauty hack?
My secret beauty hack is to use clear mascara instead of brown gel.
What else are you working on or have coming up next?
I'm currently working on the writing of a new song and then figuring out how to release them.
Could we get a selfie of whatever you are doing at the moment? It's something we ask to keep it real for the fans!