Is Ice Shaker the best shaker bottle?

Vacuum-insulated Ice Shaker bottles are making a dent in the market against existing traditional protein or pre-workout bottles. They combine the best of both worlds: a way to thoroughly mix your powder while keeping it nice and cold for even the longest workouts (up to 30 hours!)
Ice Shaker makes top of the line bottles, and were featured on the hit show Shark Tank. with the Gronkowski brothers. After retiring from football, Chris Gronkowski decided to invent a shaker bottle that featured a vacuum seal and an easy pop top. With the help of his brothers, he now runs the Ice Shaker brand.
You'll be able to remain calm and quiet when preparing your morning pre-workout with the Ice Shaker Bottle. A traditional shaker bottle has a metal ball that's used to break apart any powder, while the Ice Shaker takes a unique and innovative approach. It features a screw-in agitator that attaches to the lid to break up your powder while eliminating any annoying clanking sounds.
The Ice Shaker bottle can keep your drink cold for the whole day, doesn't make a ton of noise when mixing, and looks great to boot!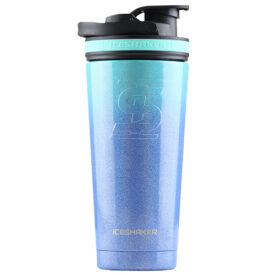 Ice Shaker Bottle Pros and Cons
Fits almost all car cup holders.
The stainless steel double-vacuum-sealed keep drinks chilled for up to 30 hours or hot for up to 12 hours.
If you want to add ice or fruit to water, the agitator will keep large pieces from passing through.
It's easy to shake up a powder into an even consistency, and prevents yucky clumps of powder that are commonly found in shaker bottles.
Stainless steel construction.
Flip-top lid snaps shut securely.
There are markings on the inside of the bottle that allow you to measure your drinks.
The soft silicone grip on the cap makes it easy to twist on or off and provides a tight seal.
The handle on top allows you to hold more than just the bottle in one hand.
The different sizes of the Ice Shaker Bottle — a 20-ounce, 26-ounce, and 36-ounce option mean you can buy the right size for your needs.
If you want to transform your 26-ounce bottle into a tumbler, you can purchase a flex lid that allows you to insert a straw.
Insulated design means bottle won't sweat and ruin furniture or your belongings.
Built-in agitator avoids loud metal ball typical in other shaker bottles.
Wide variety of colors and customization options/upgrades available.
Cons
It's pricier than plastic shaker bottles which aren't designed to keep liquids hot or cold for hours. The 20-ounce bottle is the cheapest available at $30, the 26-ounce bottle is $35, while the 36-ounce Ice Shaker Bottle will cost you $45. You do have the option to customize your bottle, but that will raise the price. Customizations include the color of your choice, a personal engraving, and various clip art options to choose from.
The 36 ounce Ice Shaker can be a bit heavy to carry when full.
Hand-washing is recommended rathr than dishwasher.
Click here to check out the product line=> Ice Shaker
or click this banner: