Joshua Turchin Interview – Talented Teen Shines from Broadway to TV and Beyond
Born in South Florida, Joshua Turchin moved to NYC when he was young. It was there he began playing the piano and singing. At just 9 years old he made his Broadway National Tour debut in A CHRISTMAS STORY the MUSICAL playing Randy for which he was awarded the Broadway World Award of Best Actor. Since then, this young multi-hyphenate hasn't stopped working, performing in countless off Broadway productions, another National Tour and he was the youngest entertainer to star in FORBIDDEN BROADWAY: THE NEXT GENERATION for which he is also on the cast recording. He performed as Flounder in THE LITTLE MERMAID LIVE to FILM at THE HOLLYWOOD BOWL alongside LEA MICHELE and HARVEY FIERSTEIN, TREVORLIVE LA 2017 with KRISTIN CHENOWITH and worked on a developmental lab for a new ANDREW LLOYD WEBBER musical. Joshua premiered his original music at the Rave's Theater Festival in NYC where it won awards for Outstanding Book of a Musical and Outstanding Ensemble as well as critical acclaim in the NEW YORK TIMES, NY POST and WALL STREET JOURNAL. Signed by BROADWAY RECORDS at just 13, Joshua and The Perfect Fit released the first remotely recorded EP during Quarantine with Broadway star LAURA BENANTI as well as many others. Joshua has lent his talents to various animated series and commercials including NICK JR and PIXAR.
He will soon be seen in the upcoming season 4 of THE MARVELOUS MRS. MAISEL and can be heard singing in SCHMIGADOON! on Apple TV+. Joshua is the Host, Writer, Musical Director and Accompanist for his own Comedy- Variety-Talk Show, THE EARLY NIGHT SHOW, which showcases stars from Broadway, TV and Film, and can be heard globally on iHEART RADIO and iTunes. Passionate about charities that use music to bring happiness to others, he works closely with The Actors Fund, BC/EFA, Camp of Wings Friendship, Sing for Hope and The Ukulele Kids Club where he serves as an ambassador. Joshua can play 15 instruments, write a complete song in about 15 minutes, and enjoys improv and hosting shows on Instragram and Tik Tok.
Photo: Gary Vorwald
Hello Joshua, great to chat with you! For those unfamiliar with you, tell us a little bit about yourself and your background outside of the world of showbiz.
Hi! Great to chat with you too! My name is Joshua Turchin! I'm a professional singer, actor, dancer, composer, and writer! People ask me what I like to do for fun, but it really is just creating music and different aspects of the business!
You've gotten your start with a lot of theater, including some amazing productions on Broadway and off-Broadway. How does that differ from your experience as a TV actor in shows like The Marvelous Mrs. Maisel?
Theatre is much more, well, theatrical! Movie/TV acting, compared to theatre acting, is much smaller in the sense that it isn't as over-the-top. Also, since movies and TV shows aren't live, everyone on set must make sure that there aren't any mistakes when filming and they can often reshoot a scene. In the theatre world, as they say, the "show must go on"!
Speaking of which, tell us about your role on the show for season 4.
I'm so excited for the season to release! Unfortunately, I can't share my role until the series airs. HOWEVER, I can say that I am in one of the trailers.
What has been your most memorable moment in show biz so far?
One of my most memorable moments in show biz was meeting Alan Menken. It was an honor to play Flounder at the Hollywood Bowl's Live-to-Film production of The Little Mermaid. He was a part of the show, too!
Can you please list out ALL the instruments you are able to play, and which is your favorite?
I can try! I play piano, guitar, electric guitar, melodica, harmonica, accordion, banjo, cajon, drums, ukulele, and others! My favorite instrument is the piano.
How much did you have to practice to get good at that instrument?
I started playing the piano when I was four, and I try to play several hours a week. However, that's because I just love playing it so much!
Photo: Laura Luc
Tell me one mess-up or goof on stage you wish you could do over to fix?
While I was in A Christmas Story: The Musical on tour, there were cracks in the stage floor. During the big tap dance number, there would be some cases in which my foot would get caught in the floor and I would go flying across the stage. I tried to play it off as much as I could.
Best advice you have gotten so far in your career?
If you do what you love, you will never work a day in your life.
Long-term career goals?
My main goal is to keep composing, performing, acting, and dancing.
Biggest pet peeve?
My biggest pet peeve has to be when an instrument is just slightly out of tune. Also, wet socks. I really dislike wet socks.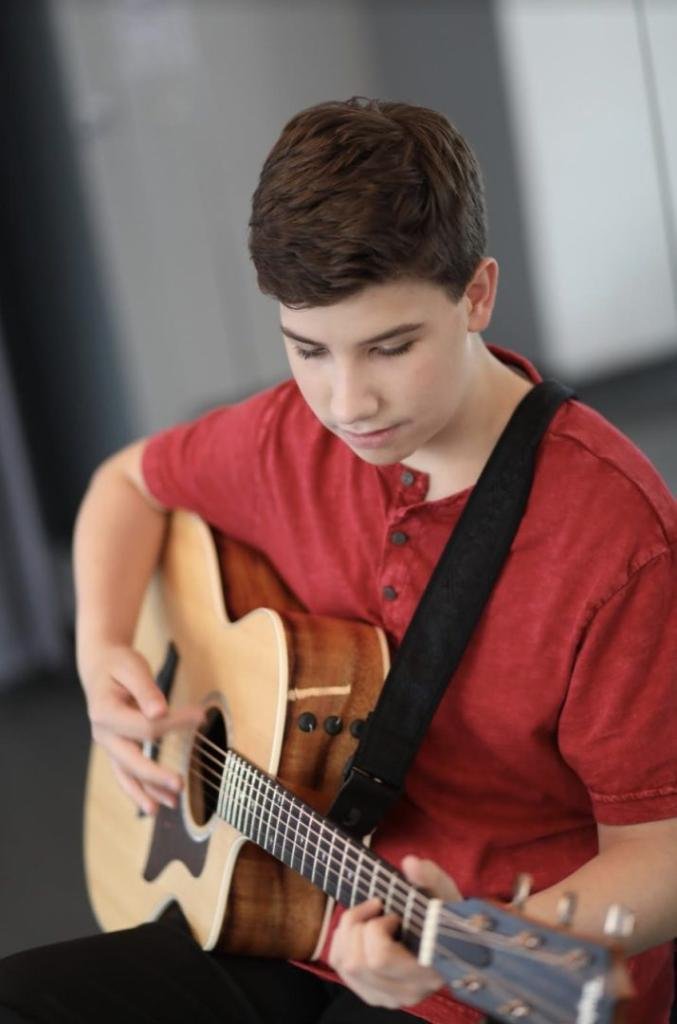 Photo: Laura Luc
What's your favorite musical and why?
My favorite musical must be the show "Once". The music in the show is gorgeous. Also, I just love shows where the actors play instruments.
Favorite influencer/TikToker/Youtuber?
My favorite TikToker has to be either Crawford Arnow or Katherine Lynnrose. Their content is just amazing and I'm so grateful that they are my friends!
Secret fear?
I am horribly afraid of bees. I do not know why, I just am.
Tell me something people would be surprised to know about you.
My favorite place to visit is Disneyland!
The one thing I cannot live without is__________.
The one thing that I cannot live without has to be my musical instruments.
Tell me ONE food you REFUSE to eat and why?
One food that I refuse to eat is fish because I personally don't really enjoy the taste.
What else are you working on or have coming up next?
I've been working on releasing a bunch of new and original music including a collaboration with the incredible songwriter Victoria Shaw, as well as other music featuring some collaborations with my Tiktok friends!
Could we get a quick selfie of whatever you are doing right now?
Social media links:
https://www.tiktok.com/@joshuaturchin?lang=en
https://www.instagram.com/joshuaturchin/?hl=en
YouTube and Spotify:
https://www.youtube.com/joshuaturchin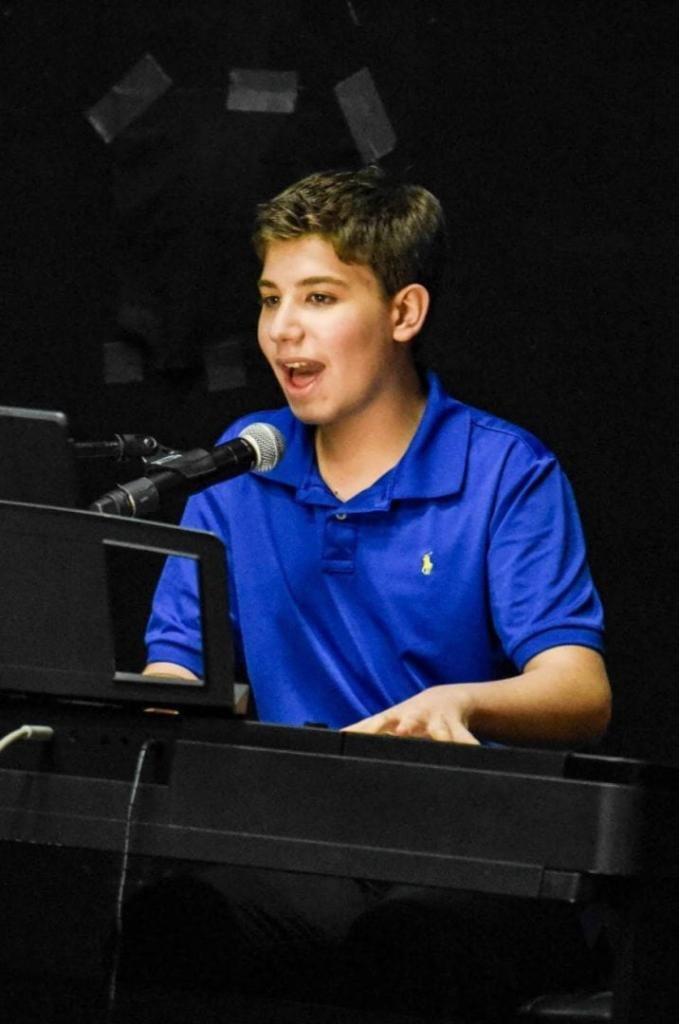 Photo: Gary Vorwald