Kelsey Leon from 'Chicken Girls' Interview with Teens Wanna Know!
Chances are you have heard of the 'Chicken Girls' web series on Brat Network. Its full of young social media influencers and deals with the usual dramas of high school life. So of course its got a massive following among teens!
One of its stars Kelsey Leon, a 15-year-old actress, dancer and model that is known for her role as 'Kimmie & Power Surge Dancer' in the show, as well as appearances in Nickelodeon's "Nicky, Ricky, Dicky and Dawn" and Amazon's "Just Add Magic."
With Season 3 of Chicken Girls under development, we got the chance to get to know Kelsey a little better, Check out the Q&A below!
Photographer: Mario Barberio, Makeup: Robert Bryan, Hair: J Michael, Stylist: Cat Wright
Top: Lottie Moss x PacSun (@pslottiemoss), Jeans: Levi's (@levis)
Hello Kelsey, thanks for taking the time to answer a few questions! You play Kimmie, one of the Power Surge Dancers in Chicken Girls. Why do you think the show has become so successful?
Hi! Of course. In my opinion, the reason "Chicken Girls" has become so successful is because majority of the cast are social media influencers that have a huge fan base, which makes viewers want to watch. Also, the show is about high school drama and normal high school relationships. That being said, it's relatable to kids our age and younger.
What can you tell us about 'Kimmie'. How are you similar to her? How are you different?
'Kimmie' is one of the PowerSurge Dancers. The PowerSurge Dancers are rivaling against the opposing team, Attaway. I'm similar to her because I'm a dancer. I'm different from her because I'm not that mean in real life, haha. 🙂
Who do you hang out with most from the cast?
Awh, this is a hard one. We're all usually in the same place- either in the hair and makeup trailer or doing school work together. All of my cast mates are super sweet, so I couldn't pick just one. Outside of set, we usually all hang out together.
What can you tell us about the upcoming third season?
This upcoming season is definitely going to have a lot of plot twists and things you've never seen before in season one or season two. Get ready and stay tuned.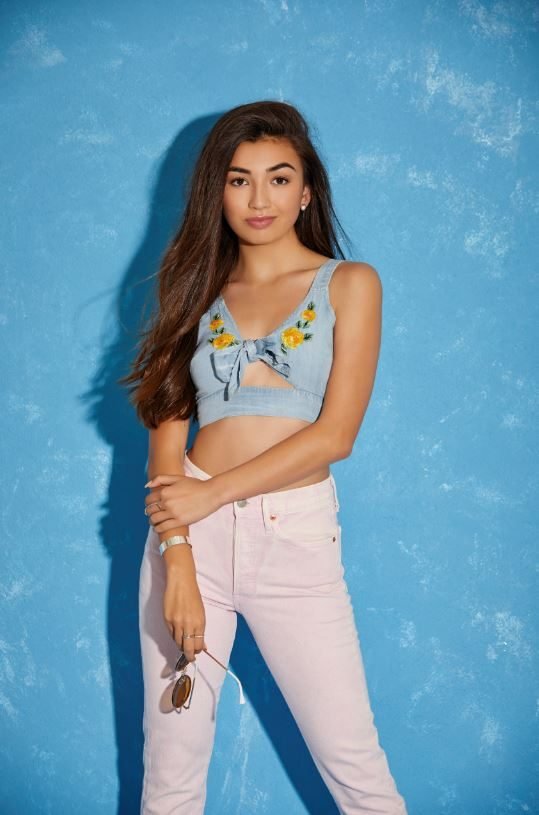 Top: Lottie Moss x PacSun: @pslottiemoss, Jeans: Levi's @levis, Sunglasses: Zac Zac Posen @baxterandbonny, Cuff: Soon @soon.space
You appeared in Nicky Jam's music video "El Amante." Tell us what he was like in person and what that whole experience was like.
Yes! Nicky Jam was super fun to work with and so personable. The whole experience was so surreal. It was my first working job as a dancer, so being on set with such a powerful artist in the music industry was absolutely incredible.
What's Feeding America about and how do you contribute to that organization?
There are millions of children and adults who do not get the meals they need to thrive. The team from Feeding America work to get nourishing food from farmers, manufacturers, and retailers to people in need. Every day, more than 46 million children and adults can't afford food due to underemployment and rising costs of living.
I contribute to the organization as I help sort, clean, and bag produce. The produce then goes into the paper bags we design and gets delivered to the people who need it most. Every time I go, we always get the opportunity to do a different activity (whether it's a different produce or an entirely different project). I love anything charity related, so being able to work at this organization in my community is amazing.
Most awkward experience you've had IRL?
When you see your crush waving at you, so you wave back…and you realize he was waving to his friends behind you.
Biggest pet peeve?
My biggest pet peeve is when people slurp their drinks.
Favorite musical artist?
My favorite musical artist is Dua Lipa. All of her songs are so unique; I love dancing and singing to them.
Dream role?
My dream role is to book a lead acting role in a movie or a series regular role on a TV Show.
Favorite donut flavor?
My go-to donut is definitely a Glazed Donut from Krispy Kreme. They are the best!
Tell me something people would be surprised to know about you?
People might be surprised to know that I've been singing recently. Stay tuned. 🙂
What are you working on next?
We are shooting season three of "Chicken Girls" this summer.
Can we please get a selfie of whatever you are up to at the moment?
Links:
https://www.imdb.com/name/nm9123085/
https://www.kelseyleon.com/
https://www.instagram.com/kelseyleonofficial
https://twitter.com/kleonofficial
https://www.youtube.com/channel/UCqlRxbkm-DDniYY8QSQpwJw
Watch some Chicken Girls below!