Meet Kristi Hoopes – Award-winning Teen Country Music Singer and Songwriter
Kristi Hoopes is a 16-year-old (well, she'll be 17 in a couple of weeks) with a bright future ahead of her. Not only does she maintain a high GPA, but she has also won nearly 40 awards recognizing her prowess as a singer and songwriter.
Now, her dreams of recording in a world-class studio have come true thanks to her recent win of a mobile songwriting contest sponsored by Lyricord, which enabled her to record her debut single "At Least It's Something" at the legendary RCA Studio A in Nashville, Tennessee.
We got the chance to ask Kristi a couple of questions about this experience, read the Q & A below the fold…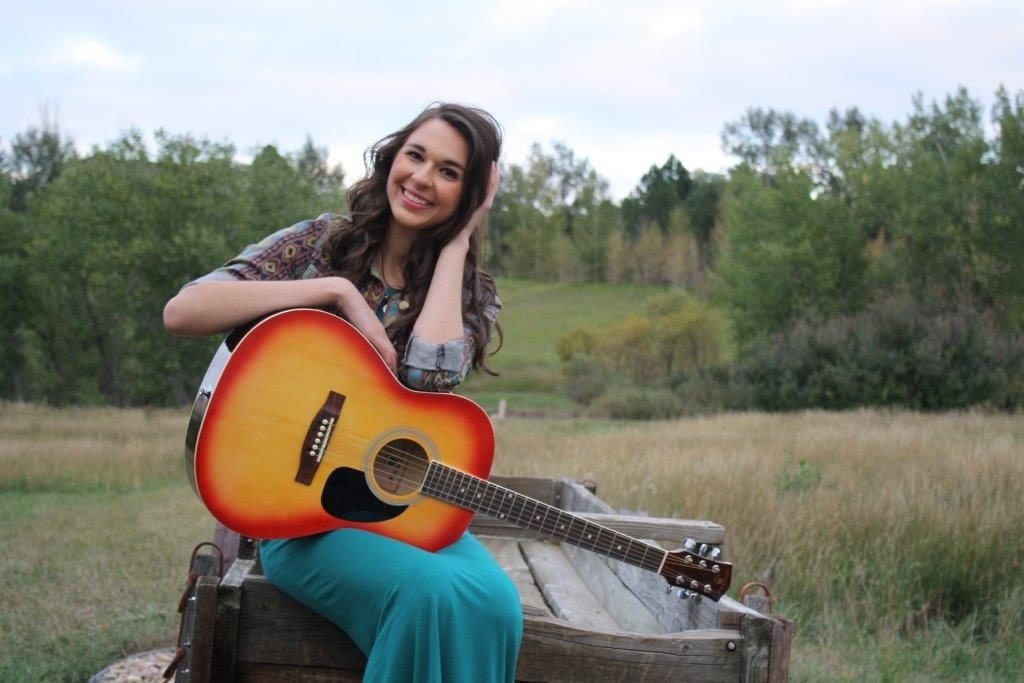 …but first, here's just a little more about Kristi:
Born on Valentines Day

Competed and won with the CCMA's (Colorado Country Music Association), which led Kristi to compete in Tennessee and win the international title of Female Entertainer of the Year from NACMAI (North American Country Music Association International) in 2010 and Songwriter of the Year in 2011.

Won KCRT 92.5's Country Showdown competition (formally the Texaco Country Showdown) in the Summer of 2014.
Hi Kristi, nice to meet you. First off, tell us a little bit about yourself.
I'm a proud Colorado native from the small town of Parker and I absolutely love it! There's nothing better than waking up to a purple Rocky Mountain sunrise every morning.
I'm a junior in high school and have held a 4.2 GPA for all three years. Call me crazy, but I actually enjoy school! English has always been one of my favorite subjects. I have an older sister in college, so I'm the baby of the family. I am a total theater geek and have been ever since I played Ebenezer Scrooge in our 2nd grade production of "A Christmas Carol." No boys wanted to audition for the role, so tada! I got the male lead.
When I'm not penning a new song or playing at a gig, I love to do anything outdoors, especially horseback riding and camping.
You recently recorded your debut single at the legendary RCA Studio A in Nashville. How did that come about?
While I was enjoying my 3 month summer break, I noticed that a group called Lyricord followed me on Twitter. I checked out their website and saw that they were holding a songwriting competition, and that the winner would be flown out to Nashville to record their winning song. So I downloaded the app, listened to a couple of their country tracks, picked out the one I liked the best, and started writing.
"At Least It's Something" was inspired by a combination of my failed attempts at love. But when I finished writing the song, I realized that it was more than just a song about love gone wrong. "At Least It's Something" speaks to anyone who has ever lost somebody they loved, and feeling the pain of trying to hold onto the memories you had with them. To me, it's an anthem for loss.
Did you use the Lyricord app to write it? How did it help?
Without Lyricord, "At Least It's Something" wouldn't exist!
I didn't have any clue what I wanted my song to be about until I listened to one of the tracks called "Laying Back." It gave off a break-up ballad vibe, which really spoke to me. Lyricord was the step that put me on the path to RCA.
What was the most special part about the recording process?
For me, it was the fact that it was my first time doing a professionally recorded album and that it was being recorded at RCA, where countless artists like Dolly Parton, Keith Urban, Miranda Lambert, and Elvis Presley have before me. It was truly humbling to stand in that recording booth and see the things I had dreamed of every day for the past 8 years right there in front of me.
In my headphones, I was listening to the musicians, who play for guys like Tim McGraw and James Taylor, play my song and say "Wow, this is really good!" I couldn't believe it!
What other awards have you won?
I've won 38 various country music awards from local competitions and Country Showdowns in categories like Female Entertainer, Songwriter of the Year, and Vocalist. But honestly, I could do without the trophies. What really matters to me is that people are listening to my music and enjoying it.
Who or what inspires you musically?
Every song I write is about something I have experienced. If I haven't felt it, seen it, heard it, or done it, I won't write about it. Music deserves to be truthful and real for both the writer and the listener.
More often than not, inspiration hits me at the most random times! I've written songs in the middle of my math class, at the gas station, at play rehearsal…you get the picture. When inspiration calls, I grab my voice recorder or notepad and listen. I write down the phrases and melodies popping into my head and then let them simmer for a little while. I've always said it's divine intervention, and that writing a song is God's way of speaking to me. Then bit by bit, a song is written!
And which artist(s) would you absolutely LOVE to collaborate with on a future recording?
Kacey Musgraves, hands down. She has such a unique perspective, and her music shows that. I think we'd write an amazing break-up song together since we both seem to have a knack for writing about the heartbroken. She's not afraid to say what needs to be said, whether you like it or not, and that's something I think people have forgotten how to do.
Kacey is a powerhouse of raw emotion and wordsmithing. There is so much to learn from someone like her, and I hope one day I get the chance!
If you weren't making music, what would you be doing?
I am very intrigued by criminal justice and started taking a class on it. The class has made me even more interested than before! I'm always watching murder mysteries on 20/20 and love solving the crime. I'm curious as to why people commit crimes and how the criminal justice system works. Speech and debate is one of my strong suits, so I can definitely picture myself as a prosecuting attorney.
What do you have coming up next?
Right now, I'm working on getting "At Least It's Something" to mainstream country radio, because I think it's a song that people can really connect to. I've got my fingers crossed that it pulls through! In the next couple of months I'll be releasing another single, so keep an eye out for it!
Anything else we should know?
I am immensely thankful to God for giving me such an amazing gift and to my family for supporting my dreams. It's a journey that I've been blessed to take and I can't wait to see where I end up next!
If you'd like to download "At Least It's Something," give my visit website www.kristihoopes.com a visit.
Could you send us a quick selfie of whatever it is you are doing right now (hugging your dog, eating, chillaxing….whatever)
(Kristi (L) at her musical rehearsal)
Watch the video for the song, which captures the recording session, below: