Red Carpet Glamour: Elevating Your Style With Mac Duggal Gowns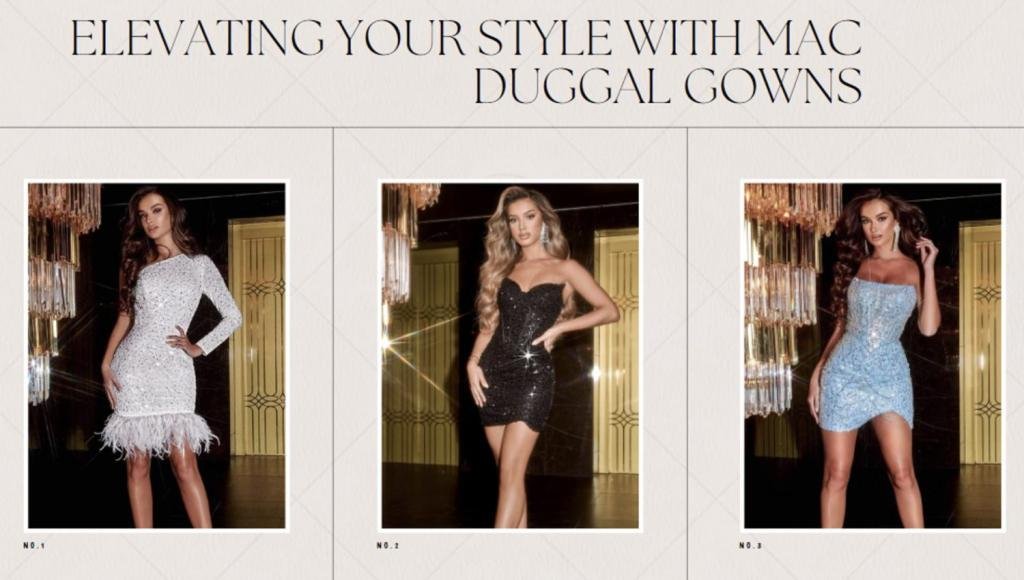 In the world of high fashion, few designers can rival the exquisite craftsmanship and elegance of Mac Duggal gowns. For over three decades, Mac Duggal has established itself as a premier brand renowned for creating stunning dresses and gowns that capture the essence of red-carpet glamor.
With meticulous attention to detail and a vision that empowers women to feel confident and beautiful, Mac Duggal has become synonymous with luxury, sophistication, and timeless style.
From the versatility of their designs to the personalization options available, we will uncover the reasons why Mac Duggal gowns have become the epitome of fashion-forward sophistication.
Unveiling the Mac Duggal Designer:
At the heart of the Mac Duggal brand lies the vision of its eponymous designer, Mac Duggal himself. With a passion for fashion that began at a young age, Mac Duggal embarked on a journey to create exquisite garments that would empower women and make them feel confident and beautiful. Through his meticulous attention to detail and innovative design techniques, Mac Duggal has become synonymous with elegance, glamor, and sophistication.
Craftsmanship and Attention to Detail:
One of the distinguishing features of Mac Duggal gowns is the impeccable craftsmanship that goes into their creation. Each gown is a work of art, meticulously constructed using only the finest fabrics and embellishments. From hand-sewn beading to intricate lacework, every detail is thoughtfully considered to ensure a flawless finish. This dedication to quality is what sets Mac Duggal gowns apart and makes them the epitome of luxury and refinement.
A Style for Every Occasion:
Whether you're attending a glamorous red carpet event, a sophisticated gala, or a memorable prom night, Mac Duggal offers a wide range of gowns to suit every occasion. From sleek and modern designs to classic and timeless silhouettes, the brand's collection caters to diverse style preferences. With an array of colors, fabrics, and embellishments to choose from, Mac Duggal ensures that you can find the perfect gown to reflect your individuality and make a statement wherever you go.
Red Carpet Glamour:
Mac Duggal gowns have graced numerous red carpets and award ceremonies worn by celebrities and influencers alike. The brand's commitment to creating show-stopping designs that exude glamor is evident in every gown. From exquisite ball gowns that make you feel like a princess to figure-hugging mermaid styles that accentuate your curves, Mac Duggal knows how to make heads turn. The luxurious fabrics, intricate detailing, and impeccable fit of these gowns make them the ultimate choice for those seeking to channel their inner star.
Unleash Your Inner Diva:
When you slip into a Mac Duggal gown, you instantly feel like a diva. The transformative power of these dresses lies not only in their design but also in the confidence they inspire. Mac Duggal understands that fashion is a form of self-expression, and his gowns are designed to empower women to embrace their uniqueness and radiate elegance. With their flattering cuts, luxurious fabrics, and exquisite embellishments, Mac Duggal gowns allow you to unleash your inner diva and embrace your individual style with grace and poise.
The Mac Duggal Prom Collection:
For young women eagerly anticipating their prom night, Mac Duggal offers a dedicated collection that captures the essence of youth, vibrancy, and celebration. The Mac Duggal Prom Collection showcases an array of stunning gowns that blend contemporary trends with classic elegance. From playful and flirty A-line dresses to sleek and sophisticated column gowns, this collection caters to every prom-goer's style, making their dreams of a memorable night come true.
Mac Duggal Plus Size Collection:
Mac Duggal believes that beauty knows no size, and their Plus Size Collection is a testament to inclusivity and body positivity. The collection features an extensive range of gowns designed specifically for curvier figures, ensuring a perfect fit and flattering silhouettes. With careful attention to details like strategic draping, waist cinching, and proportionate embellishments, Mac Duggal embraces and celebrates the beauty of all body types, empowering every woman to feel confident and glamorous.
Bridal Elegance:
Mac Duggal extends its expertise in creating breathtaking gowns to the world of bridal fashion. The Mac Duggal Bridal Collection offers a selection of exquisite wedding gowns that capture the romance and enchantment of a bride's special day. From ethereal ball gowns adorned with delicate lace to sleek and modern mermaid styles, these gowns are designed to make every bride feel like a true princess as she walks down the aisle.
Celebrities and Mac Duggal:
Mac Duggal has garnered a loyal following among celebrities who appreciate the brand's commitment to style and craftsmanship. Hollywood starlets, including Bella Thorne, Ariana Grande, and Vanessa Hudgens, have been spotted wearing Mac Duggal gowns at various red-carpet events. These endorsements from influential figures in the entertainment industry are a testament to the brand's reputation for creating captivating and glamorous designs.
Conclusion
Mac Duggal gowns embody the epitome of red carpet glamor and elegance. With their impeccable craftsmanship, attention to detail, and diverse range of styles, Mac Duggal offers a gown for every occasion and personal style preference.
Whether you're attending a high-profile event, prom night, or your own wedding, wearing a Mac Duggal gown allows you to exude confidence, embrace your individuality, and make a lasting impression. Elevate your style with Mac Duggal gowns and experience the enchantment of being a true fashion icon.