The Voice's Kristi Hoopes returns with 'Don't Worry Mama' – Interview
​​​Whether you ask Taste of Country, Today In Nashville, or any of the other journalists, bloggers, and country music lovers that she has spoken with, there's one thing they can all agree on – Kristi Hoopes has the tried and true sound that country music needs right now.

With a knack for vivid songwriting and a voice aching with the vintage rasp of songstresses like Emmylou Harris and Bonnie Raitt, Kristi is turning heads. Performing Trisha Yearwood's "Heaven, Heartache and the Power of Love" before 11.9 million viewers, Kristi turned the chairs of Blake Shelton, Adam Levine, and Jennifer Hudson on Season 13 of NBC's The Voice. Though the battle for this brilliant young artist was fierce, she was proud to take her place as the last member of Team Blake.

This is not the first time she has caught the attention of industry giants. In August 2016, her YouTube cover of "Different For Girls" was shared by country superstar Dierks Bentley and radio mogul Bob Kingsley, garnering over 750,000 views across Facebook and Instagram.

Born and raised beneath the Rocky Mountains of Colorado, Kristi knew she was destined to make a name for herself in Music City after performing Loretta Lynn's version of "These Boots Are Made for Walking" in her 3rd grade talent show. With a notebook full of original songs, a bit of hippie chick sass, and years of experience behind her, she finally made her Nashville debut within the iconic walls of RCA Studio A after winning the Lyricord songwriting contest with "At Least It's Something" at age 16.
Read on for our exclusive interview with Kristi Hoopes!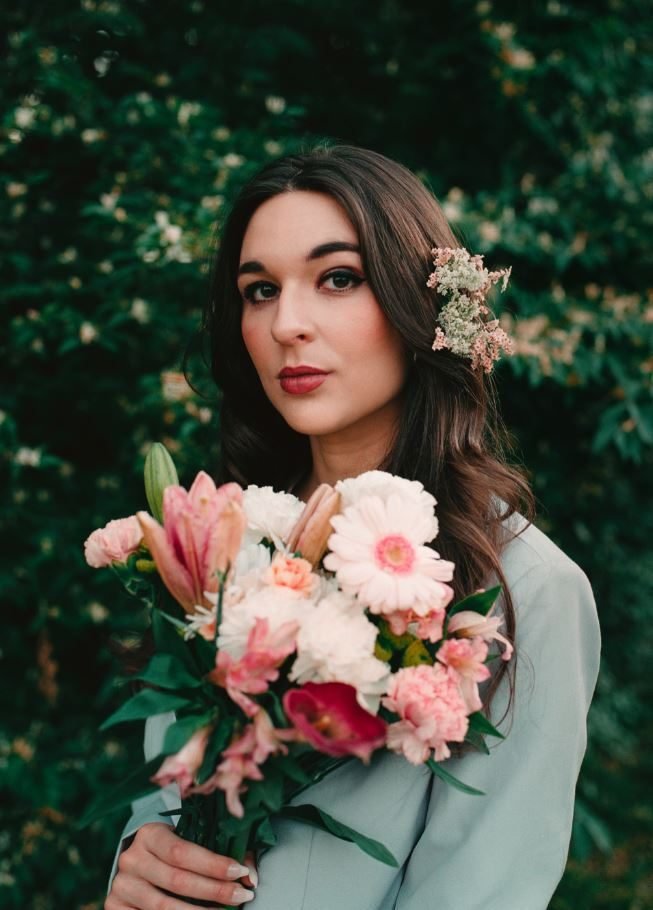 Hi Kristi, great to catch up after 5 years when we first featured you! For those who are just getting familiar, tell us a little bit about yourself outside of show biz.
Thanks for having me back! So good to chat with y'all again. I hope quarantine has been treating you kindly and that you're staying healthy.
I'm a proud Colorado native and Nashville transplant as of 2016. Last year, I graduated from Middle Tennessee State University AND got engaged to the love of my life, Tucker. When I'm not writing songs or playing shows, you can find me cooking, hiking, reading, or wedding planning!
Thank you! Before we talk about your latest track Don't Worry Mama, tell us how you have occupied your time during quarantine? Any interesting stories?
I don't think I fully realized how much I needed to press pause until quarantine happened. My work-life balance was completely out of whack because I'm one of those people who likes to set unrealistic personal achievement standards and feels guilty for not being productive all the time, but now I feel like I'm actually doing the "life" part. I've started every morning with prayer and Bible reading, created a skin care routine, planted a tomato, pepper, and radish garden, worked out, played a million board games, watched too many Hell's Kitchen re-runs, had late-night FaceTime hangouts with people I love, and spent some real quality time with my fiancé. I know many people have said 2020 is the year that wasn't, but I disagree. This season of quarantine has been invaluable and just what I needed, as weird as that sounds. It's made me put my priorities back in order and taught me what it means to engage in real self-care.
As for stories, Nashville got hit by a massive thunderstorm in May that knocked the power out for 28 hours. I had just bought new groceries, so I had to run back to the store and buy 30 pounds of ice to keep everything from spoiling. I had so much food that some of it had to go in my bathtub on ice! Since we didn't have any electricity, my fiancé and I ate cold mac and cheese for dinner and played board games by candlelight. A very unexpected but romantic date night, for sure!
Okay, let's talk music. How does Don't Worry Mama compare with your earlier work?
I've quite literally grown up since my first two singles were released in 2014. I was 16 at the time and still discovering who I was as a writer and artist. There was so much of my life that I hadn't lived yet, so many stories that needed to be crafted through new experiences. Moving to Nashville gave me that next chapter and brought the right people into my life who encouraged me to fully embrace my nostalgic, 70s-inspired sound and style.
What inspired the song—any personal experiences you wish to share?
I wrote "Don't Worry Mama" with Biff Watson, who co-produced and played on the track, two years after I moved to Nashville. On my way home from a "Women Who Rock" event at City Winery, I was driving past the skyline and remember saying to myself, "It's beautiful, but it doesn't hold a candle to the Rockies." It made me a little homesick and got me thinking about my mom, who struggled with becoming an empty nester when I left Colorado. My mom and I are best friends, and I know my leaving was and continues to be heavy on her. I wanted to write something that would express my gratitude to her for encouraging me to chase my dreams a thousand miles away while reminding her that home was always on my mind and in my heart. There are millions of moms experiencing the same grief and worry that mine did when I moved away, and there are millions of young women who are excited to start their lives in a new city but are struggling to make it by. This song is for both of those women. I think "Don't Worry Mama" has a new and unexpected meaning in this time of COVID as well. So many families are separated due to the virus and there's a lot to worry about. My hope is that this song reminds everyone that love knows no distance.
What's the biggest challenge you have faced so far in this industry?
There are so many talented writers and artists in this industry which can make you start playing the comparison game. If you're not careful and confident in yourself, it's easy to go down the self-doubt rabbit hole. I definitely struggled early on with feeling like I wasn't writing enough songs or playing enough shows, but I came to the realization that there is no perfect formula for being an artist and finding success. Every one's journey is different, and it's meant to be a process. I've learned to be comfortable with the season I'm in, knowing that something great is on the horizon if I keep on showing up and doing my best work with sincerity and authenticity.
How has your move to Nashville impacted your artistic career and your overall life?
Nashville has brought opportunities and collaborators into my life that I am forever grateful for, both within the music industry and out. For starters, I never would have been selected for The Voice, as my initial audition was here. I also probably never would have learned how to co-write since I always wrote solo before moving to town. Now, some of my most favorite new songs have been written with industry vets like Kirsti Manna ("Austin" – Blake Shelton), Lynn Wilbanks ("Cowboy Soul" – Jimmy Charles), Clay Mills ("Heaven, Heartache and the Power of Love" – Trisha Yearwood) and Mark Irwin ("Highway Don't Care" – Tim McGraw). This city made "Don't Worry Mama" and my upcoming EP possible. Were it not for the incredible players, engineers, and producers who worked on it, I don't think I would have been able to give the songs the full studio treatment that they deserved.
I also wouldn't have made the best friendships of my life nor met my future husband had I not attended MTSU.
Moving was one of the best decisions I've ever made, and I really am just in awe of all that God has done for me here.
Looking back at your experience on Team Blake in Season 13 of The Voice, what would you say was the biggest difference in how you imagined it compared to how it actually was?
Truthfully, I didn't know what to expect! I suppose I never realized how many rounds of pre-casting occur before the Blind Auditions are ever filmed. It was a grueling process just to make it that far and there was no guarantee I'd even get to do a Blind Audition. I think most people assume filming the show is very glitzy, but frankly, it's full of long hours and really hard work. You're up at the crack of dawn, sing all day, and don't go back to the hotel until late in the evening with very few moments to catch your breath. Every day was jam packed, which really built up my mental stamina and gave me a taste of the industry's intensity. I enjoyed coming back to the hotel tired because it let me know that I put 100% of my attention and dedication into that day.
What was the biggest benefit you got from being on the show?
I created lasting friendships with members of my team, and we've performed at various shows together since The Voice. We continue to support one another and still consider ourselves the "Team Blake" family. I think being on the show was also a major confidence boost for me. Of all the people who audition for that show across America, I not only got to do a Blind Audition but had chair turns and landed on my dream team. It felt like God was reminding me that He gave me my gift for a reason and that there was so much more to accomplish with it.
And the worst part?
Getting strep throat the week of the Battles. Most people have no idea that I did all of the official iTunes recordings, rehearsals, and performances with strep throat. It was immensely taxing on my body and spirit, but I'm a firm believer that perseverance builds character and I wanted my character to be one of integrity and commitment, so I pushed through it. When you have an opportunity as rare as being on The Voice, you can't afford to waste a moment of it.
Biggest pet peeve?
Dishes being left in the sink for days. I live by the "if you used it, you better wash it and put it back in the cabinet" credo. Also, folks who don't say "sir" or "ma'am." P's and Q's matter, y'all!
One food I REFUSE to eat (and why) is _____________.
Mushrooms. The chewy, rubbery texture has always been off-putting to me.
Secret fear?
Falling off a cliff when hiking. My fiancé and I like to tackle the most difficult trails we can, many of which feature serious heights. We like to live on the edge, but there have been a few times I was afraid that I was a little too close to the edge!
What's the last movie or show you watched, and give me a review…but you can only use TWO WORDS for the review : )
It's Always Sunny In Philadelphia. Hysterically uncomfortable.
The one thing I cannot live without is__________.
My Tempur-Pedic mattress. Two years ago, Tucker's mom gifted us with one and I haven't had a bad night of sleep since. Any other mattress makes me feel like an 80-year-old woman when I get up in the morning.
Most embarrassing moment IRL you wish you could do over?
It's definitely a tie between these two: First, I was a featured performer with John McEuen and the String Wizards at their Franklin Theatre show and tripped on a guitar cable when exiting the stage. My right shoe came flying off and I caught it with one hand, all while managing not to fall flat on my face. Definitely not my most graceful exit stage left, but certainly memorable.
The other would have to be my engagement last May. Picture an idyllic Florida beachside sunset coupled with an incredibly handsome bearded man on one knee. Now imagine that fairytale quickly becoming a nightmare as I shove an engagement ring that does not fit on to my finger and allowing it to make my finger swell to the point where the ring must be sawed off in the ER hours later. Embarrassing but endearing, as Tucker always tells me!
Tell me something people would be surprised to know about you?
In the fall of 2018, Kristi decided it was time to make her debut EP and launched a successful Indiegogo campaign to fund it. "Don't Worry Mama" is the first of six singles to be released from Life of the Party.
Even though Colorado has some of the best slopes in the world, I've never gone skiing. I'm surprised I didn't get my residency revoked for that egregious sin.
What else are you working on or have coming up next?
The rest of the EP, Life of the Party, is coming out this fall and I am BEYOND EXCITED! Everyone who contributed to the EP will have early access to the songs and music videos, and I can't wait for them to see what their generosity brought to fruition.
Aside from music, I'm working on re-planning my wedding. Tucker and I were supposed to get married in October of this year but COVID happened, so we moved it to next September. I'm sure some great songs are going to come out of that.
Could we get a selfie of whatever you are doing at the moment? It's something we ask to keep it real for the fans!
Soaking up the Nashville sunshine and giving my tomatoes a little haircut! I just got back from visiting my family and my garden is looking like a jungle…
Social Media Links