Halloween Gifts from DAVIDsTEA are Spooky and Delightful
Halloween is right around the corner, and its time to place your orders for Halloween gifts (yes, if you love Halloween as much as we do, Halloween gifts are now a thing). DAVIDsTEA has some great new products to get you in the mood for a blustery night of trick-or-treating or watching some spooky movies on Netflix or Hulu. Check out some of their offerings this year, and scroll down to the bottom to find out how to order!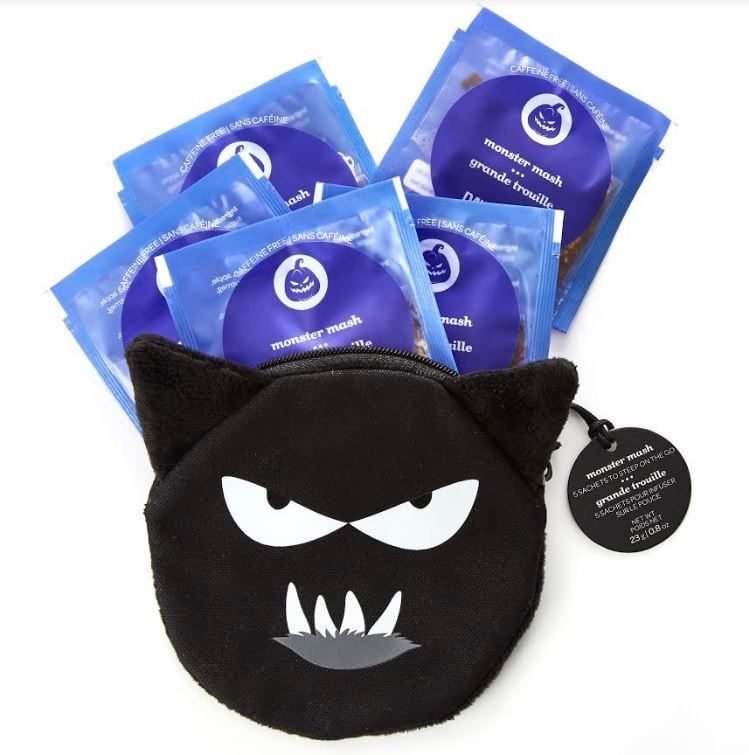 You can take your fave Halloween tea on the go with this terrifying monster pouch (okay not actually terrifying). Made from 100% cotton, it includes DAVIDsTEA's sweet caffeine-free Monster Mash blend, in five ready-to-steep sachets. And when you are out of tea, use it for your spare change or makeup essentials.
This collectible tin is only 18 bucks and is full of sweet and spicy black tea packed with rich and comforting notes of dark chocolate, vanilla, cinnamon, creamy coconut and a warming hint of chili.
DAVIDsTEA Magic Potion Brewing Kit: The box opens like a spell book and includes a potion recipe. Clear printed glass infusers-less nordic mug with juicer lid. 50g of Magic Potion loose tea in printed tin. 10 pack of filters in cello.
Pumpkin spice lovers will enjoys this rich black tea to kick off Halloween season and continue through Thanksgiving and even Christmas. It's got the warmth and flavors of cinnamon and cloves, plus the sweetness of caramel and pumpkin candy.
2 oz of this tea ($8.98) makes around 10-12 16 oz cups of hot tea and 5-7 16 oz cups of iced tea.
Another tradtion when its cold outside but you've got a bonfire going is s'mores, of course. DAVIDsTEA offers a s'mores chai pu'erh tea with mini-toasted marshmallows, graham crackers, dark chocolate and cinnanon. Rich, warming, and perfect for the fall.
DAVIDsTEA Stainless Steel Bottle – Special Edition: This is our favorite item in DAVIDsTEA's Halloween gifts collection — just look at that cap! It's leakproof with an insulated lining that keeps tea hot or cold for hours. The double-walled stainless steel construction also prevents skin burns as well as water damage on your furniture from condensation. And if you want to make an iced tea, the bottom unscrews so you can add ice.
DAVIDsTEA Twist Tumbler: This ceramic and stainless steel tumbler will keep your beverages hot or cold for a supernaturally long time! Splashproof lid opens and closes with one smooth twist and features a double-walled core.
DAVIDsTEA Color Changing Nordic Mug: Yes, he spooky design changes color when you pour hot liquid into it! Comes with a fine stainless steel infuser and a lid that doubles as a saucer.
Last is DAVIDsTEA Perfect Spoon: It helps you measure your loose-leaf tea correctly, and ensure a perfect brew every time. Made of stainless steel!