Interview with rising star actor Marcello Reyes
Marcello Reyes is an American actor best known for his series-regular role as Luke Lakier in the 2022 Hulu TV series "Pivoting" (Kapital Entertainment, FOX Entertainment & Warner Brothers) alongside Eliza Coupe, Ginnifer Goodwin and Maggie Q.
In the psychological thriller "Don't Worry Darling," (New Line Cinema), Marcello finished his first feature film with a supporting role as Fred, the son of Olivia Wilde's character Mary, also starring Harry Styles, Florence Pugh and Chris Pine. "Don't Worry Darling" is set to release on September 23, 2022.
In the Amazon Prime series reboot of "League of Their Own" (2021), Marcello shows off his comedic chops working alongside comedian actress Abbi Jacobson in his co-starring role as Stillwell Angel.
Marcello began his professional acting career at age five on the set of "Modern Family," the ABC hit mockumentary television series Streaming on Hulu, Peacock, and Disney+. His recurring role as Calhoun Johnson – "Baby Cal" debuted during season 10 of "Modern Family." Marcello was nominated for Young Artist Award (2019) for Best Performance in a TV Series for a Recurring Young Actor for his work on "Modern Family."
As a celebrity ambassador, Marcello uses his platform, big heart, and energetic smile to volunteering at fundraisers and advocacy work for www.MendingKids.org. Mending Kids provides free lifesaving surgical care to sick children worldwide by deploying volunteer medical teams and educating communities.
Marcello loves acting as much as just being a kid who goes to school, plays baseball, reads books, studies Kempo Karate, and enjoys traveling and hanging out with his friends. You can find some of his adventures on his Instagram, TikTok, and YouTube channels.
Keep scroling to find out more about Marcello in our Q&A!
Hello Marcello, great to chat with you! For those unfamiliar with you, tell us a little bit about yourself and your background outside of the world of showbiz.
I got into acting through my mom's cousin. She is a talent manager and thought I might be good at acting, so she asked my parents about it. After some thought, my parents and I realized that acting could always help me in my future and even later in my life. I tried auditioning, and after a few auditions, I got one of my first gigs right before my 5th birthday. My parents and I decided this is a good thing so I went on a TV show, and I LOVED it!
You've got a new film coming out called Don't Worry Darling starring Olivia Wilde, Harry Styles, Florence Pugh, and Chris Pine. What can you tell me about the film and your character in it?
My character in Don't Worry Darling is a kind person, you know a cute little boy who loves to play around with his sister and with his family all day and have fun. He's a family boy who likes doing things to help.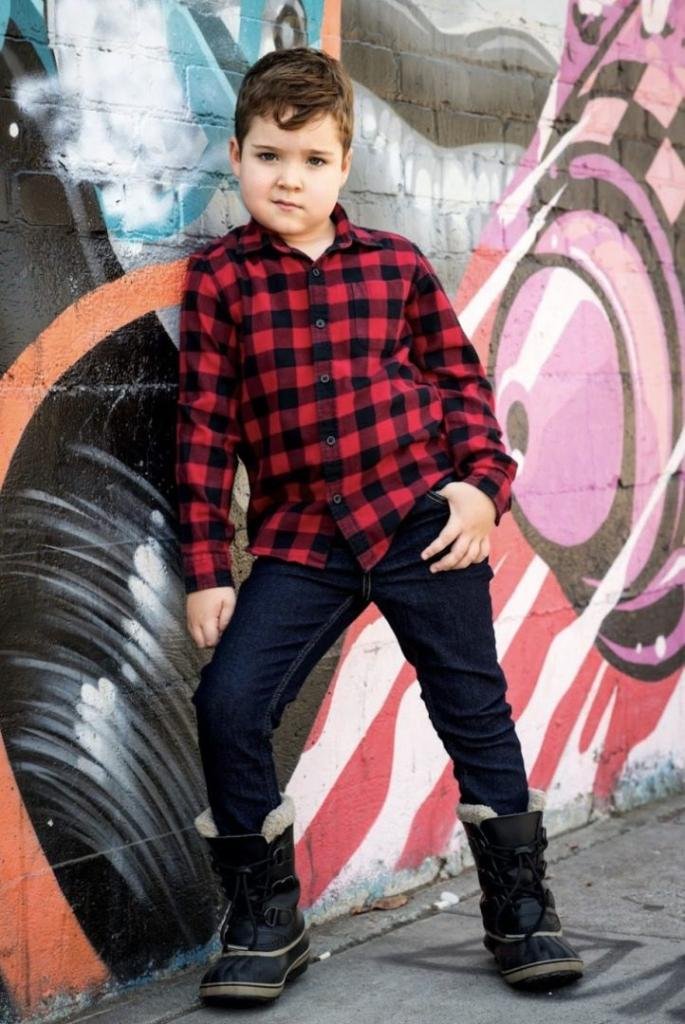 Why do you think people are going to want to watch it?
Yes! All the actors are amazing! They will want to see the characters tell this story, but I only know about my scenes since it's not for kids to watch. It will be a few years before I'm allowed to see it.
You have another great role, in the upcoming A League of Their Own on Amazon Prime. What was your favorite part about filming that?
I think my favorite memory of filming A League of Their Own was watching everyone play baseball and getting to play baseball on breaks. I just started playing T-ball when we started filming this show. I also liked the train scenes. A League of Their Own is a good thing because it helps people remember that women have a history of playing baseball.
What's the best part about being on the series Pivoting?
Working with Eliza and Tommy and the rest of the cast was amazing! I enjoyed playing my character, Luke. I feel like he was an interesting person, and he was very similar to me, Marcello. It was great being Luke because it felt like me.
[CHECK OUT A FUNNY "PIVOTING" VIDEO CLIP HERE: https://www.imdb.com/video/vi1998897689/?ref_=ext_shr_lnk]
Any funny or unusual moments on a set you can tell us about?
One interesting thing that has happened to me on a set was working with a body double or stand-in on my recent show Pivoting. It was not only cool to have someone be me, but also fun to talk to someone who was doing the same thing I was doing. We became good friends and played while we worked, which didn't seem like work at all.
Another funny story I have was while shooting an episode of Modern Family, I had to chew a big piece of gum for a scene. I had never chewed gum before. So, when I went in to do my line with my co-star Eric while trying to talk, I accidentally swallowed a piece of the gum and messed up on saying my line. So, from now on, I will practice chewing gum while talking whenever I get the chance. HAHA!
What has been your favorite moment in show biz so far?
There have been A LOT of great moments in the business, but I have to say what I like most is when different things come up when I'm working. Like being able to use water guns in a scene, acting with pets (I love working with dogs), or when the project needs me to eat an oversized bowl or cereal or chew a HUGE piece of gum. I love it when different things come up, it makes me feel free and excited.
For a 10-year-old you already have some amazing credits. What advice would you give to other kids your age who want to "make it" in TV and Film?
Well, I'm only 9 years old, in August.
However, I would advise kids that want to get into acting to:
First, to be yourself, just act like a kid because as an actor you've got to act out what you already know. We are just kids, so just do you.
Next, be honest and tell others what you think you can do. Sometimes they will be surprised by you.
Last, make a schedule so you have a fair amount of time between acting, family and friends, school, and other activities. Maybe not too much of one thing.
If there was ONE thing you could change about the entertainment industry, what would it be?
Maybe spreading out work for kids in acting. I guess it is hard to schedule shows and movies, but, if possible, it may help if we can keep kid "times" in mind. Like it's hard for me when I must work past my bedtime. I can do it, but it was tricky and even harder when I was younger.
If you could have one superpower in real life, what would it be and why?
I would like to be fast or be able to fly because then I could get to places quicker and spend more time on things I like or want to do.
If we asked your friends what your best quality is, what would they say?
I like to play with everyone, friends at school, on set, or with friends that are in other places. So, I guess they might say I'm a pretty good friend?
Favorite snack?
I love Cherry tomatoes, carrots, and peanut butter pretzels. I take these whenever I am on set or on the move.
Biggest pet peeve?
I usually don't let too much bother me, but sometimes it's hard for me to pull away from fun things I like to do, like playing Uno, watching a great movie, or playing on my iPad.
Secret fear?
If you ever talk to me, it's no secret, but I am afraid of spiders. They creep me out, but my mom always moves them away for me. I'm not too sure why I don't like them, but thanks, mom!
Favorite holiday (and why)?
That's a hard one, I think it's a tie between Thanksgiving and Christmas. Thanksgiving because my family ALWAYS does it for over 2 days. On the 1st the day before Thanksgiving we ALL go to my grandma's house to cook ALL the food, even the pumpkin pie. Pumpkin pie is my favorite pie!! Then of course we go back the next day to eat it, but I'm not done: then we get to go see more family and eat again (if I can).
Christmas is SO much fun too because I get to see all my family! My 12 uncles and aunties, my 17 cousins, both my grandparents and friends that live nearby. We play, talk, exchange gifts and we even have a HUGE gift-wrapping paper throwing war. We throw paper at each other, It's so much fun!!
Tell me something people would be surprised to know about you.
I am a bit shy about getting on a stage in front of a live audience to sing or act. I'm not sure why, but it's different from looking at a camera on-set. I am proud to say though, that I'm practicing, and I think I'm getting much more confident.
Tell me ONE food you REFUSE to eat and why.
Maybe shrimp? Every time I have an opportunity to eat it, I don't. I have tried it, but I don't like it.
What else are you working on or have coming up next?
Well, currently I'm on summer break. I am creating reels and videos for my social media channels under "Marcello Adventures". I am going to start working on a stage presentation. I'm thinking about taking a class on how to write scripts. I know I'm going to start my guitar lessons again soon; I can't wait for those to begin. And there is always a lot of schoolwork to do. I go back to school at the end of August. I go to auditions when the invitations come in and if any new acting projects come in, I will be ready!
Selfie!
https://instagram.com/marcelloreyes_
https://www.tiktok.com/@marcelloreyes
YouTube: @MarcelloAdventures https://www.youtube.com/channel/UCoF_8g5OnA5YX3086p1T_wA
https://mobile.twitter.com/marcelloreyes_