Interview with Ruby Lightfoot – Model and Champion Barrel Racer
Ruby Lightfoot is a model who rose to fame as an ambassador for America's Next Kids Top Model (ANKTM) at the age of ten. She has appeared on the cover of Wild Child Magazine and Child Model Magazine. She is a member of the popular social media influencer group, The Squad.
Ruby is a talented barrel racer and was the 2020 champion, senior winner. Ruby is an animal activist and loves all animals. She's a country girl at heart.
Ruby wants to inspire young women to pursue their dreams. Read on for her exclusive interview with Teens Wanna Know!
Hello Ruby, nice to e-meet you! Tell us a little bit about yourself outside of the model/influencer world.
A little about myself is I live on a ranch with a lot of animals. I'm currently in 9th grade Christian online school.
Great! Why did you decide to pursue modeling, and how did you get started?
I got started when I was 8 or 9 yrs old. My brothers were in modeling when they were younger, so my mom decided to put me into modeling also. We submitted to LA Models and got accepted. After a few years I went to Brand Models Orange County and it went on from there.
What's been the biggest challenge as a young model or influencer so far?
It's not really a challenge, I just try to stay true to who I am. I feel that's the best thing to do always.
And who or what has helped you most?
In the industry it would be my mom. In barrel racing my dad.
What are your eventual goals in the entertainment industry?
To be on the cover of several magazines.
You are a barrel racing champion! Congrats! For those who aren't familiar, can you explain what it is and how long you have been doing it?
I have been barrel racing since I was nine years old. It consist of three metal barrels, one horse and rider. It's a timed event, fastest time wins. They also have divisions: 1D, 2D, 3D and 4d for the different speeds.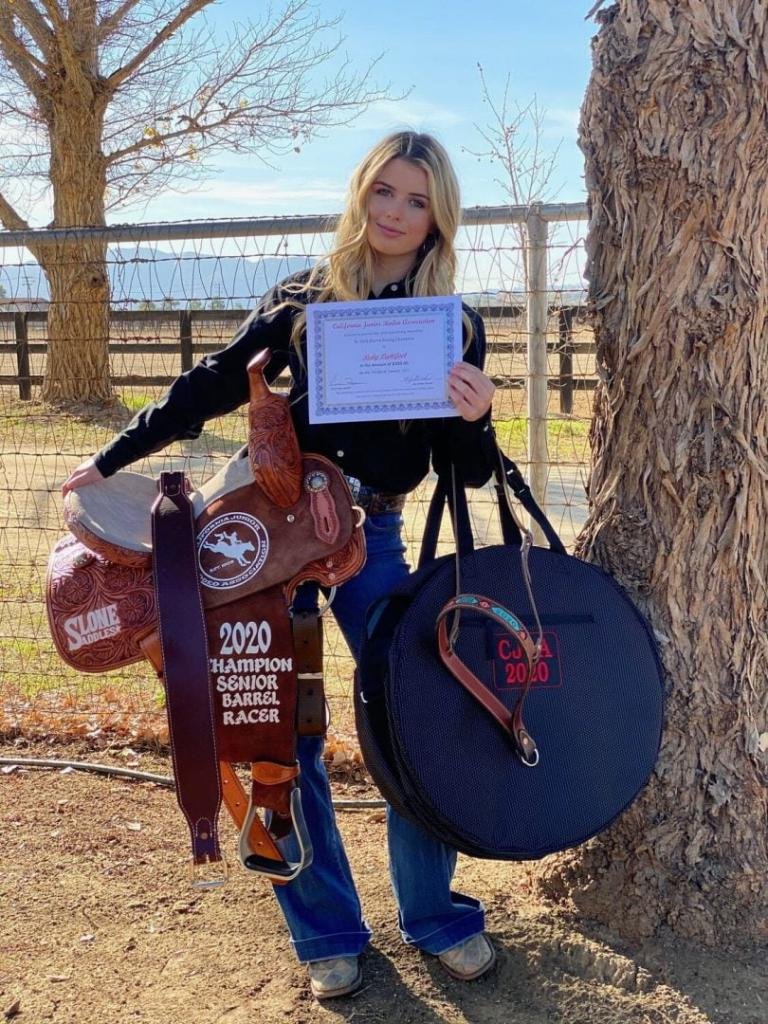 And what's your secret to success in the sport?
Having good horsemanship.
Dream collab?
RubyxTigerMist
Favorite social media influencer or channel and why?
Sienna Mae because she very confident.
Secret celebrity crush?
Don't have one lol.
Biggest pet peeve?
People biting their nails.
One food I REFUSE to eat (and why) is ________
onions because they make my eyes burn.
Secret fear?
The dark. And death.
What's the last movie or show you watched, and give me a review…but you can only use TWO WORDS for the review : )
American Idol. Love It

The one thing I cannot live without is_______
my horses.
Most embarrassing moment IRL you wish you could do over?
When I fell in the airport lol so embarrassing.
Tell me something people would be surprised to know about you?
That I have a boyfriend.
What else are you working on or have coming up next?
Some cover shoots, and a lot of big barrel races coming up that I'm thankful for.
Could we get a quick selfie of whatever you are doing right now?
[niiiiice]
https://instagram.com/rubylightfoot?igshid=4jyqhhyzbp5h
https://vm.tiktok.com/ZMe9xcn8F/