Joshua Rush from Disney's Andi Mack – Interview!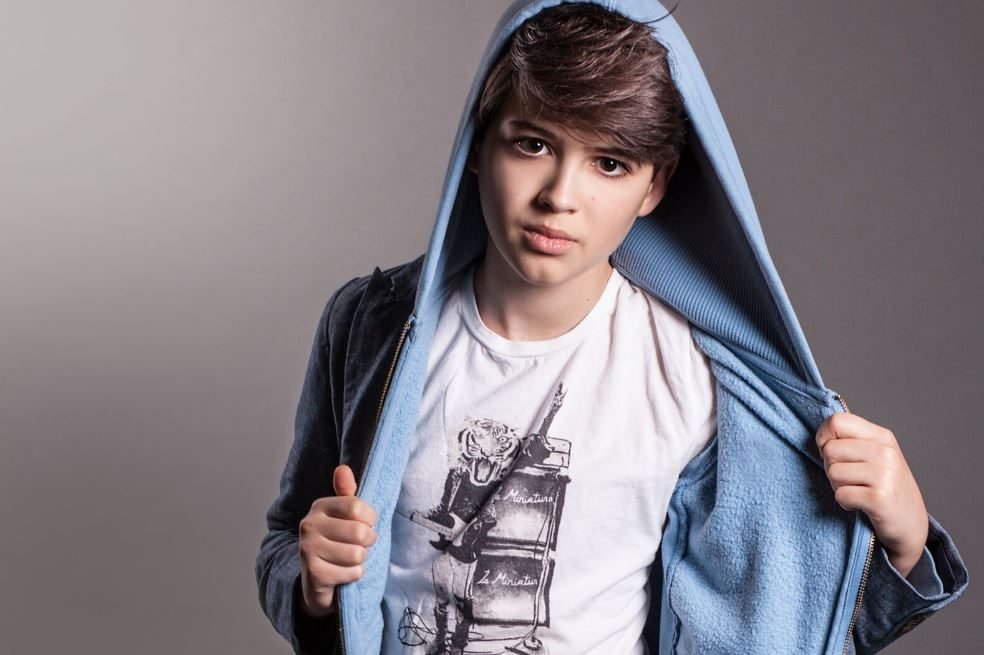 Photo: Amy Pogue
Have you caught the buzz surrounding The Disney Channel's brand new show, Andi Mack? [Spoiler ahead from 1st episode] The show, which stars newcomer Peyton Elizabeth Lee, is about a 13-year-old whose "older sister" Bex returns home with the hope of getting her life together. However, in a crazy plot twist, the first episode reveals that Bex is not really her older sister, but is actually Andi's mother…which understandably causes Andi to question everthing she has ever known.
The show premieres April 7th at 8:30 p.m. Supporting cast members include Asher Angel who plays love interest Jonah (read our interview with Asher here), Sofia Wylie who plays bestie Buffy, Lilan Bowden as Bex, and Joshua Rush, who plays Andi's buddy Cyrus.
Joshua is only 15 but has plenty of credits under his belt, including notable voice roles in "Family Guy," "Ice Age: A Mammoth Christmas," "Mr. Peabody & Sherman," "The Adventures of Puss in Boots," and "The Lion Guard." You can see him act on "Chuck," "Heroes," "CSI: NY," "Criminal Minds," "Medium," "Children's Hospital," "Private Practice," "See Dad Run," "Medium" and the motion picture "Parental Guidance" alongside Billy Crystal, Bette Midler and Marisa Tomei.
Here is a brief Q & A we did with Joshua…enjoy!
Hi Joshua, nice to e-meet you! Before we start talking about your new role on the upcoming Disney Channel show 'Andi Mack,' tell our readers a little about yourself?
Sure! So, I'm Josh(ua) and I'm an actor. I've done it my whole life, but my first theatrical audition was when I was four. It was for "How To Eat Fried Worms" and I bombed it! But since then I've gotten better (apparently), and I am on Disney's "The Lion Guard" and now "Andi Mack"!
Tell us about your character Cyrus?
Cyrus is one of Andi's two best friends. He's quirky, not athletic, and generally just a little awkward. He's got a sense of humor that can make just about anyone laugh. Cyrus doesn't fit in with anyone but Andi and Buffy…and he wouldn't want to anyway.
What is the best thing about playing this character?
I think the best thing about playing Cyrus is being able to play his sense of humor and his kindness! He's such a joy!
Why do you think people should watch the show? How is it different from other shows?
I think the show is great because it's very new for kids' television to have a show that is so real. Kids and adults alike are going to love it!
Keep reading for the rest of the interview. But first, here is a pic from Josh's Instagram, showing what he did when he found out he booked the role!
What's been the weirdest or funniest thing to happen on the 'Andi Mack' set so far?
We all got obsessed with arm wrestling! It was really fun, even though I lost to everyone!
What else are you are working on right now besides 'Andi Mack'?
I'm working on "The Lion Guard" (we were recently picked up for our third season), which I love!
Do you have a favorite YouTuber? If so, why are they your favorite?
I like educational YouTubers like Wendover Productions and CGP Grey. I'm boring, but I really like their videos!
If you could re-do ONE embarrassing thing in your life so far, what would it be?
I would probably try and never drop bread into my shoe again. Don't ask. So many crumbs. *shudder*
What has been your favorite thing to work on as an actor, and what made it so special?
I don't like to pick between my projects, but I sure have loved "Andi Mack"!
What has been the most difficult thing you have had to do as an actor so far?
It is hard whenever I have to turn down a part offered to me. Luckily I've only had to do it twice, but it's never fun to turn down work!
What do you like to do most when you have spare time?
I love to read the news online!
Who is your favorite musical artist?
I love Alt-J! Something about that sweet, chill sound makes me love it!
Tell me something people would be surprised to know about you.
I speak Spanish and I want to go into politics when I grow up!
Where can all your new fans follow you?
I'm @JoshuaRush on Twitter and Instagram!
Photo: Amy Pogue
Check out our earlier interview with Joshua…boy was he young!