Back to School Product Round Up
By now, most of the country is back in school, although a few of you will be heading back this coming week.
To ease the transition, we rounded up some of the best products we have been introduced to recently which would be perfect for this coming semester and beyond.
We've even got a couple items to give away, all you have to do to enter is 1) follow @teenswannaknow on Instagram and 2) take a screenshot of any of the products below (just the item name and pic is fine) that have the #TWKGIVEAWAY in the title and post it on your Instagram story or feed and mention @teenswannaknow and use the hashtag #TWKGIVEAWAY when you do. We will pick random winners for each correct entry on 9/12/19 (you can enter more than once).
So without further ado, let's check out the products!
Bunk Trunk, starting at $219
This one is a must for anyone heading off to a dorm room. Designed by a dad for his daughter who was headed off to college and wanted a secure place to store her stuff, its a combination safe/locker and desk for your laptop all in one.
The Bunk Trunk features a digital keypad to enter your pin to lock and unlock, as well as a power strip with USB ports to charge your phone. You can choose a few upgrade items as well, such as a Bluetooth speaker and extra shelf. The best part about the Bunk Trunk is that it is super easy to set up, and won't take up valuable floor space because it rests above or below your bed.
(Lifehack: its also able to stand alone against a wall if you don't overload the top and put some weight on the base, but this is NOT how the product was designed to be used — we are just rebels haha.)
Here are a couple of videos explaining the product, and how to install so you can see how easy. It took us just a few minutes to set up the one sent by the company by following the instructions.
sdsds
dsjkldsljds
Sun Soaker 10 watt kit, $99 #TWKGIVEAWAY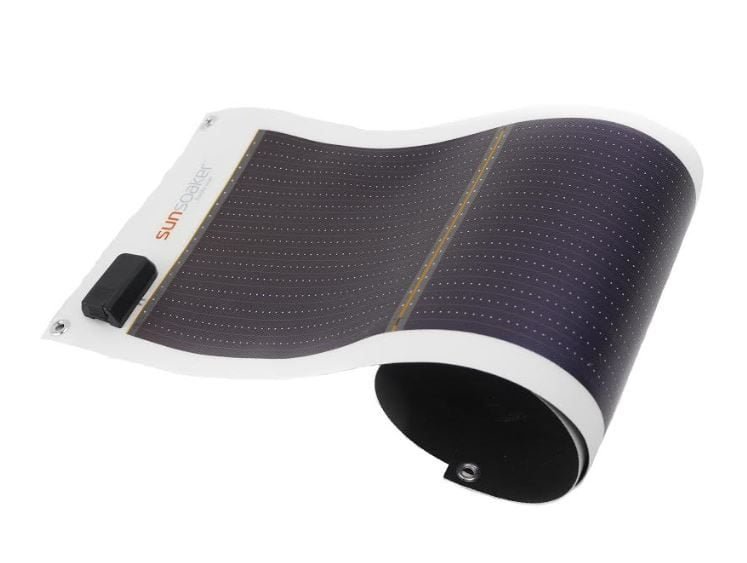 We were super excited to try this product out when we received it. Because one of the most stressful things in life is running out of cell phone juice, amirite? And this thing promises unlimited Snapchat and Instagramming far away from any power outlets!
The Sun Soaker we received came rolled up in a waterproof tube complete with suction cups and carabiner clips so you can attach it to a window, a backpack, tent, etc. Instructions are simple: unroll and expose it as directly as possible to the sun, connect your phone to the standard USB port, and you are good to go.
So how does it perform? Well, two of our reviewers tested it out in very different conditions. One took it to Coachella (plenty of sun) and the other to an overcast day at the beach. Results:
Our Coachella reviewer had issues with the form factor. He tried hanging it, but it kept rolling up, limiting its sun exposure surface. So he only got a charge when he physically held it up with his arms, not a great solution.
Our beach reviewer, on the other hand, laid it flat and placed a weighted object at the base so it wouldn't keep rolling up. Even on a cloudy day with no sun, the device performed beautifully–fully charging his phone in about an hour.
So, the verdict is that the device works wonderfully as long as you can lay it flat somewhere. When you try to hang it vertically, the angle and tendency to roll it up make it less effective.
This product is SUPER USEFUL! You can use it while laying out at the beach, on grass, and its a must-have for camping/hunting/emergency kits.
HaloSmile Kit , starting at $59.99 #TWKGIVEAWAY
Picture this: you've got a hot date and you are just about ready to go, but you one quick check in the mirror and notice your teeth are, let's just say, less than sparkly white. What do you do?
Well, if you've got HaloSmile around, you can have noticeable whiter teeth in about 3 minutes. As long as you don't mind the drool. We'll explain that part later; let's cover the product and what it does first.
HaloSmile is a temporary whitening system for your teeth, meaning you literally paint your teeth with it and the coating stays on for hours. Its vegan, peroxide-free, and relatively quick and simple to apply.
Just add two drops of activator to the powder contained in one of the lovely jewel-like pods, stir well using the back of the applicator brush for 30 seconds and put aside. Insert the plastic mouth-holder-open thingy into your mouth, dry your teeth very well, and start applying. Once done, hit your teeth with the final touch "polish" and that's it.
So, what are the results like? Well, our first attempt came out pretty splotchy. See below. Its just super hard to do because of the prolific amounts of drooling involved, even with paper towel rolled up under the tongue. With practice, however, we'll probably get it more even. That's what all the rest of the reviewers claim, and it makes sense.
The other thing is that it feels a bit "grainy" when you run your tongue over your teeth. But, after several hours, the teeth still look whiter, so the product does work as claimed! One issue for our test subject was that the coating started to wear off unevenly, leaving it splotchy after day 2, because it is really HARD to remove despite lots of brushing and flossing. Actually, there was still visible residue after 4 days. So, they probably need to come up with a way to remove it and throw that into future kits, like one of those rubber-tipped tooth stain erasers.
This tooth makeup system could come in very handy for picture day, prom, etc. AS LONG AS YOU PRACTICE A FEW TIMES BEFORE! Watch this following video to learn how to use, and try not to laugh imagining how silly you will look with that mouthpiece in your grill. The results, once the product is mastered, are worth it though!
https://www.youtube.com/watch?v=pgwZv8Svnh4
Luster Pro Light Dental Whitening System, $26.26
If you prefer a more permanent solution to your teeth whitening, this kit will do the trick. Yes we tested it, and it works — pretty well too. Teeth were noticeably whiter after just one application.
All you have to do in brush and floss, rinse using their included wash, apply the peroxide mix (it stings if you get it on your lips or gums–meaning its the real deal!), and let it dry for twenty seconds. Finish off with a two minute round with the dual-energy whitening light (the coolest part of this process by far), and check your results. Need it brighter? You can repeat the process immediately over and over again until you get the shade of white you like! The kit has about 20 applications.
Pro tip: put some cotton or paper towel under your tongue to avoid drooling during the light part.
Ooly School Products, prices vary
Ooly makes super cute, super colorful school supplies — all at reasonable prices. You can get lost for hours checking out all their products, but here are three that we liked for starters.
Oh My Glitter! Notebooks – Blue $11.99. Life's too short for a boring notebook. Go full glam with your notes with the small sized, Oh My Glitter Notebooks. This fun sized set of notebooks is perfect for on-the-go notes, writing, and doodles…and the best of all you'll look fabulous while you're doing it! Each set comes with 3 different colored notebooks in Teal, Dark Blue, and Light Blue colors. 64 Lined Sheets in Each Notebook. Convenient Small Size at 4" x 5.75" Pages
Radiant Writers Glitter Gel Pens $7.99. Make your writing and drawing glitter with amazing color with Radiant Writers Glitter Gel Pens! The eight radiant colors in this gel pens set will bring glittery life and happiness to anything you write or draw. In class or at work your writing will never be dull again!
Mini Dots Pixie Paste Glitter Glue set of 5 $7.99. Glitter and glam, shimmer and shine. These dot-happy glitter glue colors are simply divine! With glitter glue colors enhanced with mini dot of dazzling glitter, you know anything they touch will become magical. Mini Dots Pixie Paste comes with a brush too!
Smile Sox, $21.99 for a six-pack
Need to up your footwear game? Make a statement with these super-cute expressive socks!
Made of 98% soft polyester and 2% spandex, each pair features a different expression to match your mood:
Smiley! • Goofy! • Happy! • Grumpy! • Jolly! • Winky!
And for this Halloween, you can get even funkier feet with Scary Sox:
CLEARstem VITAMINscrub – Antioxidant Infused Cleanser $39.00
When we saw the price for we were like "nah" but after just ONE use of this product we were like "heck yes, totally worth it." It works very, very well to removed dead skin cells, tighten pores, and restore a nice glow. Your face will feel baby smooth and look great. We wish we had a bottle to give away–but we only got sent one and we are keeping it mwahaha!
VITAMINscrub is an antioxidant infused facial cleanser with a mild exfoliating action. You only need a small amount each time you use it (rubbing it in for about 30 seconds before rinsing), and it smells GREAT, almost good enough to eat. In fact, you can eat a lot of the raw ingredients in this, because it contains things like mango, aloe vera, green tea, grapefruit, turmeric, and even hemp seed oil.
According to the company:
VITAMINscrub is good for all skin types including dry, mature, sensitive, blemish-prone, combination and normal. It's designed for daily use. Environmentally-friendly bamboo particles act as a polish to resurface the skin and keep pores clear.
Crystal Mineral Enriched Deodorant, $6.15
For those who prefer a few less harsh chemicals on their body when applying deodorant, you might want to give Crystal Mineral Enriched Deodorant a go.
The two samples we were sent (Freshly Minted and Mountain Fresh) have a pleasant smell and don't leave a thick white residue on your shirts or sheets like a few other essential-oil based deodorants we have tried in the past. As far as controlling odor for 24 hours as claimed, results here were mixed. Let's just say we recommend a touch up application every once in a while if you are exerting yourself and sweating above average.
The product incorporates essential oils, and while it does contain common things like propanediol and sodium stearate, it is aluminum and paraben-free and hypoallergenic. You can check the safety of the ingredients of any other cosmetic or household product ingredient at the Environmental Working Group's Skin-Deep Database.
Sun Shield Stick SPF 50, $12.50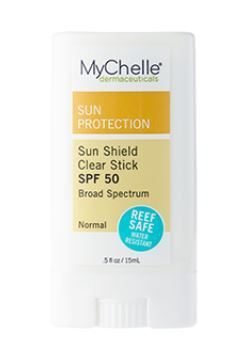 While summer is basically over (sob), don't think you don't need sunscreen still. Outdoor activities like skiing, skating, and sports still expose your skin to UV rays, and you need protection. For a convenient way to apply it, try the Sun Shield Stick SPF 50 by MyChelle. Its like a chapstick for your skin, and is lightly tinted for a neutral finish.
From the website:
Sun Shield Clear Stick SPF 50 is a mineral-based, water-resistant sunscreen that glides on smoothly and dries clear to deliver powerful UVA and UVB full-spectrum protection. Zinc Oxide provides a safe alternative to harsh chemical sunscreens. The addition of Avocado, Jojoba, and Vitamin E Oils help moisturize and protect, and Cocoa Seed Butter soothes skin and supports elasticity. Perfect for on the go. .52 oz. Made without GMO, Gluten, Parabens, Petroleum, Phthalates, Silicones, Sulfates, Ureas, Artificial Fragrances, and Artificial Colors. Vegetarian. Cruelty-free. Reef Safe and Biodegradable. Active Ingredient: Zinc Oxide 17%
So the main ingredient is good old zinc oxide, and that makes this product reef safe for use when diving or enjoying places like Xel-ha in Cancun (which we highly recommend, having just come from a vacation there whoop whoop!).
7th Heaven Dead Sea Mud and Peel-Off Mask, prices unavailable #TWKGIVEAWAY
Alright, we did not have time to test these out by press time, but wanted to include them for those looking for quick detoxes and refreshers for their faces. They are made by a company with a good pedigree as far as eco-friendliness and commitment to being cruelty-free, Montangne Jeunesse, which has been in business since 1985.
The products we were sent are single-use Dead Sea Mud mask and a peel-off mask. The instructions are super easy: simply clean and dry your face, apply the contents, and wait until COMPLETELY dry. Then remove and voila! — fresh face!
One thing we have to mention is the striking artwork on the labels, which feature some smiling, yet somewhat terrifying, half-human, half plant creatures lol.
Look at them:
OMG. They are certainly attention-grabbing!
At any rate, here is the description for the peel-off mask:
Clean and purify your skin with our Dead Sea Salt peel off! Chamomile soothes your skin and Fucus Vesiculosus (Seaweed) fights free radicals. Leave your skin feeling healthy and revitalised!
And the mud mask:
We've harvested nutrient rich minerals from the Dead Sea to draw out impurities and open blocked pores for clean, soft skin. Key ingredients Dead Sea salt, seaweed, lavender.
Strange Hollywood, $15.20 #TWKGIVEAWAY
Hitting the books for hours at a time can get stressful. Sometimes you need a break with some good old fashioned mindless entertainment, like the book Strange Hollywood.
The book features over 400 pages of facts, trivial tidbits, quotes, and even tweets about stars ranging from the silent era to now.
For example, did you know that Mike Myers based Shrek's accent on the voice his mom used when she would read him bedtime stories as a kid? Or that Quentin Tarantino sued his neighbor because his pet macaws screamed like pterodactyls?
Weird but true! Find out more in this easy to read book whenever you need a break from physics and chemistry.
The Book of Spells, $13.99 #TWKGIVEAWAY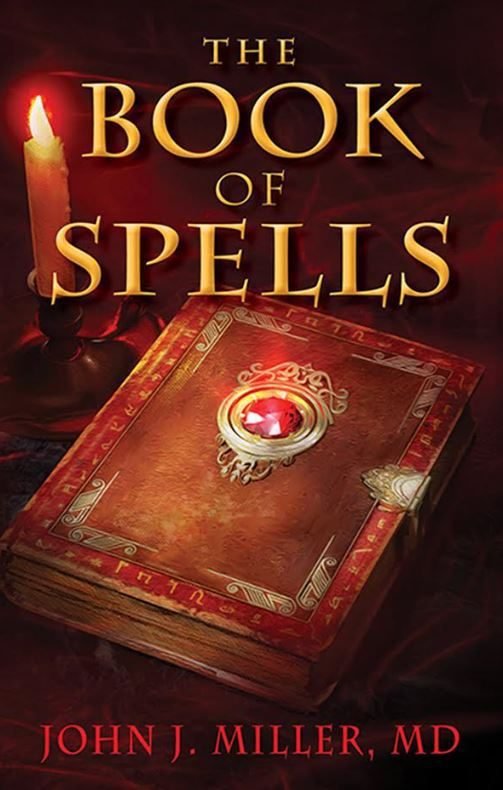 Once you've gotten your fill of Hollywood oddities, maybe your next choice is to escape to a world of ancient magic, which is what The Book of Spells by John J. Miller, MD promises to do.
Official synopsis:
Transporting the reader back to Southern England into the midst of the seventh century, The Book of Spells takes readers to the Kingdom of Vilgar, governed by a generous king in whose household an evil wizard has positioned himself.
Convincing the king that his powers of magic and premonition will benefit the kingdom, Malecar becomes the court wizard, surreptitiously studying the dark arts in his quest to rule over the kingdom. When Martir, a kind and gentle wizard arrives, he is appointed Malecar's apprentice and becomes a close friend and confidant of the king's son, Audric.
The forest bordering Vilgar is a refugee to three witches. The women are in possession of a book they cannot open. Dabbling in the dark arts so that they might protect themselves, they realize that the book may contain the darkest of spells. Confronted by Malecar, the sisters give him access to The Book of Spells, and the evil within him allows him to open it. What happens when an evil wizard has access to powers beyond his wildest desires? Or when a gentle wizard becomes his nemesis—and the only protection for the Kingdom he serves?
Our quick review: interesting characters, but disorienting time jumps. If you like wizards and magic you will likely get into it.
Dumbo (Live Action), $21
Alright, so say you've read the books above and are still needing a break (procrastinate much?) Well, now its time for a few movie recommendations, the first being Disney's live-action version of Dumbo which recently came out on 4K Ultra HD, Blu-Ray and Digital.
This version of Dumbo was directed by Tim Burton comes with never-before-seen bonus features, deleted scenes, Easter eggs and bloopers and a special performance of "Baby Mine" by Arcade Fire.

Synopsis:
In "Dumbo," struggling circus owner Max Medici enlists former star Holt Farrier and his children to care for a newborn elephant whose oversized ears make him a laughingstock. But when they discover that Dumbo can fly, the circus makes an incredible comeback, attracting persuasive but sinister entrepreneur V.A. Vandevere, who recruits the peculiar pachyderm for his newest, spectacular, larger-than-life entertainment venture, Dreamland.
Bonus features include*:
BLU-RAY & DIGITAL HD:
CIRCUS SPECTACULARS: Dumbo's cast share their experience of making the film—and get to the heart of a story about family and believing in yourself.
THE ELEPHANT IN THE ROOM: Explore how one of Disney's most lovable characters went from an animated classic to a stunning live-action retelling.
BUILT TO AMAZE: Get a closer look at the film's production and costume design.
DELETED SCENES: A compelling collection of scenes that almost made the final film.

Roustabout Rufus
Pachyderm Plans
The Other Medici Brother
Monkey Business
A Star Is Born
Where's Dumbo
Elephant Heist
A Seat at the Show

EASTER EGGS ON PARADE: Discover the hidden and not-so-hidden nods to the animated Dumbo in this narrated tribute to the Disney classic.
CLOWNING AROUND: Laugh along with the cast in a collection of big-top bloopers and goofs from the set.
"BABY MINE": Visual video performed by Arcade Fire
DIGITAL EXCLUSIVE:
DREAMLAND – ANATOMY OF A SCENE: From Final Script to Final Scene: The filmmakers and cast talk a lot about the feeling of "grand intimacy" in the film. Step right up as they bring the Dreamland parade to life, accomplishing the rare marriage of a massive spectacle combined with an emotional tenderness.
REVIEW: Do you really need us to review Dumbo? It's Disney. It's Tim Burton. It's a classic story. So just buy it because you know you are going to enjoy it (warning, it's a little sad too).
Arrow Season 7, Blu-ray $29.99
Once you've finished Dumbo. and you decide you need to procrastinate with something a little more quality than YouTube vids, try Arrow–which just released its seventh season on Blu-Ray and DVD.
If you haven't watched Arrow yet, its a DC Comics property about the Green Arrow, a billionaire superhero who happens to like shooting things with arrows. Hence the name.
Synopsis of season 7:
Following Oliver Queen's shocking decision to turn himself over the FBI and reveal his identity as the Green Arrow to the public, Oliver has spent the past five months in prison while his team was left behind to protect Star City. In the wake of Ricardo Diaz's escape, Oliver has yet again turned into someone else inside Slabside Maximum Security Prison. Determined to keep a low profile to shorten his sentence for the sake of his family, Oliver's limits will be tested when he and Team Arrow are pitted against the most ruthless villains they have yet to face.
The Blu-ray package contains all 22 episodes PLUS the show's 2018 Comic-Con panel, three Elseworld's crossover episodes, deleted scenes, a gag reel, and more.
The Flash Season 5 Blu-Ray $29.99 #TWKGIVEAWAY
If you need even more superhero action, the 5th season of The Flash just dropped on Blu-Ray, DVD, and digital as well. Maybe arfetr watching you will decide to stop procrastinating and move at the speed of light to finish your homework?
Synopsis:
Shortly after defeating The Thinker, Barry Allen/The Flash and his wife, Iris, were stunned by the arrival of their already grown, speedster daughter from the future, Nora (Jessica Parker Kennedy). However, acclimating to their lives as parents won't be the only challenge they face, as Season Five pits Team Flash against Central City's latest scourge – the DC Super-Villain Cicada (Chris Klein).
BLU-RAY & DVD FEATURES
The Best of DC TV's Comic-Con Panel San Diego 2018
The Evolution of Killer Frost
Inside the Crossover: Elseworlds
Villains: Modes of Persuasion
Gag Reel
Deleted Scenes
BLU-RAY has two full crossover episodes as well!
Supernatural Season 14, Blu-Ray $35.66
Still not ready to get back to your homework? Ok, well maybe you should hire a motivational coach. But in the meantime, there is yet another cool series to binge: Supernatural, which is the longest running sci-fi series in TV history! They are releasing season 14 on Blu-ray/DVD/Digital on Sept 10th, and it super fun to watch, you will get hooked!
Synopsis:
The Winchester brothers' harrowing journey into the heart of darkness continues as Supernatural enters Season Fourteen. Sam (Jared Padalecki) and Dean (Jensen Ackles) have matched wits with monsters, demons, Heaven and Hell. But last season, the Winchesters and Castiel (Misha Collins) stumbled upon a terrifying alternative universe: an apocalyptic world where they were never born, all while training Jack (Alexander Calvert), the son of Lucifer, and trying to save their mother, Mary Winchester. The final battle with Lucifer and the Archangel Michael altered the Winchesters' lives forever…and created an even greater threat for Sam and Dean. The boys are back and willing to risk everything for their loved ones in all twenty thrilling new adventures, including a historic 300th episode, with a Winchester family reunion never to be forgotten.
Bonus features:
Supernatural Homecoming: Exploring Episode 300 (NEW Featurette)
The Winchester Mythology: The Choices We Make (NEW Featurette)
Supernatural: 2018 Comic-Con Panel
Audio Commentaries with Talent & Producers
Deleted Scenes
Gag Reel
Okay kiddos, there you have it. LOTS of options for back to school entertainment, skin-care and more! And don't forget to enter our giveaways (instructions at the beginning of the post!)