"When The Checks Stop Coming In" Shows the Folly of the Bling Bling Lifestyle – Review
One of the negative things about celebrities is the seemingly capricious and irresponsible way that many of them spend their money. In fact, a surprising number of musicians, actors, and sports stars are either flat-out broke or heading there — despite earning MILLIONS during their heydays.
A new documentary explores why this happens, and why it seems to affect African-American celebrities in greater proportion.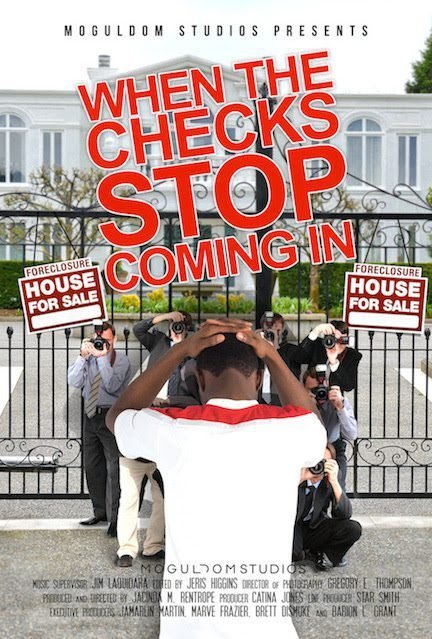 Moguldom Studios' When The Checks Stop Coming In, released August 26th, pulls no punches when it comes to placing the blame mainly on the shoulders of the artists themselves. However, another factor touched on is the depiction of excess and debauchery in media, such as rap music videos. While some will argue that entertainers don't go out and directly tell people to blow their money, this reviewer agrees that the media can directly control and influence behavior…and that the film makes very valid points regarding how this might be contributing to the lack of financial literacy and fiscal responsibility in black communities.
In other words, when you see a rapper showing off their money, drugs, near-naked women, flashy cars, guns, and gold teeth in videos and on social media — instead of acting like civilized human beings — you can bet they are directly influencing legions of young minds to act just like them: wasteful, irresponsible, and downright stupid with their money.
This film courageously tackles this controversial subject by interviewing celebrities, managers, agents, and their financial advisors "to learn how much was being spent and how these celebs spared no expense for the glitz and glamour that was their ultimate demise…Be it lavish lifestyles, poor financial management, child support, or tax evasion, When The Checks Stop Coming In explores how these celebrities perpetuate an underlying issue within the African American community: an obsession with the American dollar."
Production credits include Jamarlin Martin, Marve Frazier, Brett Dismuke and Barion L. Grant as Executive Producers, Jacinda M. Rentrope as Director and Producer, with Catina Jones as Producer.
When the Checks Stop Coming In is recommended for older teens due to some F-bombs dropped by a few of the celebrity personalities. It is available for purchase on DVD, as well as digital download through online retailers including iTunes, GooglePlay, Amazon.com and MoguldomStudios.com.
Teens Wanna Know Rating: 8 out of 10 (for older teens)
For more information about When The Checks Stop Coming In and Moguldom Studios, visit:
www.moguldomstudios.com
Twitter: www.twitter.com/MoguldomStudios
Facebook: www.facebook.com/MoguldomStudios
Facebook: www.facebook.com/WhenTheChecksStopComingIn
Join the conversation on Twitter: #BrokeCelebrities