Teens, Free Up Your Netflix Account with Kidoodle.TV
Nothing is worse than having your kid brother or sister take over your Netflix account and add the latest Barney episodes to your queue. It certainly messes up your recommendations, doesn't it?!
And you never know just what kind of content they are going to stumble upon — you really don't need to hear the screams of terror as the latest episode of The Walking Dead is accidentally loaded up on your family's iPad, do you?
Fortunately, a new streaming site has sprung up which not only will save you the embarrassment of having Tinkerbell's Fairy Adventures in your "Recently Watched" list, but will also keep your young family members from viewing inappropriate content.
Kidoodle.TV is a subscription streaming service designed for children 12 and under, with loads of tot- and tween-friendly shows like My Little Pony, Caillou, Transformers, Sonic the Hedgehog, The Adventures of Chuck & Friends, Mona the Vampire, as well as science, nature, and wildlife content from National Geographic, such as "Crittercam" and "Wild Chronicles". More content is slated to be added.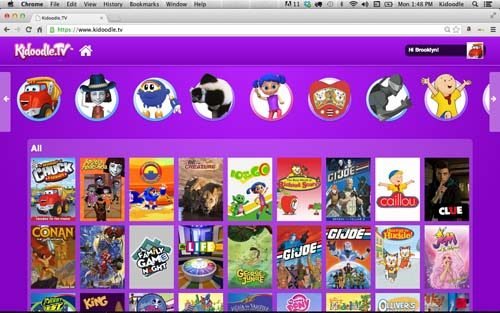 The platform is available for both Mac and PC environments, as well as iPad and iPhone app available through the Apple App Store. Access on Android and gaming consoles will also be available over the coming months, so hopefully both Xbox and Playstation-equipped.families can enjoy the service on a big screen soon.
For parents, Kiddoodle.TV offers the ability to create up to 5 profiles, with different age-restrictions and passcode protections for each.
Offering a 14 day free trial period, subscribers can sign up for Kidoodle.TV at www.kidoodle.tv for only $4.99/month plus any applicable taxed for unlimited streaming of children's content. Annual subscriptions are available at $49.99/year plus tax.
This is so cheap, most teens can afford to buy it for their younger siblings themselves (but check with your parents first, please)!
For more information, visit www.kidoodle.tv.