Brandon Sanderson's Firefight Prize Pack Giveaway Incl. Mophie Portable Charger!
Fans of Brandon Sanderson's The Reckoners Series who had been anxiously awaiting the release of the Book 2 were no doubt thrilled that Firefight hit the market a couple of weeks ago. And Teens Wanna Know is teaming up with Random House to give away a free copy of Firefight PLUS Book One, Steelheart and a MOPHIE PORTABLE CHARGER! Scroll down to find out how to enter, but first, here is the scoop on Firefight.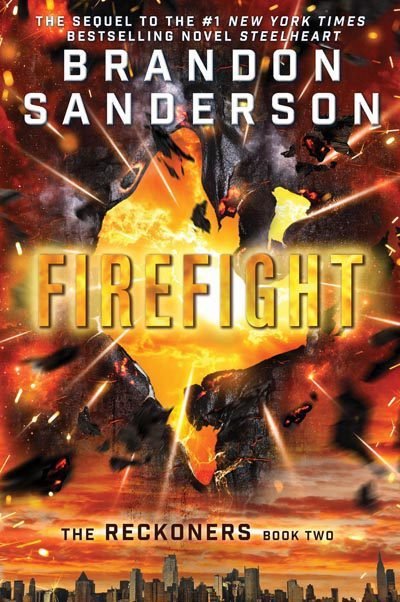 ABOUT THE BOOK
Brandon Sanderson is back with a vengeance in the follow up to the #1 New York Times bestselling Steelheart. In the book that Kirkus Reviews is calling a "rare middle volume that keeps the throttle open," Sanderson takes readers on another a thrill ride and "presents a Marvel Comics-style mix of violently destructive battles, fabulous feats and ongoing inner wrestling over morality and identity."
David Charleston still can't believe it. Steelheart is dead, and he died by David's own hand. Even the Reckoners had never killed a High Epic, but the invincible has fallen and now Newcago is free. Despite attaining revenge for the murder of his father and living his dream as a team member of the most elite Reckoners cell, David finds he has more questions than ever before, and he won't find the answers in his home city.
Babylon Restored, the city formerly known as Manhattan, could hold the key. Ruled by the mysterious and ambivalent High Epic Regalia, Babylon Restored is a place flooded with water and painted in neon, where the inhabitants spend most of their days lounging and nights partying. David can't seem to understand the complacency of the city and its residents, but what he does understand is that being positioned here, risky as it may be, could lead him to the answers he so desperately seeks. Because there is an emptiness in him, one left behind after killing Steelheart, that was filled unexpectedly by Firefight, who is just plain Megan to him. And David will stop at nothing to find a way to understand Epics and bring her back to him. Hopefully for good this time.
The second book in the Reckoners series and follow up to the highly acclaimed Steelheart, which Publishers Weekly called "an absolute page-turner," FIREFIGHT is filled with spine-tingling adventure and heart-racing action that promises to satisfy fans both new and old.
ABOUT THE AUTHOR
BRANDON SANDERSON is the author of the internationally bestselling Mistborn trilogy. In 2007, he was chosen to complete Robert Jordan's The Wheel of Time series following the author's death. The concluding book in that series, A Memory of Light, was released on January 8, 2013, and debuted at #1 on the New York Times Hardcover Fiction List., just as his two previous Wheel of Time books had done. His work has been published in over 25 languages and his books have sold millions of copies worldwide. He lives and writes in Utah.
Learn More at his Official Website
Follow Brandon Sanderson on Twitter
EXCERPT
http://www.bighonchomedia.com/assets/RandomHouse/Firefight_ChapSamp_WEB.pdf
PRAISE & ACCOLADES FOR STEELHEART
#1 New York Times Bestseller
IRA Young Adults
ALA-YALSA Best Fiction for Young Adults
ALA-YALSA Teens Top Ten
Amazon Best Book of the Year
"Sanderson has written a riveting dystopian adventure novel . . . Snappy dialogue, bizarre plot twists, high intensity action, and a touch of mystery and romance; it's a formula that sucks readers into the prologue, slings them through on tension-filled encounter after the other, and then . . . leaves them panting for the sequel." —Booklist, starred
"Sanderson's whiz-bang imaginings, and a fully realized sense of danger (the brutal opening scene alone will hook many) make this an absolute page-turner." —Publishers Weekly
"Perfect for genre fans who love exciting adventure stories with surprising plot twists. Readers will be rooting for David." —School Library Journal
"Unfortunately for my ego, Steelheart is another win for Sanderson, proving that he's not a brilliant writer of epic fantasy, he's simply a brilliant writer. Period." —Patrick Rothfuss, author of the New York Times bestseller The Name of the Wind
"Fantastic! The suspense is relentless and the climax explosive, with a resolution that I'll be thinking about for a long time." —James Dashner, New York Times bestselling author of the Maze Runner series
"A tense, fast-paced adventure. Brandon Sanderson is one of the best fantasy sci-fi writers working today." —Christopher Paolini, author of the New York Times and USA Today bestseller Eragon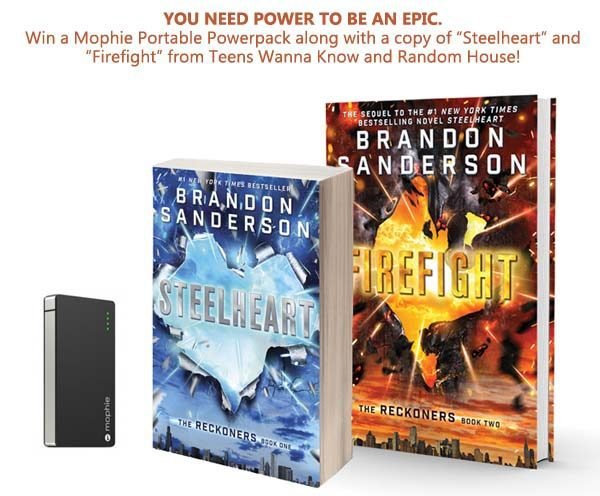 Winner receives:
A copy of Steelheart
A copy of Firefight
and a mophie brand portable charger
Prizing courtesy of Random House. Giveaway open to US addresses only
HOW TO ENTER:
Simply follow @teenswannaknow on Twitter and tweet the following line from your account by 1/30/15:
I've entered to win the #FIREFIGHT / #STEELHEART / MOPHIE prize pack from @teenswannaknow at http://bit.ly/15zXjLW #ForgetNothing
Contest is open to U.S. addresses only. We will pick one (1) random winner on 2/1/15, who will receive the prizes listed above. Winner will be notified by DM on Twitter, so must be following @teenswannaknow in order to be eligible to win. Prizes will be shipped directly from the publisher to winner's U.S. address.