Gunnar Sizemore – Busy Screen and Voice Actor Interview with Teens Wanna Know!
Gunnar Sizemore is a 13-year-old screen and voice actor who began his acting career at age three on national commercials for brands such as Juicy Juice, Old Navy, The Hartford and Disney. He has lent his acting and voice talents to the hit country music drama "Nashville," the Disney XD show "Kickin' It," "Doc McStuffins," "The Book of Life," "The Prophet," "Fences," and many many more.
At the age of 10, Gunnar was nominated for Best Actor in the short film Heartfall at the 168 International Film Festival and his movie The Night Guardian won Best Comic Book Film at Comic Con.
He plays the guitar and an unusual Japanese instrument called the Otomatone, and also speaks Japanese and Spanish! With all he has on his plate, he still finds time to give back to his community. He participates in the community outreach program Angel On My Shoulder and is a proud Ambassador for the Children's Hospital Los Angeles.
Let's find out more about him in our interview below!
Hello Gunnar, thanks for taking the time to answer a few questions for Teens Wanna Know! Tell us a little about yourself and your roles on Cartoon Networks "Craig of the Creek' and "Ben 10."
My name is Gunnar, I am 13 years old, I love basketball, movies, classic rock, cartoons, and video games, and I am an actor and voiceover artist. Currently I'm recurring on the Cartoon Network series "Ben 10" as Billy Billions, the rich enemy of Ben who always gets what he wants, and "Craig of the Creek" as Jason the Junior Forest Scout who tries to be the leader of the creek.
I've heard you are starring in a soon-to-be-released Nickelodeon original movie with Mark Hamill (Luke Skywalker). What can you tell us about the movie, and what was Mark Hamill like?
The movie hasn't been announced yet, but when it is, I'll share the details. Sadly, I haven't been able to meet Mark yet because we recorded on different days, but if I do I would freak out! I have heard nothing but good things about him.
Any funny stories from working in that set?
There is a lot of action and slapstick comedy in this movie, so being in the booth and having to make all the falling noises or fighting grunts made all of us crack up.
You've already got a few voice acting credits to your name. Do you ever get to record any of your lines from home in your pajamas, or do you always have to go to a studio?
Actually yes, but only my auditions. My parents built a recording booth in our house so I can do auditions, but I work with so many cool people that I think if I walked into a session in my pajamas they would all laugh.
While doing voice acting, do you make faces and move your hands and body a lot – or is it mostly a still kind of thing?
With voiceover, you have a lot more freedom to make silly faces, but you can't move your body too much because you have to stay in front of a microphone because it will pick up the noise.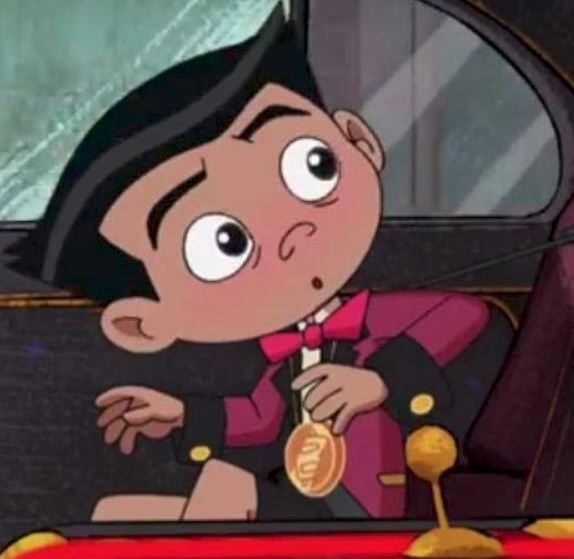 Your dad Kevin is also an actor. What's the best advice he has ever given you?
He gives me a lot of great advice. One of the best tips he has ever given me is that acting is reacting and if you believe it, then it's real and it makes your performance more real for the audience.
Your mom Gina likes to draw characters on your lunch bags. How many has she done so far, and which is your all-time favorite?
She has done over 250 snack bags! She started when I was in fifth grade and now I am in eighth grade. Two of my favorites she's done are Wimpy from Popeye and Woody Woodpecker. Her instagram with all them on there is @coachlombardi.
Tell us about the youtube channel "Monday Shorts" and how that got started.
My YouTube channel "Monday Shorts" was a project I started two years ago with my cousin and very close friend Justin Lombardi. At the time, he was in film school, and we wanted to make a short film. When we finished, we decided we should post it on YouTube, and we couldn't think of a channel name. It was a Monday in July, so we decided to make our channel name "Monday Shorts" and post short films on Mondays (not every Monday!). Later along the line, we became very busy and needed a break from the channel, but stay tuned for more surprises in the future and watch our previous videos! www.youtube.com/mondayshorts
If you weren't an actor, what would your other dream job be?
I think I would either want to be an NBA basketball player or an animator on a cartoon series.
Favorite YouTuber?
I have a lot of favorite YouTubers! Lately, I've been watching horror game Let's Plays from Markiplier, but I also watch other gaming YouTubers like Clint Stevens and Game Theory. I watch a lot of animators such as TheOdd1sOut and Domics, too. I think my favorite YouTuber right now is probably either Markiplier or Jacksfilms.
Biggest pet peeve?
My biggest pet peeve is the noise nail files make when you file your nails. It sounds like nails on a chalkboard to me!
Favorite color?
My favorite color is red.
Most awkward experience IRL?
One of my most awkward experiences IRL was when I went to a Clippers game with my friend Noah and people kept calling me Finn Wolfhard [from Stranger Things – Ed.]. It was really funny though!
Tell me something people would be surprised to know about you, besides the many languages you speak and the otamatone you play.
One thing not many people know about me is that I am pretty good at roller and ice skating. Note I said pretty good, not great!
Also, I'm a huge Funko Pop collector. I'm right at 250 so far. I don't get every one that I see, I'm very selective and really look hard for the Chase Pops. My favorite is probably my autographed "Lucio" from Overwatch that I got at Comic Con.
What are you working on next?
I just finished two projects, a movie in Nashville called "The World We Make" about a family that has gone through tragedy in their lives and then tested even further when racial tension surfaces on my brother's best friend who's like a brother to me. The other was a short with Billy Zane called "By Way of Guitar" where Billy and I had to street duel one another playing the guitar as people walk by. That was a blast, haven't played the guitar on film since I did the TV show "Nashville" a few years ago.
In November Amazon's releasing the 26 episode animation series by Dreamworks that I've been working on for the last year in a half. I can't wait till I can announce it and for everyone to see it. It's an amazing cast of voice actors and the whole team from our director to writers are fantastic. Also, the film "Intensive Care" about three low-life criminals who try to rob an elderly lady and I kinda mess things up as the paperboy, just released in Switzerland and Japan.
18. Can we please get a couple of selfies of whatever you are up to for the fans?
Here you go! This is about 10% of my collection and I'm hoping to get to Washington state this summer to the Funko Pop headquarters. The other is with my dog Meadow named after the legend Meadowlark Lemon from the Harlem Globetrotters.
Follow Gunnar:
https://www.instagram.com/gunnarsizemore/
https://twitter.com/GunnarSizemore
https://www.facebook.com/OfficialGunnarSizemorePage
https://www.imdb.com/name/nm4146013/