My Hero Academia: Two Heroes Review and Red Carpet Premiere Interviews
My Hero Academia: Two Heroes is a great movie! Scroll down to watch red carpet interviews from the Hollywood premiere with Dj Slushii, King Vader, Bryan Forrest, Tim Neff, Steven D'Onofrio, Cassandra Morris.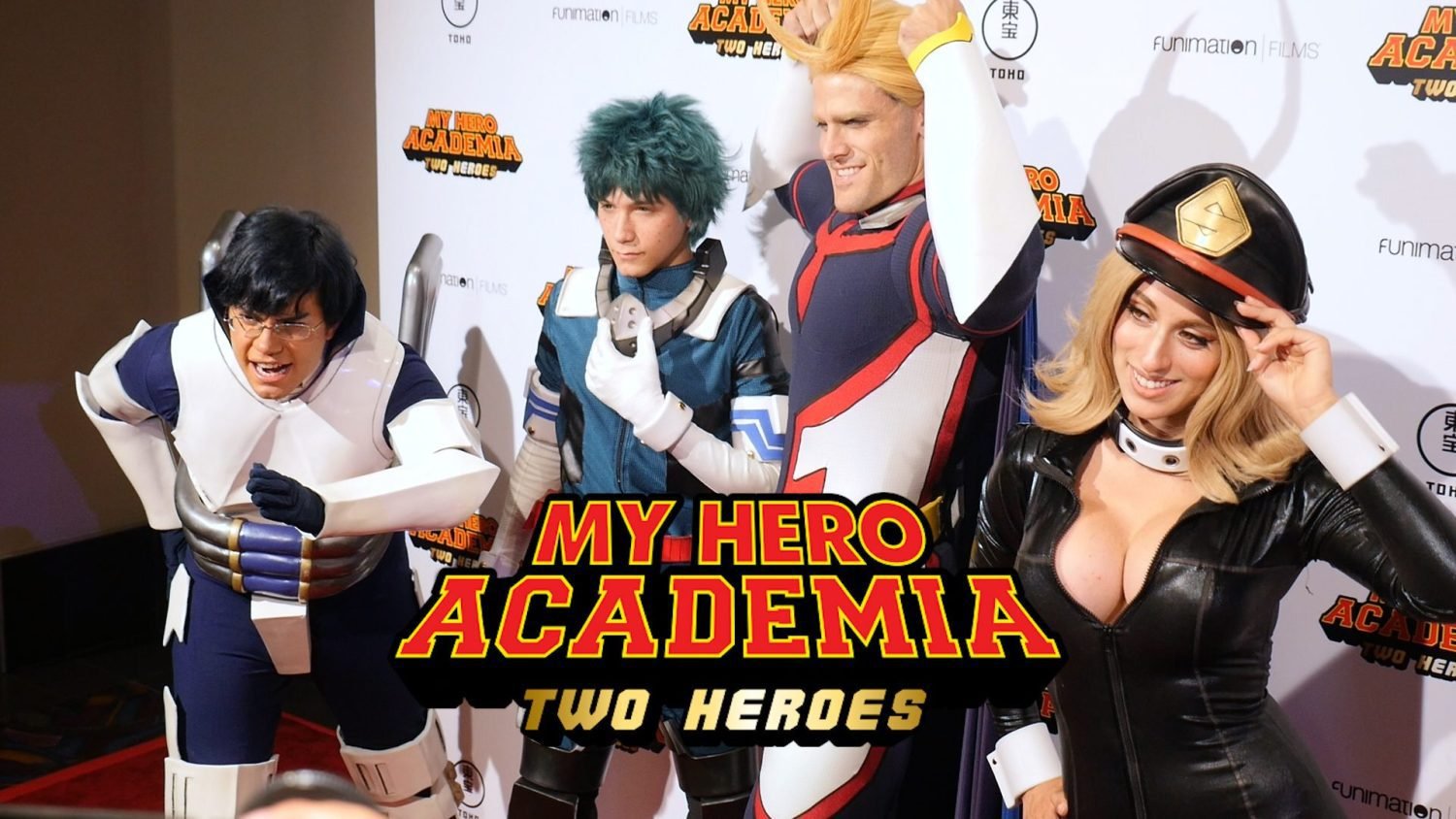 Synopsis & Quick Review of My Hero Academia: Two Heroes
"Deku and All Might receive an invitation to I-Expo, The World's Leading Exhibition of Quirk Abilities and Hero Item Innovations. Amid the excitement, Deku meets a girl who is Quirkless, just like he once was. Suddenly, I-Expo's Top-Of-The-Line Security System gets hacked by villains and a sinister plan is set in motion. It's a serious threat to Hero Society and one man holds the key to it all."
My Hero Academia: Two Heroes is action packed and full of your favorite My Hero Academia characters including All Might, Izuku Midoriya, Katsuki Bakugō, Shōto Todoroki, Ochako Uraraka and more. The film opens with the student heros coming together for the I-Expo, where Deku meets All Might's "niece," Melissa Shield, son of All Might's best friend David Shield. Turns out she is also quirkless, like Izuku "Deku" Midoriya, but carries on in her dad's footsteps as an inventor.
She gifts Deku with a glove which allows him to exercise more of his quirk (superpower) without hurting his body. In other words, he doesn't have to hold back any more. When the entire island is held hostgae by an eveil gang, and All Might is helpless to defend them, the young heros must take matters into their own hands to fight an evil beyond any hero has faced before.
Without spoiling any more (told you this was a quick review), let's just say that everybody gets a piece of the action and the new glove comes in quite handy.
My Hero Academia: Two Heroes Release date: September 25, 2018 (USA)
Director: Kenji Nagasaki
Distributed by: Toho Co., Ltd.
Screenplay: Yōsuke Kuroda
Music composed by: Yûki Hayashi
Story by: Kohei Horikoshi
Production company: Bones
***UPDATE 9/27/18***
Its seems like the movie is doing brisk business judging from this press release!
First Feature Film of the Global Hit Anime Franchise Brings in Nearly $2 Million at the Box Office, Out-Earning the Competition by $1400/Per Screen
FLOWER MOUND, TX – September 27, 2018. The theatrical release of Funimation Films' highly anticipated "My Hero Academia: Two Heroes," is producing heroic box office returns, outpacing any other top 10 film in per screen revenue totals by almost $1200 for the first day and by over $1,400 on the second day in its five-day run in over 500 theaters across the U.S. and Canada. The first ever feature film based on the hit global franchise "My Hero Academia" from Toho Co. Ltd., is on track to earn well over $2 million dollars by this afternoon. In addition, it garnered two of the top engagements in North American last night, and ranked as the #3 film over all despite its limited release. On its first night the film had three of the top engagements and ranked 5thoverall.
"We were convinced that moviegoers would come out for 'My Hero Academia: Two Heroes' based on the incredible responses we received to the franchise at our San Diego Comic Con panel and our sold-out world premiere during Anime Expo," said Gen Fukunaga, CEO and President of Funimation. "The box office success to date is extremely gratifying and we are already working with exhibitors to add additional theater locations and showtimes to keep up with the tremendous demand from audiences."
"My Hero Academia: Two Heroes" is available in English dub tonight and on September 29 and in the original Japanese (English subtitles) on September 26 and October 2. Based on the film's box office success, exhibitors are adding showtimes on Friday, September 28 and Sunday, September 30 in select locations. Check local listings for more information.
My Hero Academia: Two Heroes Trailer